Leigh Misso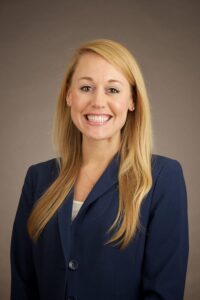 Project Manager
Government Services Division
Birmingham, Alabama
Years in the Industry: 7
As a Project Manager, Leigh Misso is among a growing group of women in the profession who have chosen a career in construction.
While studying at Auburn University, Leigh returned to her hometown of Mobile, Alabama, to intern with Robins & Morton on the University of South Alabama Mitchell Cancer Institute project.  These real-life experiences confirmed that she had chosen the right career path.
"My summer on the Mitchell Cancer Institute project was filled with excitement and eye-opening experiences," she said. "In addition to the valuable learning opportunities, I was proud to be a part of something so important to my hometown and to the University of South Alabama," she recalled.
As Leigh continued her coursework at Auburn, she returned to Robins & Morton as a co-op student for three semesters. "Those opportunities allowed me to gain a broad understanding of many aspect of the company," she said. Leigh worked with the Estimating Department, the Government Services Division and also on the East Cooper Medical Center in Mt. Pleasant, South Carolina.
Leigh currently works as an Project Manager with the Government Services Division, managing Design-Build Projects within Government Indefinite Delivery Indefinitely Quantity (IDIQ) contracts, through the Mobile Corps of Engineers.  Her role includes reviewing all design documents for submission to the Government, managing subcontractors, preparing contracts, coordinating OAC meetings, preparing billings, change orders, and overall management of design firms.
Leigh also prepares proposals for the existing IDIQ contracts.  These proposals, or task orders, require technical approach write-ups, the creation of schedules, as well as pricing, and Leigh is part of every step of the process. "Since my first internship, Robins & Morton has been very supportive and provided broad experiences within the company to help me better determine what I would like to do long-term."
Twenty years from now, Leigh sees herself playing more of a leading role in the construction process. "I'd like to help open doors for more women entering the industry," she said.