On any given day in Gastonia, North Carolina, project engineer Cory Lingle walks out to the jobsite that will soon become a critical care tower.
He scans the area and places a drone on the earth, launching it into the sky for progress photos or to observe the site from his favorite vantage point: the bird's eye view. Although Lingle is a skilled drone pilot in command, his experience extends far beyond unmanned aircraft systems. In fact, he's logged flight hours in four different types of military helicopters.
Chasing Freedom
For Captain Cory Lingle, flying always felt like freedom.
He felt it for the first time when he was young, in privately-owned aircrafts with his father and grandfather as they deftly guided the planes through the air. Chasing a feeling became a passion, and a passion became a future plan – one that stood the test of time as he began mapping out his career with the United States Army's aviation division.
Because there were limited placements available in the aviation program, Lingle graduated from the University of North Carolina at Charlotte with a degree in engineering, intending to serve as an engineer and align with the Army's personnel needs at the time. But in a swift twist of fate, the Army found a place for him in the aviation program, bringing him closer to realizing his childhood dream.
Soon thereafter, Lingle arrived in Fort Rucker, Alabama – the home of the Army Aviation Center for Excellence – and began the grueling training he would need to become a helicopter pilot. The next 18 months were rigorous, beginning with flights from 5:00 a.m. until noon and then hours of classroom learning would follow. After a few months, the training times would switch, meaning earlier classroom time and flights in the evening so that the pilots could learn to navigate the skies in the dark. There, Lingle flew three different helicopter frames: the TH-67, OH-58, and finally the AH-64D, also known as the Apache.
"It's a tough job," Lingle said. "By the time you've landed, you're almost too tired to crawl out [of the helicopter] and then you have to do it all over again the next day."
In his final days of domestic training, Lingle traveled to Colorado where he learned to fly a UH-72 at the High Altitude Aviation Training Site (HAATS). Then, he deployed to Afghanistan where he would command the B Co. 1-151st ARB.
Planning Next Moves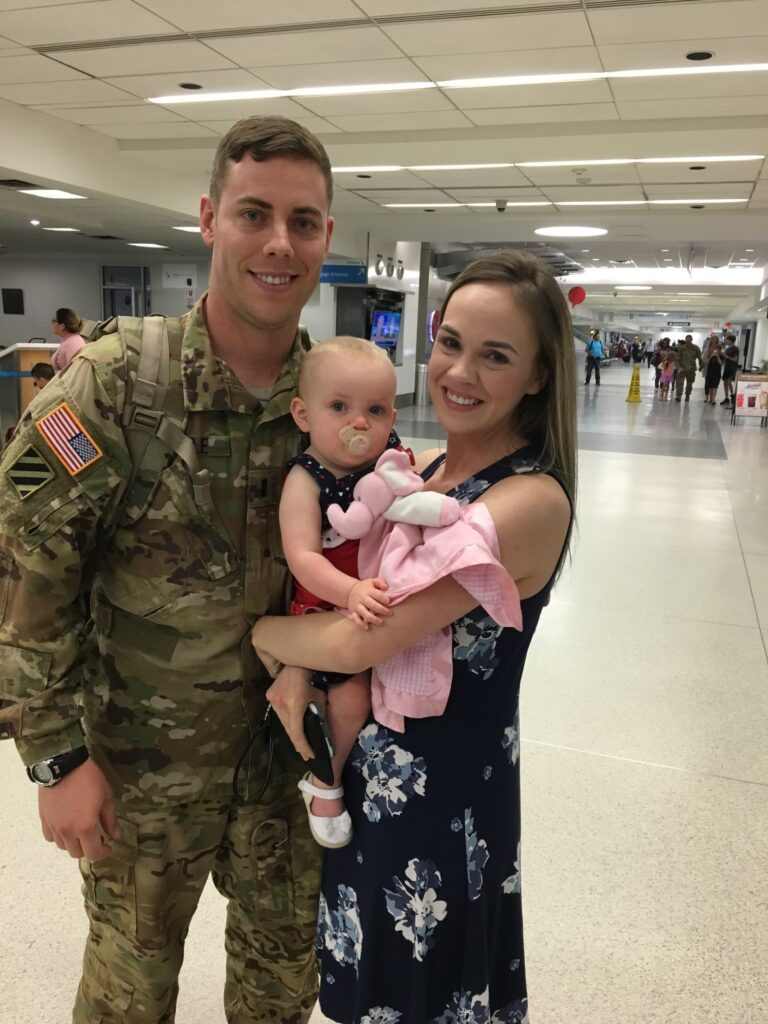 While overseas, he began to plan his next move in his civilian career. In high school and in college, Lingle worked on construction projects and this experience, coupled with his engineering degree, led him to think about what a future career in the field would look like. Although there were many aspects of engineering he enjoyed, he felt his strengths were more in the work that it took to physically build structures. In the years since he'd worked on his first jobsite, he had been able to earn valuable management experience in the military, commanding his company.
"Although it's different, there are processes and paperwork in both fields; it's the same mindset," Lingle said. "Planning, timelines, managing people, getting trades involved at the right time. A project is along the same lines as a mission."
Through a mutual connection, Lingle met Robins & Morton Project Director, Jeff Fox. Upon his return to the States, Lingle and Fox discussed a possible future for him at the company. By happenstance, Fox had work in the Charlotte area and in short order, Lingle was on the job building hospitals.
Aircrafts Great and Small
In late 2020, Lingle was assigned to his current project in Gastonia, North Carolina. Although his responsibilities fall primarily under managing the building skins, this project had a new, unique requirement that aligned perfectly with his expertise: serving as the onsite drone pilot.
"I'd never flown a drone before this project," Lingle said. "It's a lot like flying in the front seat of the Apache helicopter, though."
Lingle explained that in the Apache helicopter, there's a small screen on the TEDAC and the weapon controls reminded him of an Xbox gaming controller.
"When I was in flight school our instructors actually encouraged us to go home and play Xbox or PlayStation to improve our muscle movements, button-pushing and finding [controls] in the dark," Lingle said.
The similarities of the screen and video-game-like controls on the drone often take him back to his time as an Apache pilot when he's in-flight.
But before he was cleared to fly the drone on the jobsite, he'd have to earn the small unmanned aircraft system (sUAS) part 107 certification. Although the certification process is famously challenging, the FAA felt that Lingle's previous experience more than qualified him to pilot a drone.
Today, Lingle remains in the military as a Captain in the South Carolina National Guard, serving his country while also furthering his civilian career. He confessed that sometimes he misses full-time army service – especially the camaraderie and his team that he calls his family – and although most of his work in the near future will be closer to sea level, he still finds a way to fly.
"Many members of the military love it because there's so much change," Lingle said. "When you're looking for a civilian career, construction has the best of both worlds. In some ways, it provides a lot of stability and in other ways, no day is the same. It's never boring."