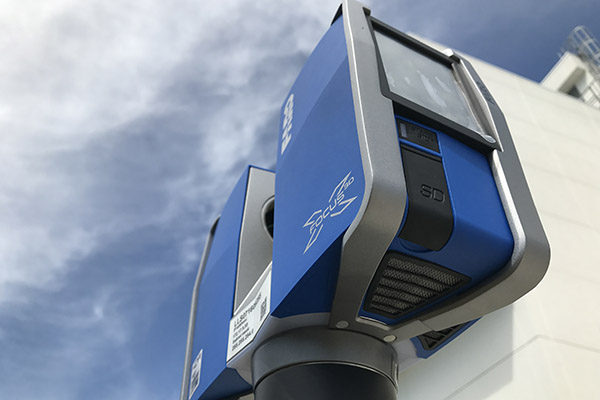 Like many industries, commercial construction has seen a number of technological advancements in recent years, yet few have had the impact of 3D laser scanning.
While the earliest laser scanners were prohibitively expensive, and the full range benefits were unknown, some in the industry were unsure if the technology paid for itself. However, newer and more cost-effective equipment, along with growing expertise in best practices, are solidifying the technology's place in today's commercial construction industry.
For example, David Pratt, Regional Virtual Design and Construction Manager for Robins & Morton, said that laser scanning has drastically improved the precision and efficiency of a local hospital renovation in Tampa, Florida. The project called for vertical expansion, renovation, central energy plant update, and the construction of a new pedestrian bridge. From the earliest planning stages, the use of laser scanning reduced key costs and kept the project on schedule. Below are the top five reasons he says every project should consider using laser scanning.
 Reduced survey time. Laser scanning collects data about existing structures in a fraction of the time of traditional methods and with fewer people."A survey that would have previously taken days can now be done in a single day," Pratt said. "That's a significant time savings. Additionally, those cloud points are put into our Building Information Modeling software, creating a virtual as-built model that can be shared with the full design team."
Efficient collaboration. When all parties to a design and construction team are able to electronically share precise 3D virtual models of an existing structure, the design process is measurably improved."The scanning performed by Robins & Morton on the [Tampa] project was a tremendous help to our team," George Stephanovici of the Tampa engineering firm Carastro & Associates, Inc., said. "It allowed for a more efficient and shorter duration engineering survey, proved to be accurate and provided more detail than recorded in a typical survey. The design team continued to use the RECAP file for reference throughout the design process, and the level of detail came in handy time and time again."
Identifying coordination issues. The resolution of laser scans enable virtual designers to create 3D models which reveal coordination issues before they be-come costly or time-consuming mistakes. Whether it's routing duct work where other mechanical, electrical or plumbing (MEP) elements already exist, or determining whether enough space exists to position a plumbing or electrical asset, the precise models — accurate to within 1/32" inch — generated by laser scanning answer many questions before the first hammer swings.
Software integration. The point clouds captured by a laser scanner can be enhanced and made even more useful with well-integrated software applications that overlay the multiple point clouds to create the full 3D rendering of the space in question. Where the software lacks the ability to stitch the clouds together, virtual designers can manually put them together, along with "cleaning up" any digital noise that the scanner may have inadvertently captured.
Few limitations. Laser scanning is continually improving, and there are only a few applications where challenges persist. Wet conditions can compromise the accuracy of a scan, as can glass structures with a high degree of reflectivity, along with spaces exposed to movement from people or automobiles. However, these challenges can be mitigated with strategic planning, such as scanning a space at a time of reduced traffic or sunlight, or by cleaning up the scan manually to edit out points which don't relate to the structure in question.
All things considered, laser scanning represents a notable improvement in design and survey accuracy and efficiency. As more industry professionals adopt the technology, available equipment and best-use practices will likely continue to improve.