The early decades of construction at Robins & Morton encompassed industrial, education and aviation projects.
Over the company's first 25 years, Robins & Morton founder Todd Robins, partner and now-Chairman Emeritus Barry Morton, and former CEO Wayne Gordon focused on growing a company with a reputation for integrity, quality and client service.
In 1972, the company stepped into the healthcare sector with a renovation project for Shelby Hospital in Alabaster, Alabama. Three years later, responding to a shift in available work, Robins & Morton ventured further into healthcare with the construction of Downtown General Hospital in Chattanooga, Tennessee.
But it was 1980 when Robins & Morton embarked on a decades-long partnership with Hospital Corporation of America (HCA), that the company strategically shifted its focus to healthcare construction. HCA did business differently, prioritizing partnerships rather than hard bids. It was Robins & Morton's first opportunity in a performance-based, team-focused environment. What resulted over the next 40 years was a continual perfection of construction approaches that included close collaboration with the client for a fully integrated project approach.
The 1980s – A Turning Point in Healthcare Project Delivery
There's an interesting story about how Robins & Morton earned its first introduction with HCA. Barry Morton was dealing with roofing issues on a project in New Orleans when he called the trade contractor to address some problems.
After a few minutes of setting him straight, Barry realized he had the wrong person. The forgiving Boyd Jacoway and Barry talked at length about the way they do business, and through that mishap they built a relationship. Years later, Boyd introduced Barry to a leader at HCA.
Work with HCA began with a small project in Florida, but while that was underway, Robins & Morton was offered three additional HCA projects across Louisiana and Georgia.
"Receiving the three HCA contracts in the early 1980s suddenly propelled Robins & Morton from being a Birmingham contractor to a Southeastern contractor," recalls Robin Savage, President & COO of Robins & Morton. "This created a need for formalized policies and procedures to mobilize staff and maintain consistency in work approach, logistics, quality control and scheduling."
The decade brought incredible growth to the healthcare sector and Robins & Morton, but what was truly unique was HCA's culture.
"HCA was so far ahead of the time in terms of teaming," said Savage. "They brought together architects, engineers, general contractors, even mechanical and electrical trade contractors – this was Integrated Project Delivery (IPD) years in advance. Robins & Morton was fortunate to have a great client like HCA to gain experience in this approach so early."
The partnership with HCA also proved to be a significant turning point for the project management approach that began to take hold at Robins & Morton a decade earlier. HCA had a list of go-to contractors, so Robins & Morton set down the path of developing a defined set of policies and procedures to deliver projects according to their needs. Over time, Robins & Morton gained great exposure in this teaming approach versus the delivery model based on hard bidding of the 1970s.
In total, Robins & Morton completed more than 80 HCA projects during the 1980s, and the partnership continues to this day. The company also built a team trained in project collaboration, team integration and everything that goes along with it. At the dawn of the 1990s, Robins & Morton had two offices in Birmingham and Nashville, and the company had risen to become one of the top healthcare contractors in the Southeast.
Navigating Florida Healthcare
Meanwhile, Florida's healthcare market presented another significant growth opportunity, but one that came with its own challenge. Florida's Agency for Healthcare Administration (AHCA) sets some of the most stringent construction standards in the country. For example, it wasn't uncommon to have to tear apart walls so inspectors could see work inside, and most projects failed their first inspection. Success in Florida meant mastering the AHCA inspection, and Robins & Morton saw that as opportunity.
General Superintendent Doug Peck, a Robins & Morton employee of more than 35 years, was one such team member that led construction in the company's early days in Florida.
"Every time inspectors arrived onsite, the team would present the project in a different way and eventually we began a process that led to success," Peck said. "For example, we'd take Polaroid photos of hidden aspects of the project, areas that we couldn't easily show during an inspection without tearing apart work that we'd just constructed. We'd place the labeled photos in a book and present them as part of our inspection. Over time, it worked."
A milestone in this journey was the Orlando Regional Medical Center for Health Central. The uniquely designed facility presented a number of architectural challenges on top of AHCA requirements.
"The Health Central project passed AHCA inspection on the first try which was an incredible accomplishment," Savage said. "As a result, Todd Robins was asked to speak at AHCA's conference to share his process and lessons learned."
Collaboration Becomes Key for Team Integration
Building on the collaborative environment Robins & Morton experienced with HCA, the company found its sweet spot in the healthcare market. The engagement with clients and architects delivered exceptional results, and clients took notice. At the same time, Robins & Morton honed its healthcare expertise, including the intricacies of working within an operational hospital.
"As our expertise grew and we were able to successfully work in the environment of a functional hospital, the company's growth potential expanded in the market," said Senior Vice President Robert Gambrell. "Although healthcare is a huge industry, reputation and selection very much relies on word of mouth. The team's technical expertise and ability to deliver systems in a very code-centric environment meant a lot to hospital clients."
The 1990s – Perfecting Policies & Procedures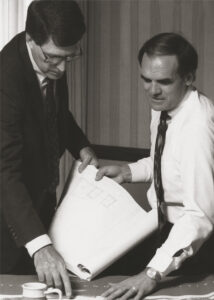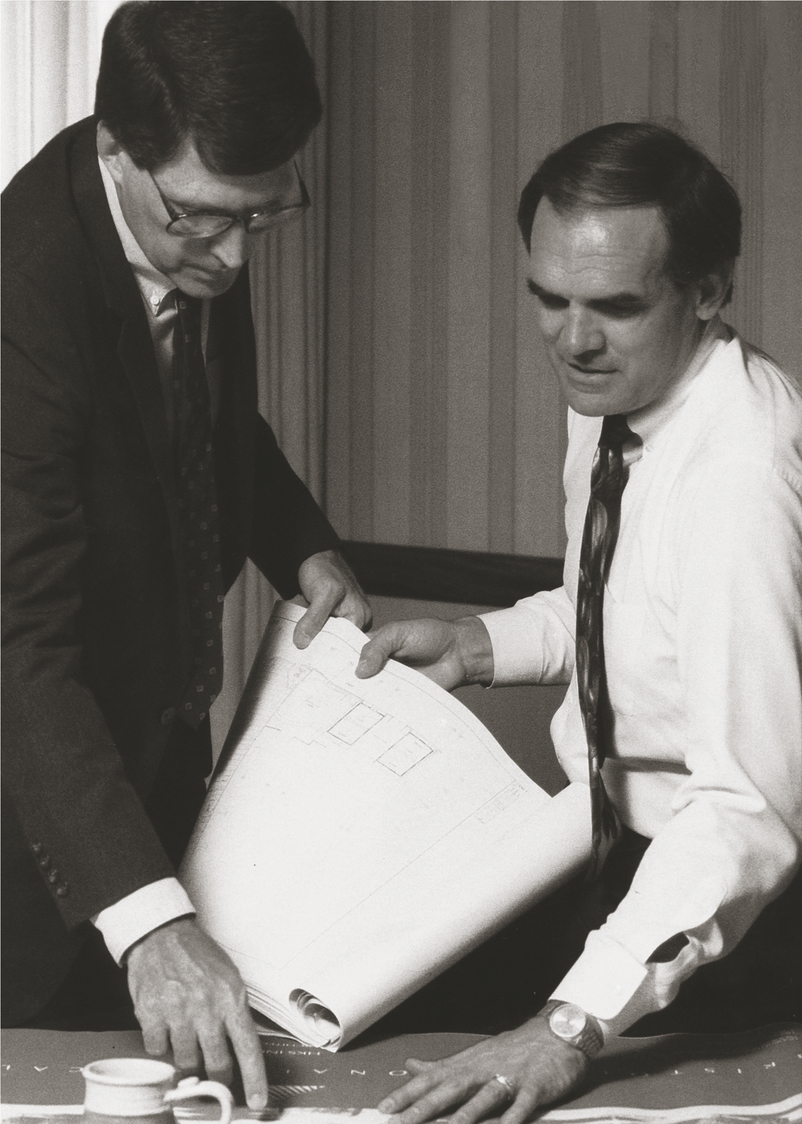 Success earned during the 1980s showed Robins & Morton that they could thrive in healthcare construction, but they would need to market to a wider healthcare client base.
Robins & Morton pursued opportunities to expand their client list with healthcare projects in new areas such as Orlando, Florida and Bristol, Tennessee. Two resulting projects were especially unique – using different architects and different delivery methods.
In 1991, Robins & Morton began their biggest project ever in size and contract value at Bristol Regional Medical Center in Tennessee, totaling $74 million. The agreement required company and personal obligations of shareholders to acquire sizable bonding to make the project a reality. It was a turning point for Robins & Morton as a major hospital construction company.
"The Bristol, Tennessee, project was significant in its size and magnitude," said Savage. "It also showed our leadership that staff were more comfortable in handling large healthcare projects."
Also, in 1991, Robins & Morton began the $56-million Orlando Regional Medical Center for Health Central in Ocoee, Florida. The construction team came from all areas of the country to combine their lessons learned into another anchor project for the company.
More facility managers began to recognize the advantages of a construction manager who understood the intricacies of healthcare construction and who worked in tandem with the hospital and design team.
"If it's a meeting of the minds, you can get so much more done," said Savage.
Additional expansion into new regions continued, including the Northeast with Connecticut Children's Hospital. The next 20 years brought work earned through performance-based relationships and four new regional offices in Orlando, Florida (1999); Charlotte, North Carolina; Huntsville, Alabama (2000s); and Dallas, Texas (2004).
2000s to Present Day – Selfless Devotion to Others
From the early 2000s to present day, Robins & Morton completed hundreds of healthcare projects with challenging conditions in unique environments.
Places like Alamogordo, New Mexico, and Palm Coast, Florida, presented different challenges, including new materials and complicated schedules.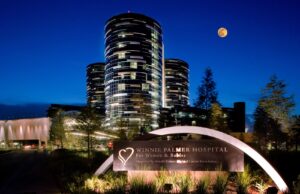 In 2004, Robins & Morton was in the middle of three major Florida healthcare projects when a trio of back-to-back hurricanes hit the state. Each time, the team responded quickly to protect the projects and assist the hospitals with their own storm preparation. "Through the entire ordeal, we only lost one piece of plywood," recalled Peck.
Covering their sites and taking care of clients was never a second thought. "You always go above and beyond what a contract says," said Savage. "Putting clients first is a culture that Robins & Morton lives."
The company's dedication to understanding the unique needs of the healthcare sector has resulted in building lasting client relationships and achieving some of the industry's top rankings.
Today, healthcare represents 90% of Robins & Morton's work, and the company consistently ranks among Modern Healthcare magazine's Top 10 General Contractors, earning the #1 spot six times.
The Future, Built on a Foundation of the Past
The story of Robins & Morton's journey into the healthcare sector is a pivotal piece of company history – its memory shared by a few company veterans who recount the work of many dedicated team members. It's a story that will live on through the same tireless commitment to clients and a new generation of Robins & Morton builders.