Modest and trustworthy; innovative and entrepreneurial.
The words used to describe Robins & Morton by clients, industry peers and the company's employees, are often the same as the words to describe its founder, Todd Robins.
In 1946, Robins not only started the company that still carries his name, he also set into place the principles that continue to guide it 75 years later.
Robins was born in 1916, in Lynchburg, Virginia, to Nelson Robins and Louise Robins. Nelson was a newspaper reporter and an aspiring writer, while Louise taught piano and tended to their home.
"[His mother was] the source of his love of classical music, particularly Chopin," Robins' daughter, Sallie Johnson, said.
Robins and his family, including his two younger siblings Nat and Annette, lived in Baltimore, Maryland, until the middle of his sixth-grade year. They returned to Lynchburg, where Robins finished the seventh grade, and then he went on to complete his high school education at Brooklyn Technical High School in Brooklyn, New York. During the summers, Robins worked in Manhattan, where he had his first encounters with skyscrapers. It was the 1930s, and there had been a tremendous building boom in New York City throughout the "Roaring 20s."
"Having spent formative years in New York, I imagine that he was in awe of the big buildings being built during those years," Johnson said.
However, the '30s were a decade that would be marked by both the miraculous, one-year completion of the Empire State Building – the tallest building in the world until the World Trade Center was built in 1970 – as well as the onset of the Great Depression.
After high school, Robins studied engineering at Virginia Polytechnic Institute, now known as Virginia Tech. Upon completing his bachelor's degree in 1937, Robins enlisted in the Army Reserves and began work at U.S. Steel in Pittsburgh. His time in Pennsylvania was brief – only a year – before he fell ill with Rheumatic Fever for the second time in his life, requiring a month-long hospital stay. Although Robins didn't know it, his luck was about to take a turn.
When he recovered, U.S. Steel offered him a position working at a tin mill that was opening in Birmingham, Alabama. The position also allowed him to follow the advice of his doctor, who told him to move south.
"He felt lucky to have a job," Johnson said. "It was the depths of the Depression."
Robins lived in a house with six other men who worked for U.S. Steel and The Tennessee Coal, Iron and Railroad Company. Through one of his roommates, he met Dorothy Martin in March 1939. "Dotte," as her friends called her, was a student at Judson College in Marion, Alabama, and within a year, Robins would call Dotte his wife. The pair married on March 8, 1940.
On Dec. 7, 1941, America stood still as somber news reached the mainland: there was an attack on the Naval base at Pearl Harbor, Hawaii. As the United States entered World War II, so did Todd Robins. Already in the Reserves, he applied for active duty, quickly earning a promotion to First Lieutenant and an assignment to the Corps of Engineers. In September 1942, Robins sailed to England.
"He taught enlisted men the 'basics of soldiering,' and he himself trained in bomb disposal, taught by sergeants who had defused and disposed of bombs in The Blitz," Johnson said.
In 1943, Robins sailed to North Africa with a regiment of contractors, highway department personnel and an architect. There, they built a manufacturing facility, a shop, and a 1,000-bed hospital among other structures. Later, the regiment arrived in Italy, where they repaired combat-damaged roads.
Upon Robins' return from the war in 1945, he took on small construction projects: initially for another business and then he began building some on his own. One such project was Cahaba Heights Hardware Store, still standing today.
The Beginning of Robins Engineering
In 1946, Robins founded Robins Engineering.
"People liked working with him [and] his genuine honesty and personal connection with others in business," Johnson said. "I think he gave others the encouragement he knew they needed."
The company's first job under its freshly penned name was an 800-square-foot gas station in the East Lake neighborhood of Birmingham. The early years also included several small jobs for the American Water Works Company, which would later become the Birmingham Water Works Board.
In 1951, Robins moved the growing business into Mountain Brook's English Village. Out of that small brick building, he would lead the construction of several buildings in Mountain Brook Village, another gas station in Edgewood, and two small homes on Broadway in Edgewood.
Around the same time, Robins hired Sunshine Morton as a concrete finisher. Sunshine's sons, Barry and Steve, also worked for Robins each summer while attending nearby Shades Valley High School.
After earning a degree in building science from Auburn University and serving in the military for several years, Barry Morton returned to Robins Engineering. Robins admired the characteristics that he saw in Barry. Hard-working, ethical, loyal and intelligent, Barry carried the same values of his father, Sunshine, and they were values that he shared with Robins.
Growth, Change and Challenge
The early '50s were a time of growth and change for Robins Engineering. During a lunch conversation, Robins overheard that Hugh Bigler, a Birmingham-area business leader, was planning to build a steel mill. In 1955, Robins visited Bigler and made a business-changing deal. Robins Engineering would go on to build steel mills in Birmingham, as well as Kankakee and Chicago, Illinois, over the course of many years.
"[He would hear] something that might be a good lead and then 'call on' the man in person," Johnson said. "It worked. He always called on people in person. I think he took every opportunity he could find in the early years."
But in the mid-50s, just as the company was hitting its stride, Robins came to a hurdle that he wasn't sure his young business would be able to clear.
After taking on a project to build a five-barrel culvert in Northwest Alabama, Robins made an application for payment. The man who hired Robins was connected to the famous Governor James "Big Jim" Folsom's administration, and he kept Robins' payment, then declared bankruptcy. His bonding company also declared bankruptcy, leading Robins with contractors to pay, and no money in which to pay them.
He had two choices: declare bankruptcy or ask his creditors for time. Robins consulted his lawyer and chose the latter, gradually paying them off in full. Years later, after John Patterson became governor in 1959, legislators eventually voted to pay Robins back the money he was owed from the project.
"I think that's one of the decisions he was most proud of," said Johnson. "It certainly made a reputation for him in the city."
Regaining Momentum, Shaping the Future
In the years that followed, Robins Engineering regained momentum, stretching into new market sectors and earning larger and larger projects.
In the late '60s, Robins began planning for the company's future leadership. He could see no better path ahead than to transition the company's next generation to Barry Morton. Robins began selling stock to Morton, completing the transition in the '70s.
From there, Robins' leadership helped move the company toward its next phase, specializing in healthcare construction. His focus on relationships and attitude toward continuous improvement proved invaluable as the times inevitably changed, propelling company growth.
"He always tried to learn new and better ways to run the business," Johnson said.
In 1992, he retired and the company – known by its rectangular, red logo with
"Robins" affixed in the center – gained a new name: Robins & Morton.
A New Pattern in Life and a Lasting Influence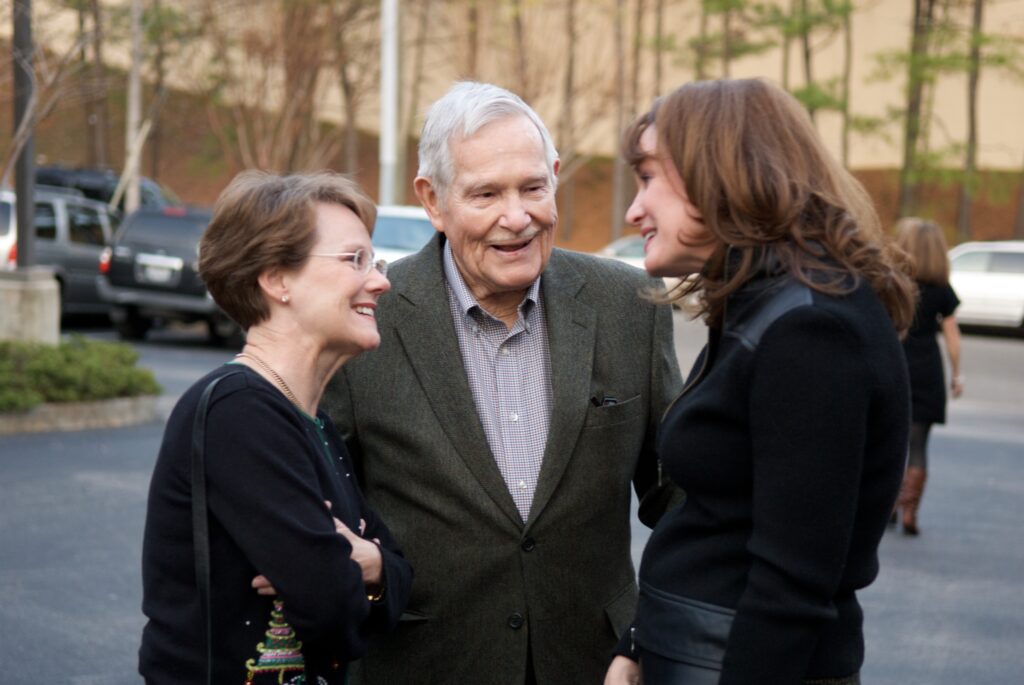 Over the course of his lifetime, Robins hadn't experienced much downtime. Newly retired, it took nearly two years for him to find a new pattern in his life, Johnson said. However, in time, Robins found a love for golf and traveling with Dotte.
In 2014, Robins passed away, just 18 days shy of 98 years old – active and independent until the end.
"He was incredibly smart; able to discuss books he had read decades before, as if he read them only last week," Johnson said. "He was always interested in learning, respectful of others, and loyal to long-time friends and employees."
Johnson continued to describe her father as a "quiet charmer," reminiscing over his love for poetry and music.
"He loved classical music and always had season tickets to the Alabama Symphony," Johnson said. "After mother died in 2008, he and I went until he died."
Even 19 years after Robins' retirement, and seven years after his death, the company that bears his name remains a reflection of who he was: modest, trustworthy, innovative and entrepreneurial.
In 2021, Robins & Morton is known for its fair treatment of industry peers, quality project delivery for clients, its commitment to learning and its desire to continuously improve. As the company celebrates its 75th anniversary and embarks upon new paths within the industry, its people are reminded of its founder – a founder who taught generations that your legacy is more than a single achievement. Instead, it represents a life well lived and that respect is earned through a commitment to do what's right. It's this understanding that carries Robins' values forward, even after so many years, and the sustained hope that great beginnings can start small – even as small as a corner gas station.