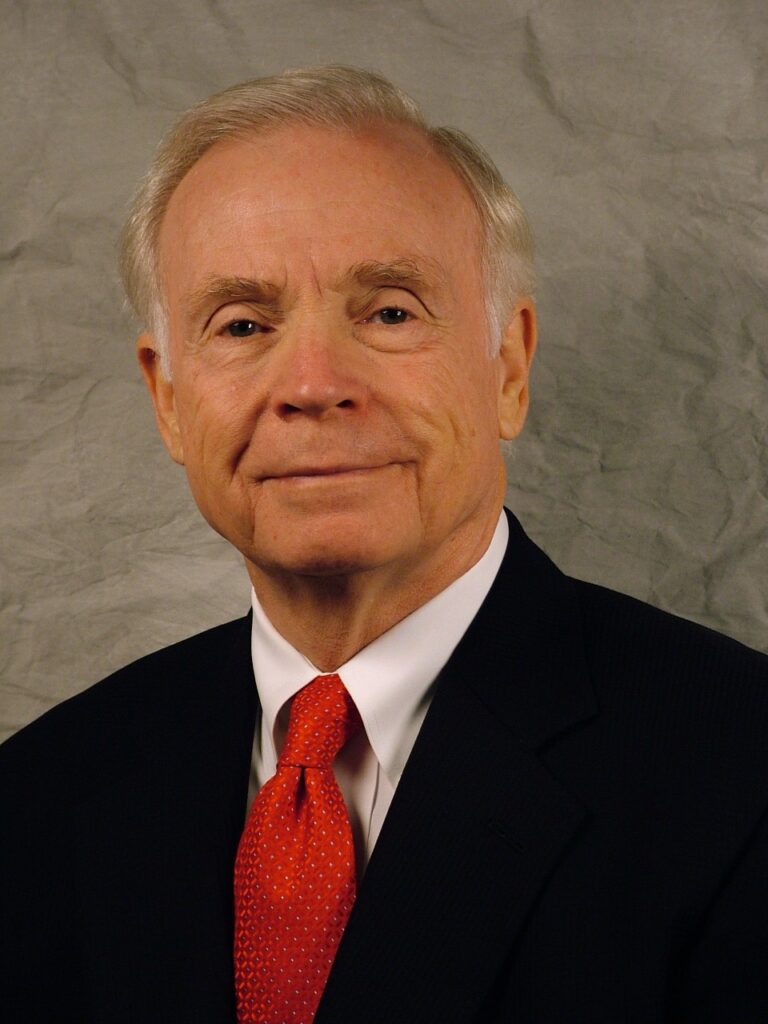 Barry Morton, beloved husband, father, and grandfather, passed away at his home on December 3, 2021, surrounded by family, after making the most of a long and fulfilling life.
Barry was born on April 5, 1938, and spent his childhood in what is now Hoover, Alabama. He graduated from Shades Valley High School in 1956 where he was captain of the Shades Valley Mounties football team and student body president. He worked summers at Robins Engineering as an apprentice carpenter with his brother, Steve, alongside their father, Boyette Edgar "Sunshine" Morton, who worked for Robins as a concrete superintendent.
After high school, Barry studied Building Science at Auburn University and was a member of Pi Kappa Alpha fraternity during his time on The Plains. He graduated in 1960 and joined Robins Engineering full time.
Shortly after beginning his career, his Alabama National Guard unit was activated, where Barry spent a year in Germany during the Berlin Crisis. Upon completion of his service, he returned to Birmingham and Robins Engineering.
Over the next 20 years, Barry grew closer to Robins Engineering founder, Todd Robins, as they found a deep and abiding respect for one another both personally and professionally. As a result, Barry became part owner of the company in 1975, and was named president of the company in 1982. In 1991, The Robins Corporation came to bear his name, now known as Robins & Morton. He became Chairman/CEO of the company in 1996. In 2015, he moved into the Chairman Emeritus role. Barry made countless contributions to Robins & Morton over his 61-year tenure, leaving an everlasting mark on the culture of the company and its success.
In both his professional and personal life, Barry valued sincere relationships. He created an inclusive workplace and valued the many friendships he made in his lifetime.
Barry also believed that a better business community required leadership and service, giving his time as President of the Alabama Chapter of Associated Builders and Contractors; Chairman of the Birmingham Construction Industry Authority Board; Chairman of Auburn University's Construction Industry Fund Board; member of Birmingham Metropolitan Development Board; and member of Birmingham Business Leadership Group.
Barry had a very generous heart. Some of his most recent contributions include: the Morton Family Endowed Lectureship in Vascular Sciences at UAB School of Medicine; facilitating the growth of the equestrian program at Kings Home (recently building a horse barn for their Chelsea facility); and supporting the WellHouse and Greater Birmingham Fellowship of Christian Athletes. Being in the construction business, Barry always needed a project. He built Sunshine Farm (named after his father) and for many years has hosted church groups and other ministries at the Camp at Sunshine Farm with the hope that the campers would grow in their relationship with Jesus Christ.
Most importantly, Barry loved his family. His children were his greatest accomplishment and he enjoyed every opportunity to watch them, and their children, grow up and mature.
Barry is preceded in death by his father, Boyette Edgar "Sunshine" Morton; his mother, Dorothy Morton; his brother, Steve Morton (Betty); and his brother Allen Todd Morton.
He is survived by his wife, Catherine Byrd Morton; sisters Katha Lee Morton Hosea (Dr. Joel, d.) and Lynn Morton Bland (Dr. Kirby); his children, Lynn Morton Schrago, William Barry Morton, Jr., Katherine Morton Gurley (Russ), and Mary Dorothy Morton.
Barry is also survived by his 9 grandchildren, Austin Russell Gurley (Meg), William Jackson Gurley (Lacey), Morton Adam Gurley (Kayla), Bain Riley Gurley (Katie), Madison Gurley Gray (Payton), Emma Marshall Schrago, Maria Katherine Schrago, William Barry Morton III, Ann Miller Morton, and 2 great-grandchildren.
Funeral services for Mr. Morton will commence at ten o'clock in the morning on Tuesday, the 7th of December, at St. Luke's Episcopal Church located at 3736 Montrose Road, Mountain Brook, Alabama 35213. Immediately following the service, friends are cordially invited to the reception at Robins & Morton located at 400 Shades Creek Parkway, Birmingham, Alabama 35209.
Following the reception, interment will be held privately for the family at Elmwood Cemetery in Birmingham, Alabama.
The family has requested contributions in lieu of flowers be made to: Greater Birmingham Fellowship of Christian Athletes, 5184 Caldwell Mill Road, Suite 204-286, Hoover, Alabama, 35244, https://www.fcabirmingham.org.
A special thank you to Katie Cochran and the Affinity Hospice team for their exceptional care and support during the past several weeks. Services are under the direction of Ridout's Valley Chapel (205-879-3401) in Birmingham, Alabama.