Talent Acquisition Specialist Caitlin Shiflett was recognized with a Distinguished Service Award by Auburn University's College of Architecture, Design and Construction (CADC) at its Annual Awards Event on Oct. 26 at the Marriott Grand National in Opelika, Alabama. Additionally, Robins & Morton was honored for its longtime support of the university with the 2023 Legacy Award. The annual program recognizes outstanding faculty, staff, students, and industry supporters.
Since joining Robins & Morton in 2019, Shiflett has served as a recruiting champion at Auburn University, guiding students to full-time careers in the construction industry. In the last four years, Shiflett has attended more than 55 Auburn University College of Architecture and Design career events and has assisted more than 170 Auburn students on their career journeys.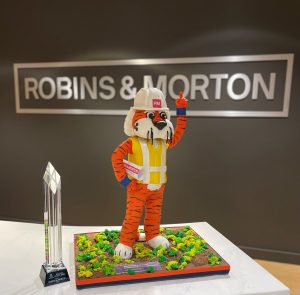 Outside of work, Shiflett volunteers her time with construction-related community programming, such as the McWhorter School of Building Science's Construction Management Summer Academy for Young Women and Associated Builders and Contractors of Alabama's Academy of Craft Training. She also engages in regular community service through Robins & Morton's NextGen Young Professionals Group, which volunteers with organizations such as the Community Food Bank of Central Alabama and Coosa Riverkeeper.
"It's a tremendous honor to receive this award," Shiflett said. "Working with students is often a 'behind-the-scenes' role and, a lot of times, you don't think that many people see the hard work that goes into it. This means so much to me and to those who spend their careers helping students make huge life leaps into the professional workforce."
Former Distinguished Service Award recipients include Executive Director of Auburn Opelika Habitat for Humanity Mark Grantham and Robins & Morton President and COO Robin Savage.
At the end of the banquet, the CADC recognized Robins & Morton as the Legacy Award winner, which is given to an industry partner with at least 50 years of leadership, support of Auburn University, and professional distinction.
For more than six decades, Robins & Morton has demonstrated ongoing support for Auburn University and the McWhorter School of Building Science by providing volunteers and financial support for their community and academic programming. The firm also built and donated the new Robins & Morton Construction Field Laboratory, valued at $1.3 million, in 2020. Nearly 12% of the company's 1,400 team members are Auburn Building Science graduates, with an even greater percentage who are Auburn alumni. Several Robins & Morton leaders sit on BSCI's Industry Advisory Council, and the firm supports a bevy of research projects by CADC students.
Former Legacy Award recipients include housing finance provider Fannie Mae for its support of Rural Studio's Front Porch Initiative and Associated General Contractors of America – Alabama Chapter.
"To say we are humbled and flattered to receive the Legacy Award would be a huge understatement," Robins & Morton President and COO Robin Savage said. "Our love for Auburn University is forever. One of the co-founders of Robins & Morton, Barry Morton, instilled in the company that we always need to remember where we came from and give back. His son, Bill, who is now the Chairman and CEO, continues to support that vision. We're proud to partner with a top-tier organization like the CADC."