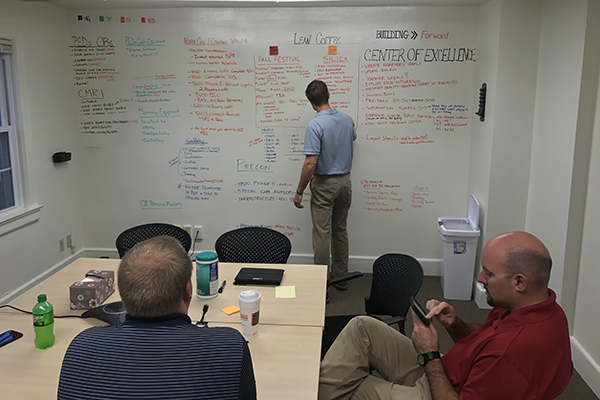 What do coffee and performance reviews have in common? 
For Robins & Morton's Duke University Medical Center team, combining these two things has revamped their entire hourly review process, and even produced new ideas about safety, team building and sharing best practices.  
The idea behind a Lean Coffee is that a group, in this scenario a jobsite team, meets first thing in morning, each writing topics on Post-It notes that they'd like to discuss among themselves in a column labeled "to discuss."  
Once finished, everyone gets two votes on the topics they'd most like to discuss by placing tallies on the post-its, essentially building the agenda. Once the votes are in, a moderator counts the tallies and, depending on how much time you have, selects the winning topics. From there, a timer is set for eight minutes and the group openly discusses the topic with the most votes for that amount of time. When time is up, do a quick vote to ascertain if the majority wants to continue to discuss. If yes, discuss for an additional four minutes. If no, move on to the next topic.  
The Duke University Medical Center team first began doing this in place of their morning meeting every Friday. By utilizing these tactics, the team was able identify some inefficiencies onsite and in areas where they could improve, namely in providing more comprehensive reviews for hourly employees.  
During one of these sessions, Superintendent Mike Dare voiced his concern that much of the project's hourly talent may be underutilized due to the lack of structure in hourly reviewing. The group agreed and began revamping the process to add the much needed structure for career growth. 
First, instead of performing the reviews only when an employee had reached a certain point in their career, Dare and the project foreman Chad Samuelson, began blocking time to review each person twice a year. During this time, both Dare and Samuelson engage the employee on their current tasks, what their interests are, and where they hope their career path will take them – each time, assessing if their path remains the same, and how Dare and Samuelson as managers can help them reach their goals.  
One particular employee has really experienced the effects of this new process. In his three years of employment on Duke University Medical Center construction projects, he has maintained a similar job description, performing the same tasks. By participating in semi-annual reviews, Dare and Samuelson saw his desire to take on more work and to be in a leadership role. Now, he is perfecting his skills as a carpenter, meeting each task with tenacity and enthusiasm. 
While all Lean Coffee discussions may not lead to a long term solution to all growing problems in offices, construction projects and the industry as a whole, it can serve as a first step to identifying issues, discussing trends and building trust among teams. Creating a structure to realize value from peer insight builds a unified front for problem solving and approach for daily activities.