Imagine a career without a rigid job description.
There are no bullet points; only foundational requirements. The rest – day-to-day responsibilities, accountability, and long-term career planning – are up to you and your manager. You are in the driver's seat.
It doesn't sound real, does it?
But it is, and it's available through one of the largest industries in the world: construction.
Since humans began building, construction has always required creativity. In early times, there was the concept of the master builder – one who not only imagined and designed the structure, but also carried out its construction. As the practice became more complex, roles continued to become more specialized. At first, they diversified into fields like architecture, engineering, trades and construction management, but now, each of those fields has further developed its own specialties.
While the diversification is a tremendous benefit to buildings' end users – they get higher quality, more aesthetically pleasing buildings faster – it has also become a benefit to career seekers.
As roles evolve, there are endless opportunities to diverge from traditional paths in the industry. Love construction, but have an exceptional aptitude in technology? There's a need for that. Really enjoy the construction process, but find yourself truly passionate about developing wellness and safety programs for the industry? That's another growing specialization.
Construction is unique in many ways, but its growing flexibility for career seekers to follow their passions makes it an ideal fit for the shifting landscapes of 2020 and beyond.
We caught up with a few Robins & Morton team members who capitalized on this opportunity to learn more about the unique paths they took to find their ideal career fit.
Joy Taylor – Project Assistant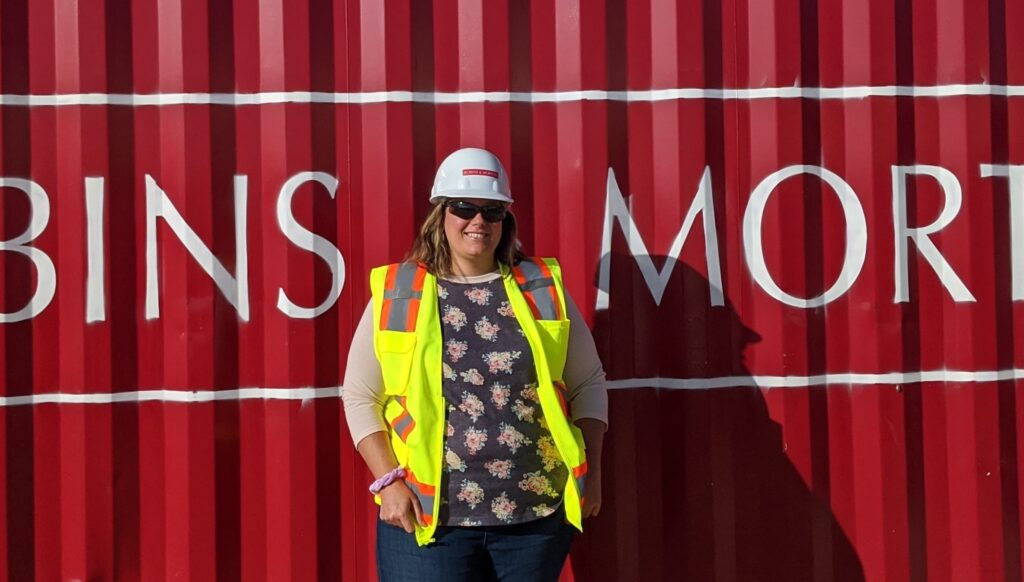 Joy Taylor graduated from Clemson University, in South Carolina in 2005 with a landscape architecture degree. To her, it was more than the planning and the process that drew her in – it was art.
She worked as a project manager before taking some time away to spend with her family. As her children grew up, she was ready to rejoin the workforce, but there weren't any openings in her field. Naturally, she was disappointed – she missed digging into drawings, putting together the puzzle, and seeing her designs come to life. However, she saw an opening for a jobsite assistant role at Robins & Morton and thought about construction as a parallel field.
"[While away from work] it was like grieving the loss of a friend," Taylor said. "I missed it. Having an opportunity to take a job that allowed me to use an existing skill set was invaluable."
She was originally hired into a temporary position, but it quickly grew into a full-time role. That full-time role included all jobsite documentation, onsite training, and office management. Soon, it grew into more responsibility as she began assisting with project management tasks and it led her to apply for Robins & Morton's Barbara Wilson Mentorship Program – a program developed for administrative assistants who wish to move into an operational role.
Taylor was accepted and today she's following her passion to one day become a preconstruction engineer. With the help of three mentors, each in a different position in the company, Taylor is gaining a variety of experience that is helping her to work toward her near-term goal: a construction coordinator promotion.
"Getting into my role was somewhat unintentional, but I just fell in love with it," Taylor said, "I'd seen design from the architecture side when I worked for the landscape architecture firm, but then being a part of construction now, it's like seeing things from the other side of the coin. I've really enjoyed that; and there's so much room to grow here."
Steve Moore – Manager of Scheduling and Innovative Support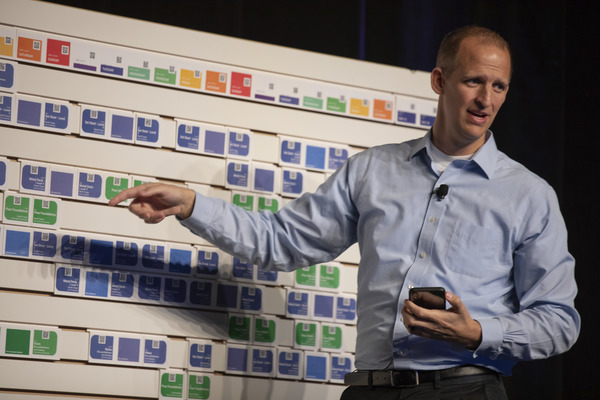 Steve Moore is a passionate and enthusiastic learner. It's what led him to pursue a bachelor's degree in Spanish and then a second degree in construction science. Although it took him a few tries to find the construction science program at California State University at Chico, once he did, he was only one of two students in his program that graduated with honors. Post-graduation, an internship opened the door to scheduling a $360 million power plant project.
Through that experience, he became masterful at the craft of scheduling and gained some knowledge about software in the process. This sparked a new hobby: inventing. Soon, Moore began using his basement as a lab to develop prototypes for new inventions, often ones to benefit construction scheduling processes. His first invention, The Time Machine, can be used to "drive" users around 4D models, making them more user-friendly.
Moore joined Robins & Morton in 2015 and shortly thereafter became the firm's manager of scheduling. But after hours, he was always drawn back to his lab to create. One day, he decided to share these passions with Robins & Morton's leadership team and it resulted in a new path for Moore. No longer would he be confined to after-hours innovation work; it could be a part of his job.
Today, Moore manages Robins & Morton's innovation efforts and scheduling. He's led the development, as well as co-developed, several new tools and software through Buildfore, the resulting start-up of the innovation team at Robins & Morton.
"There's a lot of excitement that comes from doing things that have never been done before," Moore said. "I've had a lot of successes and just as many failures, but I've found absolute passion in what I do. I wake up in the morning and I'm excited to get back to innovating."
Jared Selkirk – Safety Manager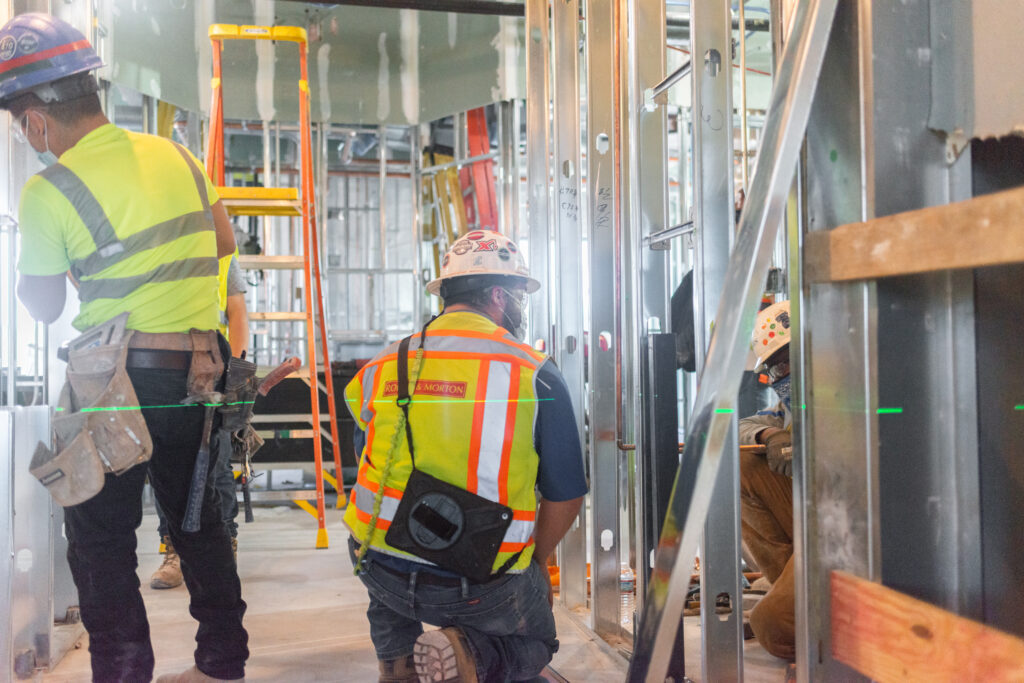 Jared Selkirk's passion is safety. When he graduated from Indiana University of Pennsylvania, several of his peers who also earned safety, health and environmental applied science degrees went on to work in food, hospitality and general industries, but Selkirk felt a different calling: construction.
He liked to be outdoors, and most importantly, he felt he could make an impact in the industry. The challenge for Selkirk was that there wasn't a clear path to a safety internship, but a conversation with Robins & Morton's safety department assured him that they'd make one.
Soon, he found himself in the Lowcountry of Charleston, South Carolina, working closely with the project's Senior Safety Manager, Gentry Jones. Day-by-day, they reviewed safety policies, walked the field and then viewed the policies in practice. Selkirk accredits the personalized, one-on-one interaction with Jones to guiding and shaping his career path. It also gave him the foundation he needed to begin growing into a new full-time role: field safety engineer.
Today, he serves as a Safety Manager on a healthcare addition project in Raleigh, North Carolina. His goal is to spend 80% of his day in the field, answering questions and actively coaching onsite personnel. Although some days that goal is more realistic than others, Selkirk still feels that he's working toward making the difference he'd always hoped.