Evan Langhammer knows a thing or two about building a legacy in his hometown.
The senior at Patrick Henry High School in Roanoke, Virginia, is a full-time-student, varsity athlete, and part-time construction intern building one of the most high-profile healthcare projects in the region. In the midst of all his responsibilities, he's also been working to become an Eagle Scout.
"I've been in the [Boy Scouts] since the first grade," Langhammer said. "I've always liked the prestige of it and being able to serve my community. It's highly regarded."
For the past 12 years, he's prioritized earning badges, completing service projects, and climbing the ranks. While brainstorming his final service project to obtain his Eagle Scout designation, he decided to combine a few of his favorite things – fitness, service, engineering and construction.
Throughout the Roanoke Valley, there is a series of greenways. This undeveloped land is for recreational use and runs alongside various parts of the city, including his high school. The school's public track and practice field are common stops for community members running, biking or exercising along the greenway. Langhammer, a track athlete, wanted to build something to enhance the school's outdoor strength training equipment offerings that would also be for community use.
He decided to construct a set of pull-up bars but needed assistance procuring the materials and tools. Fortunately, he knew who could help. Langhammer's part-time internship was with construction firm Robins & Morton who is currently building Carilion Roanoke Memorial Hospital's new Crystal Spring Tower in partnership with Branch Builds. What started out as shadowing in June 2021, turned into a job for Langhammer, and today he helps with various project management tasks such as reviewing structural drawings, submittals, and requests for information (RFIs).
Over the last year, he developed a close relationship with Robins & Morton Project Engineer Nick Kouskolekas and when Langhammer shared the plan for his service project, Robins & Morton answered the call. The team was able to donate all materials.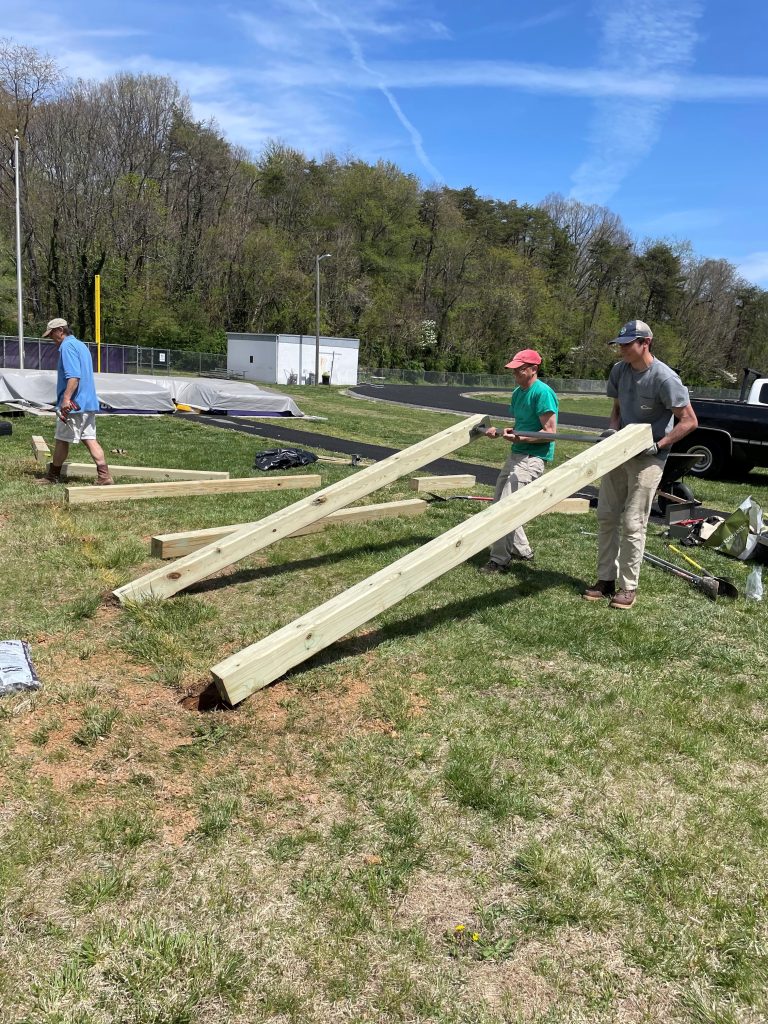 On a Friday morning at 7 a.m., Langhammer, his Scoutmaster and his father began the build. Over the course of a day, they were able to complete the structure and bracing boards of the pull-up bars. One week later, they officially finished the project by pouring the final concrete.
Sometime this summer Langhammer expects to meet with the Board of Review to officially earn his Eagle Scout ranking. This accomplishment comes just in time as he prepares to attend Washington and Lee University in Lexington, Virginia, in the fall. There, he'll be on the track team and plans to study either engineering or business administration.
"I believe my desire to serve comes from how I was raised by my parents," Langhammer said. "Their core values and beliefs are to put others before yourself and they instilled that in me."
As Kouskolekas has worked with, taught and gotten to know Langhammer personally, he noticed that Langhammer has been a natural cultural fit with the Robins & Morton team. His commitment to integrity, safety, excellence, community and the client aligns well with the company's values and creed.
"Evan's intelligence, maturity, work ethic and positive attitude are really beyond his years," Kouskolekas said. "He exemplifies leadership in all areas of his life, and I know he'll be successful in any path he chooses. We're looking forward to celebrating his Eagle Court of Honor this summer and hearing about the great things he does in Lexington this fall."