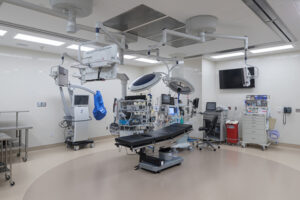 When you think about construction waste, you may think of large dumpsters filled with broken drywall, deconstructed wood, and chunks of concrete. But what happens to that waste when it leaves the project? You may soon be driving on it.
Construction is infamously one of the highest waste-producing industries in the world. To reduce environmental impact on projects, many construction companies have engaged in sustainable practices to recycle the unavoidable debris. Robins & Morton Superintendent, Brandon Neutzling, began his project with the same outlook and found a creative solution.
When his team arrived in Morganton, North Carolina, to perform an operating room expansion and renovation for Atrium Health's Blue Ridge campus, they realized that they had quite a bit of demolition work ahead of them. Upon further investigation, they saw that much of that demolition work would leave a hefty amount of clean precast. Working with Republic Services as the waste remover for the project, Neutzling shared his concern about the amount of concrete, and they were able to find a sustainable solution to both transport and divert the precast, giving it new life.
To ensure the project team was capturing all clean concrete, as well as recycling all other available materials, Robins & Morton had several containers set up near the construction area labeled by their contents. Traditionally, paper or wooden scrap signs are fixed to the containers to show which one holds metal or concrete or drywall, but are often accidentally knocked off or lost. To avoid confusion and maintain clarity, Neutzling had magnet markers made for the containers.
Once concrete made its way from the demolition site to its respective container, Republic Services would pick up the container and drive the precast to an old weigh station on Interstate 40, near exit 148 on the way to Statesville. That weigh station served as staging area for the material used in I-40 infrastructure improvements.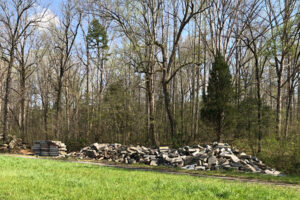 Through an agreement between Republic Services, Robins & Morton and the North Carolina Department of Transportation (NCDOT), all clean, rebar-free concrete was diverted to support the infrastructure improvement project. Once it arrived, it was pulverized into smaller chunks, and used to both infill and bring the base of the road up.
This is just one way the project worked to minimize landfill diversion, but Neutzling said the key to making a difference in each construction project boils down to planning, relationships and openly communicating that sustainability is a project goal.
For example, Neutzling's plan when beginning the project was to intentionally look for ways to track and minimize waste. This led to his conversation with Republic Services regarding what to do with precast. His leadership in this effort also led
to conversations with his team, encouraging them to think through everyday processes and how they could minimize both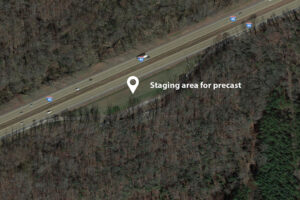 their personal waste and the project's waste.
By connecting with his team, local vendors and being open about his intent to think sustainably on the project, Neutzling and his team were able to make a difference, saving nearly 100 tons of waste from going straight to the landfill. Instead, those precast panels served a higher purpose, ultimately improving road conditions.