Every construction team wants to build world-class quality into its project – there should be no question about that. With a relentless focus on quality, projects can save time and money by preventing rework, while ensuring the building remains usable long after the project is complete.
It's true that nothing can replace the importance of a company's Quality Management Manual and Quality Assurance/Quality Control (QA/QC) Plan. These serve as the foundation of our quality guidelines, standards, and procedures. But in our industry's spirit of efficiency, we must constantly reexamine our processes in a new light, asking ourselves: how can this be improved?
Rather than solely relying on quality to filter down from management, it makes sense to shift the focus to our trade partners and ultimately the craft workers. After all, they are the ones laying brick, installing conduit, and building casework. The quality of the work is truly in their hands. They should be empowered with the information they need to do the task right, the first time. We call this invaluable culture shift Quality at the Source (QaS).
In essence, Quality at the Source makes quality control a proactive process instead of a reactive one. Traditionally, trades install the work and the general contractor follows behind, ensuring proper installation.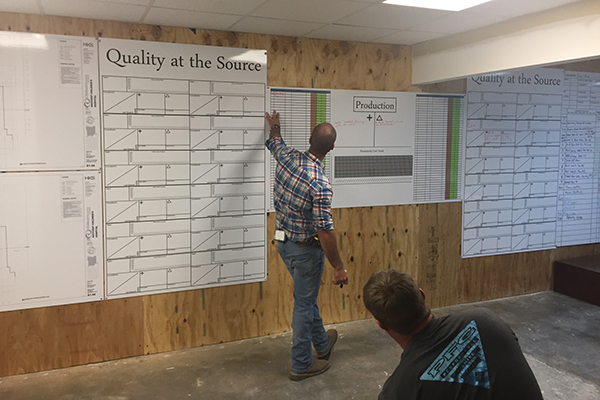 Instead, Quality at the Source requires the general contractor to meet with the foremen who are in the field directing their crews and the craftworkers who are installing the work. These meetings are to discuss the quality expectations and walk through certain aspects of the process prior to installation. This has proven to reduce rework on the job and creates a better understanding of the task itself.
Success was remarkable for the first few projects to implement QaS at Robins & Morton. These projects reduced the number of defects in their projects by 25% to 50%. Continuing broader studies across the company, results show there are 25 main quality defects that make up approximately 90% of a project's punch list items. By deduction, eliminating that volume of rework has significant value – reducing waste of money, time, and work hours.
Our trade partners couldn't agree more with the results. They began to identify many different kinds of waste completely unknown to them before. Kevin Robinson, Operations Manager for Tech Air, described his company's experience tracking quality on a day-to-day basis.
"Each craft worker knows what their responsibilities are, and they're accountable for it," Robinson said. "With the quality checklist that we created from the QaS program, [our employees] go to work and complete their work items and their tasks, all in the same workday. Whereas before, we would hustle through it for production reasons, and we had no idea what we were spending in rework and going back after."
He reiterated that it helped the accountability of the craft workers throughout all trades in their desire to do a good job.
"It's been a homerun companywide in saving hours," he said. "I think the key is it helps the culture. The craftworker has great accountability, and I think it ups their passion. They feel like they're a part in something, versus just a person installing sheet metal."
After seeing this immediate success, we found it valuable to create a new, high-level Quality Management System (QMS) so that any of our jobsites could replicate and implement Quality at the Source with their teams.
Assistant Superintendent Christena Holcombe was a part of the team tasked with creating the QMS, and said that flexibility is key.
"Each trade is very different," Holcombe explained. "We like to create a program that's customizable to any project, to the client, and to the trade. Maybe we're providing them with a checklist, or maybe we're providing them with a visual that makes an installation easier. We like to adapt and make it easier for all of them."
Aside from processes, this inclusive environment inherently results in a higher level of quality. Every craftworker is invited to interact with the foremen and communicate openly about the issues in their area, identifying areas of need or training opportunities. Everyone has a voice, an ability to openly communicate, and buy-in to the process.
Quality at the Source has been another example of what can be accomplished by stepping back and exploring ways to continuously improve.