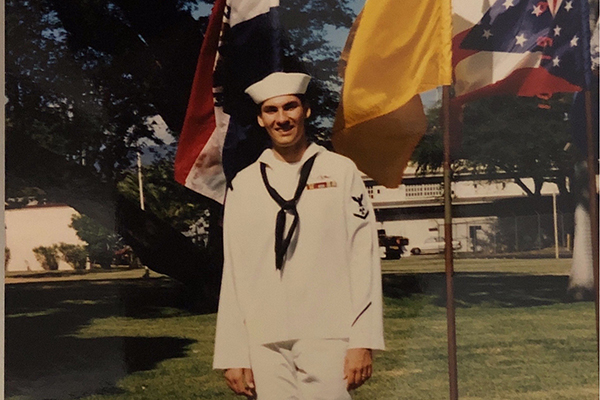 When Senior Mechanical Preconstruction Manager Kyle Davis is working on a project, he talks about every system and element like an old friend – what makes it tick, how to best care for it, and ensuring it's the right fit for the environment. Davis has amassed a wealth of knowledge in this subject matter throughout his more than 20 years in construction. However, he attributes much of his foundational knowledge to his formative education in the Navy.
Growing up in a small town in the Missouri Ozark Highlands, Davis felt a bit uncertain about his future. He wasn't sure about what he wanted to do long term and wasn't aware of many career opportunities available to him. When he learned about Naval service, the valuable skills he would gain and that he would ultimately be eligible to receive an education through his service, it sounded like the perfect fit for him. He enlisted. During the enlistment process, he also earned high scores on the Navy Nuclear Power Test and the Armed Services Vocational Aptitude Battery (ASVAB), allowing him to place into a program to begin working toward becoming a nuclear machinist mate.
Throughout his six years in the Navy, Davis received detailed training on mechanical systems through various schools. The first school he attended taught him how to operate and service mechanical systems for submarines and ships – boilers, steam systems, piping systems, pumps and valves. The second and third schools he attended were specialized for the nuclear side – nuclear power plants, propulsion systems and more. He was also responsible for all of these systems on his deployments, including managing the submarine's maintenance schedule, which translates to the upkeep of thousands of pieces of equipment. This was a critical job on the sub, as the failure of any equipment – large or small – at sea could have dire consequences for the entire crew. Aside from these highly technical skills, he also learned about leadership, teamwork, and being prepared for any scenario.
As his time in the military was winding down, he began engaging with the Navy's Transition Assistance Program (TAP) – a program that helps veterans translate their military experience into civilian careers. He attended workshops and met with recruiters to find a new direction for the next phase of his life. Once Davis was honorably discharged as an E-5, Machinist Mate Second Class, he took a job at an adhesive tape factory in Columbia, South Carolina, after making a connection through TAP. He spent the next 14 months working on their mechanical systems and process controls.
In 1999, Davis moved to Florida and took an estimating job with a mechanical trade contractor. Over the next 14 years, he would cycle through several responsibilities within that company – ranging from project management to preconstruction and sales – learning the ropes within construction. He further expanded his knowledge as he built schools, prisons and hospitals, and supported countless other efforts, tucking away nuanced observations that he could build on to create a lifelong file of reference material.
While working full time, Davis also earned his engineering degree from the University of Central Florida, graduating in 2007. In 2013, he joined Robins & Morton.
Davis is emphatic about the relationship of his military experience to the success of his current career. Of all the lessons he learned during his enlistment, he holds one at top value: don't be a linear thinker.
"Always be able to look at a situation from many angles or perspectives," Davis said. "[The military] Taught me to look at the different components of the team that would be necessary to complete that task or project successfully. For me, that's useful – putting the right people in the right situation to help them succeed, because they're the person for that task. It's building high-performing teams."
Davis is a key contributor to Robins & Morton's strategic planning efforts that ensure the company has a sustainable future. He is also deeply passionate about helping veterans transition into civilian careers. His leadership role, coupled with that passion, is quickly becoming a platform where he is working to create a more defined Robins & Morton veteran community, as well as increase partnerships with other veteran transitional programs. He believes veterans bring a unique skillset to the civilian workplace and that skillset is ideal for construction.
"When you look at the training that all veterans go through, it's an automatic response for them to be a part of a team," Davis said. "Veterans are very task-oriented and are unphased by high-stress situations. There's not a lot that rattles them – they're very even-keel."
Most importantly, he knows what it's like to leave the military. Each day is structured, regimented and full of purpose, but then your life is suddenly jolted out of balance when you're discharged. For him, finding a fulfilling career helped with his search for purpose post-military and he wants to continue to assist other veterans with that same pursuit.
Today, Davis resides in Orlando. Outside of work, he enjoys traveling, photography, music, and spending time with his wife and two children.