By Eric Groat, Operations Manager and San Antonio Office Leader
Speed to market isn't a new concept, but it has taken on new urgency in healthcare construction.
With healthcare systems focused on managing the spread of the pandemic in 2020, providers are now revisiting their current and future construction needs. This not only includes jumpstarting the projects placed on pause in the previous year, but also re-evaluating the utilization of space on their campuses.
In the South Texas region, there is a significant amount of pent-up construction demand. In response to the challenges presented throughout the pandemic, healthcare providers are expressing interest in increasing inpatient bed space, instituting flexible patient rooms, improving emergency department triage and patient access, as well as migrating certain ancillary services out of the main hospital into medical office buildings. With the resumption of elective procedures, we've also seen an increase in requests to add and renovate operating rooms.
Because of these many factors and more, speed-to-market continues to rise to the top among providers' needs in beginning new work. Although design and construction can be a lengthy process, patient need is immediate. With so much emphasis on the team's ability to deliver the same quality on a faster timeline, design and construction teams are challenged with reimagining aspects of project delivery.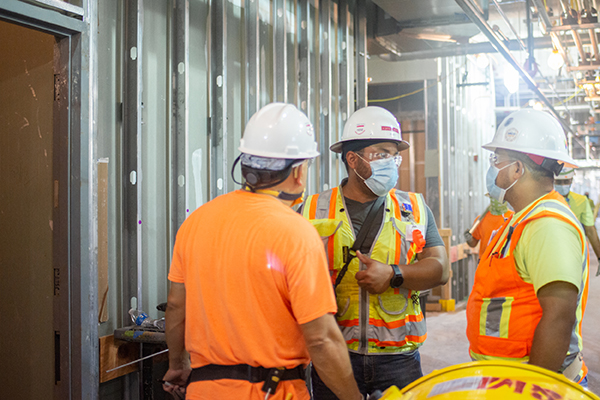 The traditional approach begins with design, then the onboarding of the general contractor. It's only after we've gone through several design steps to create the construction documents (CD) when we begin to onboard trade contractors.
This is one area where efficiency could be improved. By the time we reach the CD phase, a significant number of design decisions are complete. It bypasses the input from trade contractors at a stage when we could have benefitted from their perspectives and expertise, reducing drawing revisions that impact both budget and schedule.
That practice is largely based on a hard-bid, low-cost model for onboarding our trades. It sets up a relationship that prioritizes cost over everything else with one of the most critical resources in the construction process.
As a result, the project not only suffers from their lack of input at this stage, but it can also prevent the team from getting the right partner for the project. With a hard-bid, low-cost model, trade contractors are forced to cut their budgets wherever they can, which leads to challenges in bringing their most talented workforce onsite. Further, it doesn't encourage collaboration or innovation.
With the current limited-resource marketplace, we – as general contractors and construction managers – need to make our projects more attractive to our trade contractors.
The good news is that these challenges can be remedied through an early, best-value selection for trade contractors. This way, trade contractors can be chosen based on the strength of their portfolio, staff availability, their thoughts on innovative solutions, and our relationships with them. Fees and general conditions will, of course, be considered, but only in tandem with these other factors. It eliminates uncertainty for them and for us.
This practice can significantly, and positively, impact speed to market. By selecting contractors early, sequential steps become simultaneous, shortening the duration of the preconstruction phase. Further, they can help prevent delays by identifying any constructability or material procurement issues. Finally, trade contractors who are best for the job and who have submitted a fair cost, though not necessarily the lowest, are going to be more invested in the success of the project.
There's a misconception that you must have an Integrated Project Delivery (IPD) contract to engage key players at an early stage, but it isn't accurate. In fact, it's critical that we think of early involvement as a goal for every project, not exclusive to IPD.
This method has been particularly successful in a project that we recently began at Sierra Providence East Medical Center in El Paso, Texas.
Robins & Morton completed a tower for Sierra Providence East in 2014, leaving a shelled space for future growth. In 2020, Tenet Health – owner and operator of Sierra Providence East – decided it was time to build out that space. Although originally planned for a fall start, the project was pushed, but when the project was ready to begin at the beginning of 2021, it ramped up quickly.
Sierra Providence East needs the third-floor shell space with 30 new medical/surgical beds to open in January 2022. We knew construction alone would take ten full months, so we had to condense the preliminary stages – design and contractor selection.
With the project's release in January, we moved quickly, working as one unit with the design team – SBL Architecture. By mid-February, we'd selected the trade contractors. As of the first of March, we received our construction documents and began to mobilize construction within two weeks.
This alone reduced the trade contractor selection and onboarding process from a typical four-to-six-week time frame to only two weeks.
Further, we've benefited from early, collaborative logistical planning, since the shelled space is on the third floor of an operational hospital. Multiple trades – such as the mechanical, electrical, fire-sprinkler, and casework contractors and door vendor – have already been involved in the design and the project has seen success in procuring long-lead-time materials.
Although every project has its own specific needs, this is a way we can improve the seamless transition from design and preconstruction to the construction phase. Eliminating unnecessary road blocks and challenges in the field begins with ensuring the right team members are at the table while decisions are made.
If we continue to look for ways to improve the construction process – namely, increasing speed to market – we'll see results when we recognize the knowledge that each member of a construction team brings and how it can be used to reinvent our processes.