By Jeff Palombo, Vice President of Safety Operations
The principles of Human Performance teach us that all humans make mistakes.
Some of these mistakes may be unavoidable, while others may be unintentionally provoked from the very operating system we are working within, but both forms of human error can result in negative consequences. Regardless of consequences, analyzing each error's origin allows us to either add consequence control measures, improved defenses, or work toward eliminating the error-provoking environment. Ultimately, the end goal remains the same: to keep our people safe.
Each of us must have the courage to talk about the mistakes we make. Further, when it comes time to evaluate the errors of others, it's our reaction that matters the most. We must not blame the individual, but strive to understand how their decisions and actions made sense to them at the time. If we continue to foster an environment where we encourage one another to transparently share mistakes, this will strengthen trust, increase communication, reduce the likelihood for human error by improving our operating system, and build an interdependent safety culture.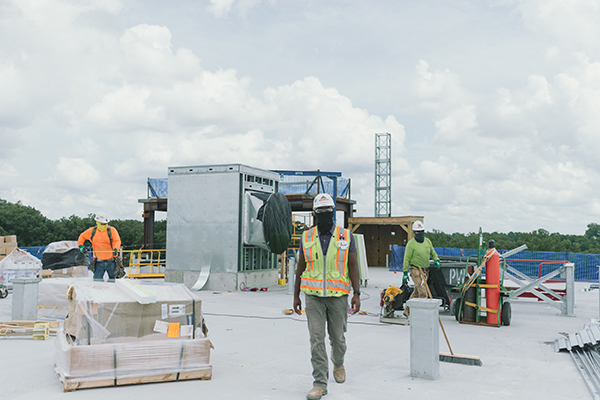 What is Interdependent Safety?
Interdependent culture, at its core, focuses on organizations that are cross-functional and prioritize working together in teams. Forbes magazine describes interdependence as a culture where, "the lines between employees, contractors, suppliers, allies, partners and customer often blur beyond recognition." Functioning this way, the various team members work together holistically toward a common goal to deliver shared objectives.
Interdependent safety maintains the same concepts – all onsite personnel, no matter their company or role, are working toward a safe workplace. Perhaps most importantly, they realize that their actions impact their peers and vice versa, creating a greater sense of accountability for safe behavior on the jobsite.
Although every jobsite has a manager in charge and often a full-time safety manager, it's unrealistic to expect only this small group to plan for, oversee, and continually encourage safe behaviors. Now, we instead work to instill a sense of responsibility in all team members to not only encourage their own safe behaviors, but also speak up to their team members when they see at-risk behaviors taking place.
When interdependent safety is functioning effectively, there is a noticeable reduction in at-risk behaviors, a heightened sense of care for oneself and one another and a deeper development of camaraderie.
Pandemic Practices and Cultural Philosophies
Safety has always been critical in construction, due to its fast-paced nature and its many requirements for heavy equipment operation, outdoor and elevated work, among other factors. When COVID-19 hit earlier this year, our team members' wellbeing was the first thing that came to mind as we all moved quickly to create new procedures and protocols.
As the months have progressed, we've learned more about the virus, and collected and shared best practices, further strengthening our protocols. However, we've also gained a deeper appreciation for interdependent safety.
Right now, we are recognizing Safety Week, and within Robins & Morton, our theme is This Is My Jobsite. The theme works to illustrate the idea that safety extends beyond the jobsite. The campaign shares imagery of team members at work, at home, performing their hobbies, and on-the-go at their various daily "jobsites," or the many places they may encounter unexpected risk.
More than ever, we have become acutely aware of our safety, both at work and at home, and how our actions may impact others around us. As a result, many of us are practicing the elements of interdependent safety culture in almost every area of our lives.
As we continue through Safety Week, evaluating the progress of our journey, we continue to commit ourselves to improvement and innovation. We understand that the goal is never focused on rankings, awards or metrics, it's about creating and sustaining an environment of safe behavior. By continuing to share the value of interdependent safety culture with our teams and partners, we can work toward the spread of a new viewpoint that can change the industry; making the workplace behind the gates of a jobsite one of the safest places to be.