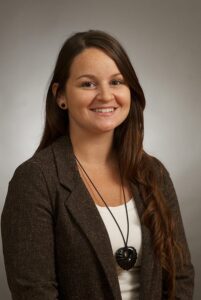 As the daughter of a custom home builder, Jackie often accompanied her father to his projects. Observing her dad's ability to craft intricate homes that positively impacted so many people, she knew early on she was interested in a career in construction.
In high school, Jackie became interested in environmental conservation, and in college, she learned about green building. It was at that time she knew the combination of these two interests, construction and sustainability, would provide the ideal career opportunity for her. The result is the job she loves to fulfill at Robins & Morton.
"Sustainable construction provides the perfect outlet to live what I believe in and brings me back full-circle to my childhood days building homes with my dad."
While obtaining her Master of Science in Building Construction at the University of Florida, Jackie worked with Dr. James Sullivan and the Hinkley Center for Solid and Hazardous Waste Management to develop a contractor's guide for managing and diverting construction waste. This guide was published and distributed to contractors throughout Florida. Jackie's master's thesis analyzed the future impacts of gypsum board waste related to real-time projects on campus.
The thesis proposed a solution for minimizing and diverting waste and limiting the cost and hazards associated with disposal. This research, combined with experience gained during two internships at Robins & Morton, provided a formative, real-world view of the challenges and opportunities associated with sustainable construction. When hired in 2009 by Robins and Morton, Jackie was determined to enhance the sustainability achievements of the company. Jackie started on a jobsite providing LEED coordination services for a $121 million healthcare project.
It was contracted to become LEED Certified, but through innovative recommendations, the project became the first hospital to achieve LEED NC Gold certification in Florida. Her LEED process from this project became the foundation for our LEED procedures. In 2011, Jackie was promoted to Corporate Sustainability Coordinator and invited to chair the company's Sustainability Council.
"Managing sustainability companywide allowed me to green operational efforts and offer strategic advice to clients about LEED certification and emerging sustainability trends."
Jackie developed a process to analyze each client's unique sustainability goals, perform cost and feasibility analyses, and recommend appropriate alternatives to enhance project features. Instead of acting as only a team member on LEED projects, we began to lead the process. As an example, HealthSouth Rehabilitation Hospital set a LEED Silver goal, yet there was a lack of leadership and direction. Jackie volunteered to lead the LEED process, managed the team, and facilitated a collaborative environment in which the team was able to identify additional LEED initiatives. The project achieved the first LEED for Healthcare (HC) Gold Certification in Massachusetts. This achievement made Robins & Morton the first construction manager to have multiple projects certified under the challenging LEED HC rating system. This project anticipates an energy savings of $71,000 per year.
Robins & Morton has also been awarded ABC's Green Contractor Certification, been honored with USGBC Alabama's Clover Award, and has frequently been ranked as a BD+C Giants Top Green Building Construction Firm and an ENR Top 100 Green Contractor. As sustainable practices evolve in the construction industry, it is essential for professionals to access practical and thorough solutions.
Jackie, now Robins & Morton's sustainability manager, has overseen, and in most cases written, policies to ensure Robins & Morton implements best practices beyond the standard environmental codes and continues to push the construction industry to do the same. These include:
Sustainable Operations Policy
Environmental and Stormwater Management Policy
Waste Management Policy
LEED Project Policy
Sustainable Jobsites Policy to Green All Projects
In addition to these internal policies, Jackie has been published in numerous industry journals, including a guideline titled "Reaching Beyond Formula: How Every Contractor Should Contribute to Sustainability" by the USGBC. The article recommends actions any contractor can take to reduce environmental impact on every jobsite. The recommendations in this article can also be used by building owners to guide sustainable decision making.
"What makes these programs and policies effective, is the overriding principle of creating practical, reasonable initiatives that take into account the variety of client preferences, site restrictions, and budget constraints typically experienced during construction. Rather than teach from a theoretical perspective, these recommendations are based on what I have learned and observed onsite and through project teams."
One of her most rewarding roles was developing the sustainability training program and educating others about the ever-advancing principles of sustainability. She has also taught a series of GBCI-approved and/or AIA-approved courses and workshops. Jackie says that she believes the value of engaging Robins & Morton's employees to harness their passion for environmental protection and improved human experience is immeasurable. In fact, she believes it's key to continuously enhancing the company's sustainability success.
Though the green building movement is stronger than ever, there will always be opportunity for continuous improvement. Jackie's objective is to continue to learn, adapt, and educate others on opportunities to reduce the environmental impact of our built environment.