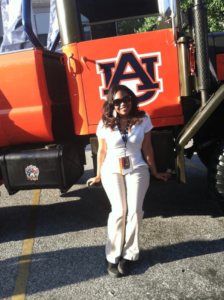 Julya Welch started off as an engineering major at Auburn University, but she soon realized that wasn't the career path she was meant to take.
"I found my way to environmental design," she said. "There were a lot of electives required for my degree, and I took several building science classes. These courses were so interesting that I just fell in love with the subject."
Her fascination with building design led Julya to pursue a master's degree in building construction, which she earned in 2015.
While Julya states that her educational background has definitely set her up for success in the field of construction, the job site has proved to be the best classroom of all.
"Earning a degree only teaches you so much. But you really learn the most when you're gaining hands-on experience in the field. Every day you encounter something different. New challenges come into play, and I enjoy watching everyone using their knowledge and skills to work towards solutions."
Julya's Robins & Morton career started as an internship, and she's now working as a project engineer on a healthcare project in Alamogordo, New Mexico.
"It's been great seeing all the different stages of the project from beginning to completion," she said. "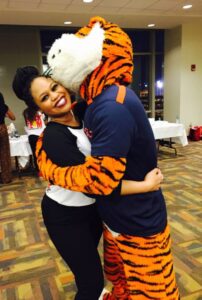 Another factor that likely helps her team find solutions when a challenge arises onsite: Julya's can-do attitude.
In addition to loving the knowledge she receives on the jobsite, Julya appreciates the fact that Robins & Morton is so family oriented.
She also sees the people on her jobsite as family. "I love getting to know everyone," Julya said. "You get to work with members of different trades and each person has a unique background." She notes that she's proud of how well her team works as a unit, providing one another with input and suggestions to ensure the project is a success.
Julya's love of the family dynamic on the job spills over from her personal life. When she's not using her analytical skills to help her team tackle challenges on the job site, she's visiting with family and friends in Mobile or Auburn.