Five days a week, you can find Jeffrey Robinson perched in what he calls the "crow's nest" above the Carilion Roanoke Memorial Hospital construction site in Roanoke, Virginia.
The crow's nest is Robinson's moniker for a mechanical lift, and as head site monitor, he watches each day on the project unfold, comparing it to a symphony.
"I played the piano for 21 years, for family and for church," Robinson said. "I feel like a conductor going up in the lift. When I get to the top and I'm on the radio, every piece of the music starts coming together. And when it starts coming together, you can hear it."
The other four or so hours of Robinson's day, he's on the ground with his seven-person team managing traffic control. All onsite know him as "The Mayor" because of his amiable personality and because he seems to know everyone in town, but Robinson brings much more to the team— he has a wealth of construction and logistics experience.
Robinson has worked in the construction industry for more than 10 years, holding various roles from foreman to traffic controller and estimates that he has worked on as many as 200 projects. When he began working on Carilion Roanoke Memorial Hospital's Crystal Spring Tower addition in summer 2020, he held a newly created position—site monitor. The purpose of this role was to observe the site each day, identifying any constraints or logistical challenges that may be plaguing the construction team, hospital staff, patients, or other visitors.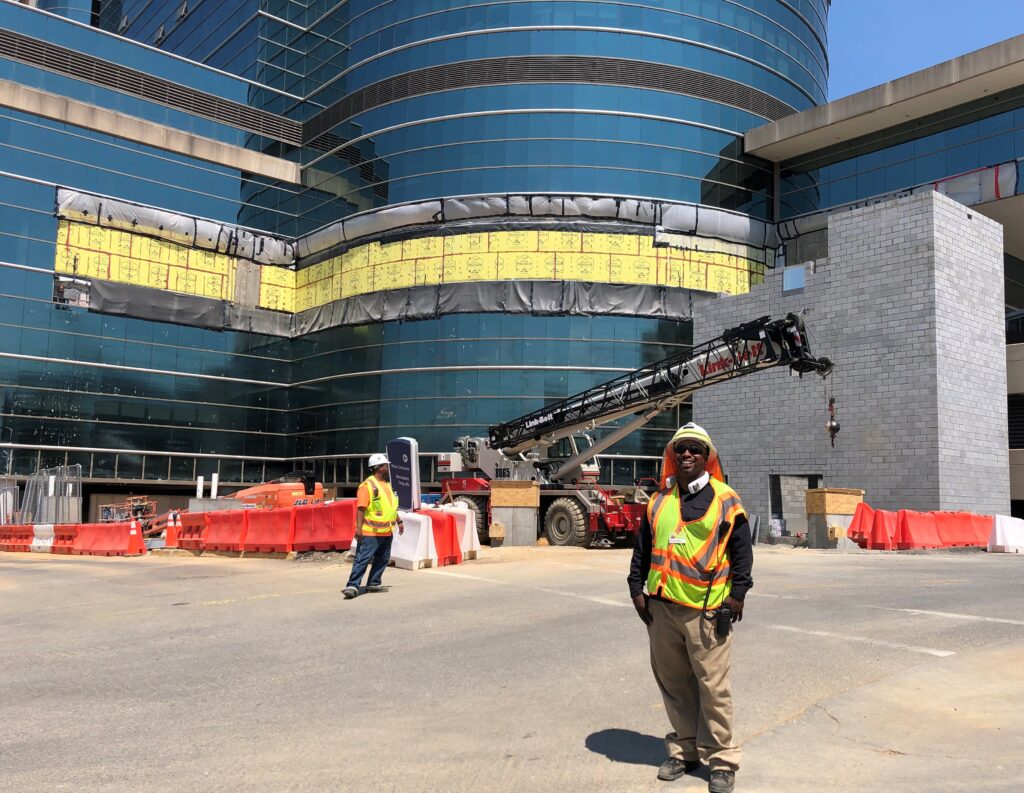 It takes an experienced construction team member to perform these duties and identify opportunities for improvement, as it may not always be clear that there is a resolvable issue.
As demolition and construction began, Robinson began taking detailed notes to best understand the day-to-day patterns of the site and its surroundings. The notes provided observations and predictions of potential challenges that could arise in the coming phases of work. At the end of each day, he would share his notes with Robins & Morton's onsite management team, and they couldn't help but notice that there was something unique about them.
"Not only do they document details of the day and help us solve problems, but they're also entertaining," Robins & Morton superintendent Josh Farr said with a laugh.
It's the Mayor's style. Robinson is a fan of colorful descriptions, movie quotes and pop culture references—specifically shoutouts to Taco Tuesday. He'll even occasionally share some personal news for his managers to read later. One note said, "I found out that I'm a two-time grandpa. My youngest daughter just had her first baby named 'Prince,' so I guess that makes me a 'King.' Excellent news!" Another story details a fraught, but amusing saga about a vehicle he recently purchased, with the series playing out over several days.
"It's our culture out here," Farr said. "We're serious about getting the job done and being safe, but it's important that we're having fun and cutting up with each other. It keeps morale high."
Jokes aside, Robinson has served as an important conduit for communicating logistical challenges in real time, spotlighting improvement opportunities. One such challenge involved visitor and patient wayfinding from the hospital's entrance to the emergency room.
The 500,000-square-foot, 10-story tower's footprint consumes a significant amount of space on the right side of the hospital's campus and construction activity eliminated a front parking lot familiar to hospital visitors. The project team temporarily re-routed traffic during construction to ensure an unencumbered path to the emergency department. However, it's not enough to set a path and assume it's clear—this is where Robinson and his team come in. They're the boots-on-the-ground solution to helping prevent traffic accidents and making sure hospital patients and visitors get where they need to go.
"When people come to, or leave, the hospital, they're often emotional," Robinson said. "You have to assume that this could be a challenging day in their life, respect that and work to keep them safe."
Over time, they've worked to further improve wayfinding and maintain adequate staffing for traffic control to eliminate confusion.
Because of his experience and role as head site monitor, Robinson often finds himself serving as a leader and mentor to the other team members onsite. In one of his notes, he details seeing growth in one of his team members. He describes it by saying, "Now, we are playing Mozart at center stage at Carnegie Hall!" In another one of Robinson's iconic notes, he defines and details his goal to be a "visionary leader."
"A visionary leader is an individual who sees the potential for how the world should exist and then takes steps to get there," Robinson wrote. "You can successfully lead people to accomplish a course of action while having a vision for the change you'd like to create. People think visionaries are heroes—they have the ability to see into the future to predict, with uncanny accuracy, what lies there."
At the end of each day, Robinson said he's grateful for the opportunity to grow his own skills and challenge his teammates to improve their own.
"I enjoy teaching and encouraging my team," Robinson said. "It wasn't always clear to me what I wanted to do, growing up, but I feel that I've found my place [in construction]. Safety is really important to me, and I feel like I do my job when my team members understand that."
Robinson has been a part of both the demolition and sitework phases of the tower and in the coming months, the project will continue with concrete, foundations and structure.
"I know that Jeffrey [Robinson] will continue to be a significant part of identifying what we can do better and more seamlessly throughout this project," Farr said. "It's extremely helpful as a manager to have an experienced pair of eyes in the sky."