While the beachfront skyline of Panama City Beach will change permanently upon completion of the new Marriott Springhill Suites in summer 2019, travelers and locals alike may have noticed another alteration installed on Sept. 6.
In order to build the 14-story, 200-room hotel, general contractor/construction manager Robins & Morton began pouring the foundation for a 195-foot-tall tower crane on Aug. 31. By the end of the day on Sept. 6, the tower crane was completely erected, standing in the footprint of what will ultimately become the facility's new three-story parking garage. It will remain onsite for approximately 13 months and will be dismantled shortly thereafter.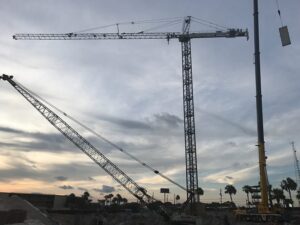 A week after installation, however, Hurricane Irma made landfall in South Florida and the likelihood of severe weather increased Panama City Beach. Though the tower crane at the Springhill Suites' jobsite is designed to withstand 95mph winds, the Robins & Morton project team closely monitored the storm's path. If the storm shifted west, the crane owner was prepared to quickly remove all horizontal components on top of the crane that could potentially cause damage to the surrounding area.
As the threat of severe weather diminished, jobsite activity continued and the tower crane operations went on as planned.
During its stent onsite, the tower crane will be used for concrete pours and staging, along with reinforcing and posting tensioning materials. It will also be utilized to stock materials for framing, masonry and drywall. Although the tower crane has the ability to carry loads of more than 22,000 pounds, it will not only be used for lifting heavy, cumbersome material, but will also be able to deliver a load from one point onsite to another within a radius of 213 feet.
Once complete, the Springhill Suites will feature a fourth-floor lobby with gulf views, a full-service restaurant, bar and dining room, meeting room space and outdoor terraces, as well as a three-level parking garage. Outside the hotel, a resort-style pool deck will be installed adjacent to a zero-entry pool, a lazy river and rock structures, a splash pad for kids, seven private cabanas, a fire pit, a full outdoor pool bar and a dune walkover to the beach.