Of the many shifts in 2020, one of the greatest was within the workplace.
The expectation to be in-office was replaced with flexible and remote work. In many ways, this accelerated the emerging acceptance of the varied definitions of "at work," and many companies shared that they even experienced a boost in productivity.
However, there have also been mental health challenges associated with the loneliness of remote work, as well as a growing discontent with the lack of creative collaboration and the limits of videoconferencing.
Each employee has unique needs to be their most productive and creative. Within the design and construction community, the pandemic brought a renewed focus to a physical space's ability to support those unique needs. Further, how does the design of the modern office support changes in workplace norms?
In a recent article by Building Design + Construction magazine, Design Directors Darrell Fullbright and Duncan Lyons of Gensler architecture firm describe the office building of the future as, "not just a container for people, but rather an experience supercharger." This idea is a call for balance, making the workplace's purpose to foster connection, collaboration and real-time problem-solving, instead of maintaining full-time cubicle occupancy.
Robins & Morton has experienced consistent growth in their workforce in recent years and has pursued with the best way to support employees through upgrades to the corporate office environment. Although many of Robins & Morton's operational team members work on-location at construction sites, between projects they need somewhere to go. Additionally, Robins & Morton has eight offices nationwide and many other office team members commute into the headquarters from time to time. However, those are just the unique cases, one of the key groups to consider in the upgrades was the nearly 150 people who work there each day. In 2019, all these variables led to a decision to renovate and expand Robins & Morton's home office in Birmingham, Alabama, beginning with a parking deck.
While construction was taking place on the adjacent parking deck, leadership reimagined the building's layout. Aside from creating more individual workspaces, they wanted the office to be an environment that encouraged innovative thinking and pursuit of improvement. This included many more community areas, upgrades to the training center, an innovation lab, huddle spaces for interactive team meetings and more.
In January 2021, all renovations were complete. With the help of architect Poole & Co., and interior designer, River Brook Interior Design, the transformation was spectacular.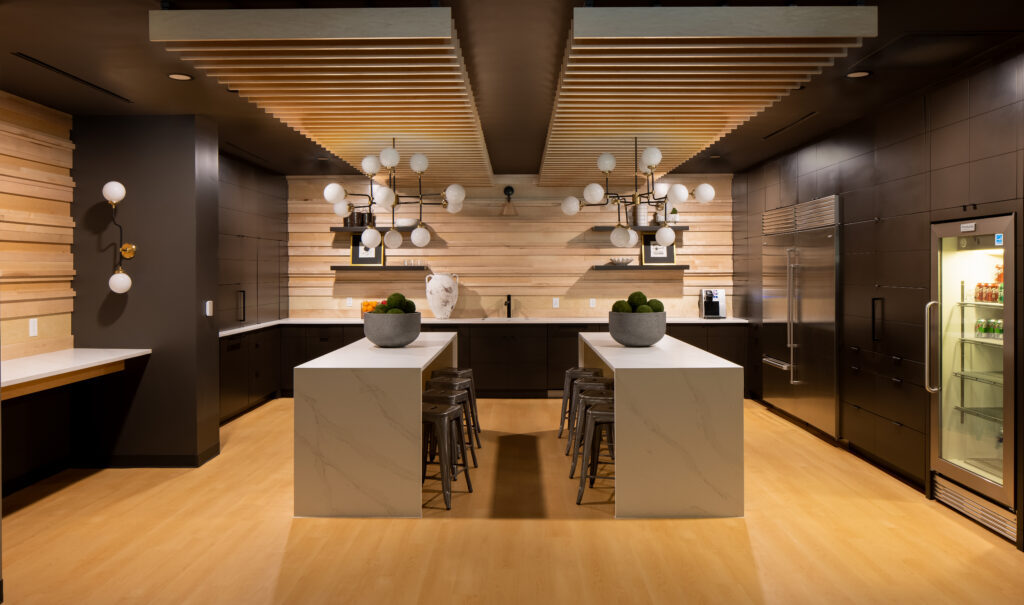 Robins & Morton built the original building in 1996 and moved in after completing its construction. The two-story structure was approximately 26,000 square feet, and the interior was designed with dark woods and splashes of the company's iconic red on the walls. The renovation added almost 10,000 square feet and shifted the interior design to a much more contemporary aesthetic. Features include light-colored woods and dramatic black walls, accented with unique art and furniture.
Aside from its attractive interiors, how does it stack up against the "experience supercharger" ideal? With ease, said Vice President of People and Development Aimee Comer.
"The office was designed to serve as a home base for all of our people, no matter where they are located," Comer said. "Now, we have plenty of space and upgraded audio/visual capabilities. We're prepared for any scenario. It has worked well as a flexible space during a pandemic, but we're also thrilled to see it become a gathering place and hub of innovation as we move toward post-pandemic."
The focus on collaborative working styles is by design and comes from a desire to spur creativity. It is consistent with Fullbright and Lyons' prediction for "open section" plans as opposed to open-plan floors, meaning the space provides multiple, different settings within the same building, instead of an entirely open floor.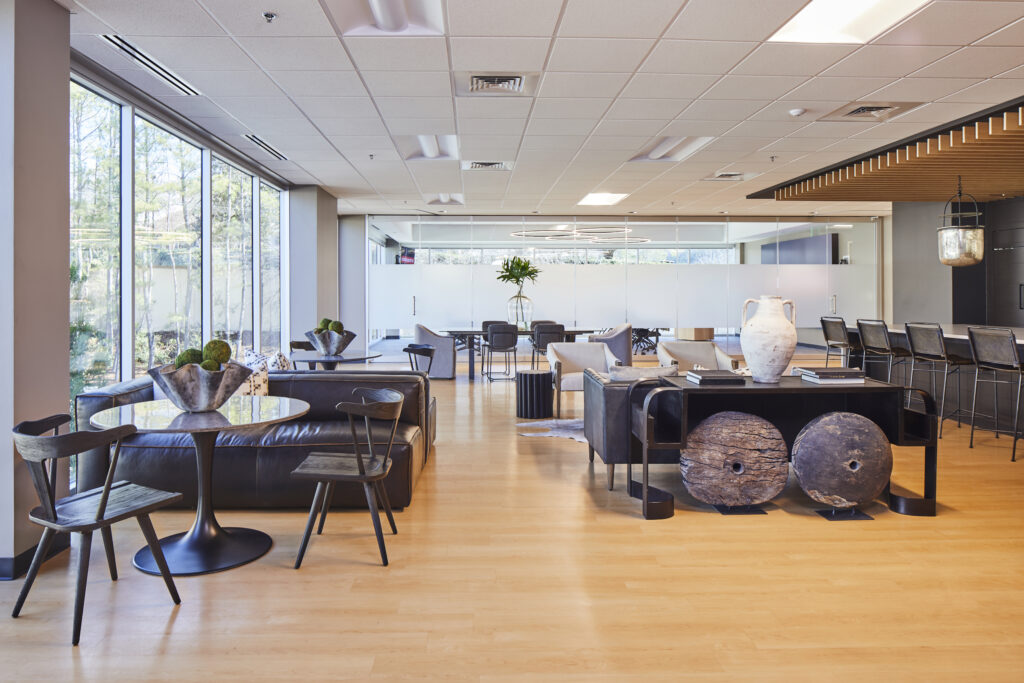 In the Robins & Morton office, community spaces are shifted toward the front of the building, with individual working spaces toward the back, and conference rooms placed in between the two. By putting like and like together, the cohesive floorplan never puts an employee trying to work quietly in the middle of a collaboration area.
For all who question the viability of an office building in a post-pandemic future, Comer said that togetherness improves employee retention and experience.
"Over time, it can be difficult to feel connected to the purpose of your work and your co-workers when you don't spend time together," she said. "It's the moments in the breakroom, catching up over a coffee, and the immediate accessibility of a co-worker for help that an office space provides. Without these things, work is just completing one task after another."
After all, employees are often first and foremost looking for purpose and meaning in their work. Creating culture starts with meeting needs of your workforce, but having a space designed to facilitate it is helpful. The office buildings of the future may have similar, common features, but the true measure of their success will be how they support what's beyond the bricks and mortar.