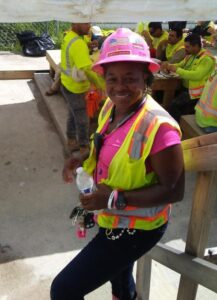 Pecola never imagined she'd one day work in construction.
"Growing up, I wanted to be a P.E. teacher," she said. "And I've had a lot of different jobs. I worked for the post office. I have a cosmetology license to braid natural hair. I also worked as a security guard."­
In fact, working in security was what led Pecola to construction. She was working as a guard for Port Miami when she was promoted to be a laborer on a construction project. One of the first projects she ever worked on was the building of the Port Miami Tunnel, which runs from Watson Island Park to Dodge Island. She's been in construction ever since.
Pecola's favorite part of the job is that it keeps her busy.
"People are always saying, 'Ms. P, slow down! Sit down!' But I love cleaning and making sure everyone has what they need."
She starts the morning by cleaning the office and filling water dispensers for up to 16 crews of people. Then, she cleans the site after a crew is done with an area. Throughout the day, she checks in to make sure her team isn't going without anything they might need.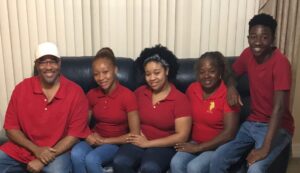 Pecola is driven and aspires to do even more on the job site one day.
"I want to spend more time outside cleaning, stripping wood, finishing concrete, taking nails out of wood and stacking it for the carpenters. That's what I like doing."
Her favorite part of working with Robins & M­orton is the family feel.
"I call the crew 'my guys,''' Pecola said. "They love me to death, and I like doing whatever needs to be taken care of to help them get the job done right."
Pecola is dedicated to helping production by any means possible, but she also just plain loves the job.
"When I'm here, I feel relaxed and calm. I enjoy coming to work."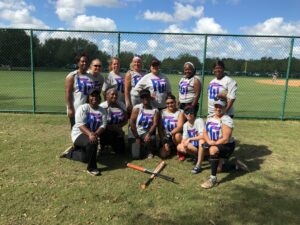 When Pecola isn't working, she has a crew at home who loves her, too.
"I like to take care of my family," she said. "I don't especially care for cooking, but I like to do it because it means my kids are eating healthy food."
In addition to tending to her home crew, Pecola enjoys dancing and playing softball.