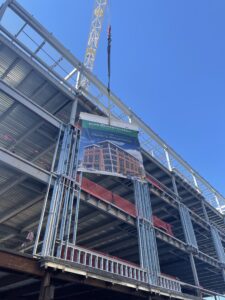 Prince Holdings, Bank Independent and Robins & Morton celebrated the topping out of the new, five-story office building at 225 Holmes Avenue in Downtown Huntsville on Feb. 14.
The topping out ceremony celebrates the installation of the final beam of a structure, signifying the structural completion of the building and marking the mid-point of the project.
Once complete, the new five-story, 77,000-square-foot office building will provide Class A office space and ground floor retail. Bank Independent's Madison County headquarters will anchor the building on the ground floor and will occupy offices on the second and fifth floors. The remainder will be available for lease and can be customized to meet tenant needs.
"We are excited to be one step closer to our new downtown office," says Macke Mauldin, President and CEO of BancIndependent, Inc. "Bank Independent is invested in the future of Downtown Huntsville, and we look forward to watching the continued growth around 225 Holmes Avenue."
The new building is located on the corner of Greene Street and Holmes Avenue, across from the new city parking deck.
Nola | VanPeursem Architects is serving as the architectural firm for 225 Holmes Avenue. Robins & Morton is the lead contractor, and Colliers International | Alabama is the leasing agent.
"This milestone is a testament to the hard work of the craft professionals on this project," Division Manager Mitch Coley said. "We're appreciative of the trust placed in us by Prince Holdings and Bank Independent to construct their new building, and of Nola VanPeursem Architects for their confidence in bringing their design to life. We can't wait to see this building open and housing more businesses in Downtown Proper."