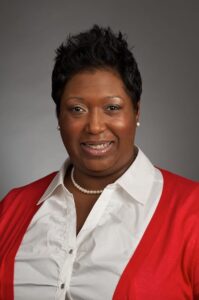 For some, the dream of a particular career starts with a childhood interest. For Rallisa Jones, it all started with a building.
In high school, Rallisa rode past a construction project in downtown Birmingham every day while driving to school. "My mother was a school teacher, and when I was a senior in high school I would drop her off at work and then drive to school," Rallisa explained. "Every day I would watch the Harbert Plaza being built, and it was the coolest thing I had ever seen. I remember marveling at it and how it was structurally sound. I knew that building would change the face of the city, but it also really impacted what I wanted to do."
After graduating from Ramsay High School, Rallisa enrolled at Auburn University and pursued a degree as a materials engineer. "After one term as a co-op student for NASA, I quickly realized that wasn't the right fit for me," she said. "I had a friend at the time who was an architecture major getting a dual degree in building construction. She recommended I try the Building Materials and Methods class. I did and I was hooked. That has not changed since."
Rallisa received a Bachelor of Science degree in Building Construction from Auburn and then went on to receive a Masters degree in Public Administration from the University of Alabama at Birmingham. For the past few years, Rallisa has served as senior a project manager for Robins & Morton. As part of her job, she manages budgets, coordinates between the design and development teams and makes sure the field has the information they need to build what's on the plans. However, one of the most important things she does is build relationships with her teams — Robins & Morton staff, trade partners, designers and owners.
"My job has taken me a lot of places. I have traveled all over the country for projects I have worked on, from Florida to Michigan. And as large as our industry is, you would be surprised how often I run into the same faces."
One of Rallisa's most memorable projects was a job in Longview, Texas. The particular project was the addition of an MRI to the Good Shepherd Medical Center. Plans required they enclose a patio, move a pharmacy and add a new MRI while keeping the existing MRI running. "It was one of the smaller projects that I have done, but one of the unique things about it was that I was the assistant project manager as well as the assistant superintendent on the job," Rallisa said. "It required close coordination and communication across the board—from the design team, the general contractor and the subcontractors. It was a great collaborative effort and we completed it successfully."
Today, Rallisa still enjoys seeing projects complete successfully—much like that one building that led her to construction all those years ago. "There is just something about seeing a building go vertical," she said. "I love to watch that happen. Whenever I can, I like to take a peaceful moment early in the day or late in the evening to walk the job site and marvel at what we are building and the progress we are making. There is a special feeling you have when you witness the project growing from paper to actual construction."