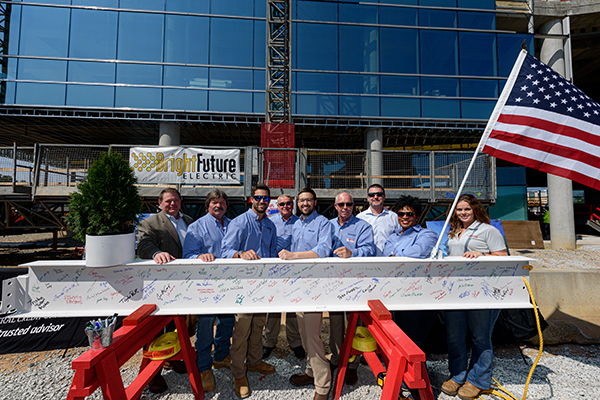 Redstone Federal Credit Union, Robins & Morton, the KPS Group and trade contractors gathered to celebrate the topping out of the new Redstone Federal Credit Union and parking deck in downtown Huntsville on Sept. 20.
The topping out event marks the completion of the facility's structural steel as the final beam is hoisted and set into place. This tradition is intended to bring the construction crew and future occupants luck, as a small fir tree is often placed on top of the beam, in addition to an American flag – a more modern adaptation to the ritual.
Once complete, the 65,159-square-foot building will stand five stories, adjacent to a new, four-story parking deck. Its exterior design will feature glass and metal panels, adding a modern aesthetic to the downtown cityscape.
To construct the facility, the construction team will use:
• 8,627 cubic yards of concrete
• 670 tons of rebar
• 40,000 square feet of glass
"We appreciate the diligence and hard work of each and everyone who have worked on this project," Joe Newberry, Redstone's President and CEO, said. "All total, more than 100 people have worked to construct a building that we can all be proud of. Their employment positively impacts our local economy and that's another thing to celebrate."
Additionally, 62,000 work hours have been completed on the project with no lost time incidents. The building's core and shell is slated for a late summer 2020 completion date.
"We are proud to be working with Redstone Federal Credit Union and the KPS Group to bring such a monumental new building to the downtown Huntsville marketplace," Robins & Morton Division Manager Richard Anderson said.