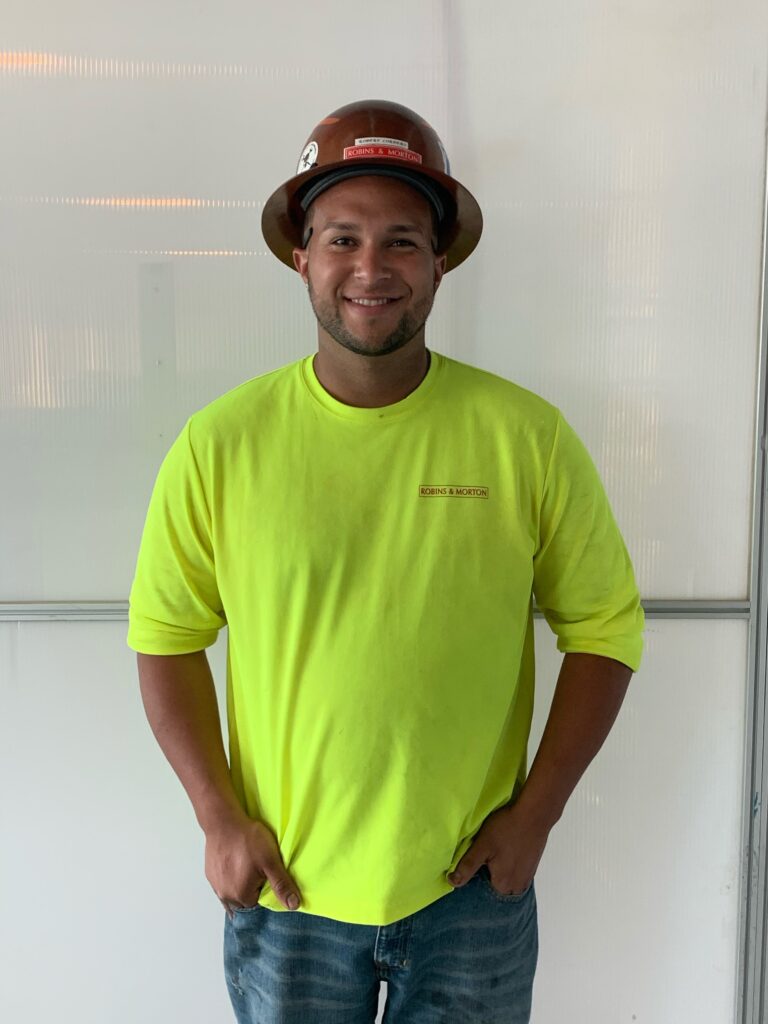 Since Roberto Cordero was young, he loved building things and working with his hands.
As a carpenter with Robins & Morton, that's exactly what he gets to do.
Day to day, Cordero spends the majority of his time outside and working to build various components of each project, such as handrails, decks, blocking, and stairs. In almost two years with the company, he has been assigned to five projects, including three in Ocala, Florida, where he's currently working.
It's a career that he loves because of the time he spends outside in the fresh air. He doesn't even mind his hour-long commute to work, gladly rising at 4 a.m., getting ready, and arriving onsite by 7 a.m.
Cordero also finds the prospect of traveling appealing, although he has enjoyed being in Florida near to his family on recent projects.
"I follow the job wherever it goes," Cordero said.
To those who want to pursue a career in construction, Cordero said that having a strong work ethic and being punctual are two qualities you must possess.
"You need experience in a little bit of everything; be responsible, and be willing to get up early every morning," he said.
Throughout his career, Cordero made sure to get experience in plumbing, electricity, and concrete, so he could provide valuable input on every project. He also holds several craft certifications.
Building hospitals is a big part of why Cordero loves his job — he enjoys helping people in any way he can.
"I also love working for Robins & Morton because I'm getting so much experience," he said.
When Cordero isn't working at the project in Ocala, he spends time with his siblings, goes to Epcot, watches movies, and enjoys going out to eat.
Two of Cordero's brothers, who are 14 and 16 years old, ask him about his career and he works to share the opportunities available to them through the construction industry. He also teaches them the skills he can, but mostly he reminds them that being responsible is a key factor in maintaining a long-term, fulfilling career.
"I love what I do," Roberto said.