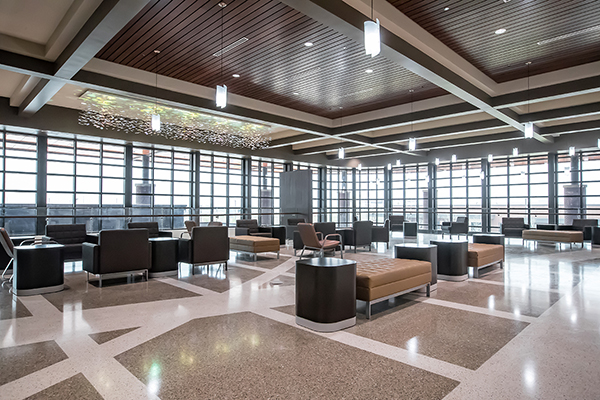 Choctaw Nation Health Services Authority, Robins & Morton and James Childers Architects, Inc., recently celebrated the certification of three consecutive LEED Silver certifications – all on the campus of the Choctaw Nation Regional Medical Clinic in Durant, Oklahoma.
The campus' primary building – a 146,093-square-foot clinic – functions essentially as a hospital, simply without the capacity for overnight accommodations. It houses departments such as outpatient surgery, dental, audiology, ophthalmology and behavioral health. Boasting a highly-complex geothermal heating and cooling system consisting of nearly 300 wells – some 500 feet deep – energy efficiency is woven into the design of the building just as prominently as Choctaw culture. The lobby also features electrochromic glass with sensors that automatically tint the windows depending upon the amount of natural light entering the building, assisting with energy consumption and expenditures.
A 16,108-square-foot health service administration building and an 11,750-square-foot facilities maintenance building, joined to the primary clinic by sidewalks, also received the prestigious recognition as a result of sustainable construction material, practices and energy efficiency measures put into place.
The three buildings achieved separate Silver certifications under the LEED Campus program. This program allows each building to prioritize differing sustainability objectives, but streamline the achievement of credits for shared attributes, such as site and location. Teams can document and achieve certain credits once and apply the points across all applicable certifications. With some exceptions, future projects built on that campus can also apply the achieved campus credits.
"We have been encouraging our clients committed to green building, specifically healthcare and higher education, to consider the LEED Campus program. Not only does it reduce duplication of administrative efforts on active projects, it makes it more attractive for future projects to pursue certifications knowing that a series of points is already secured," Robins & Morton Sustainability Manager Jackie Mustakas said. "Any coordination we can do now to motivate future project teams to pursue certification, therefore collaborating as an integrated team, prioritizing positive environmental outcomes, and reducing their operating costs, is worth the effort entirely."
This campus is set to serve 260,000 members of the Choctaw Nation and other surrounding tribes as a part of a tribal-wide program to provide medical clinics across varying geographic regions in the state of Oklahoma.