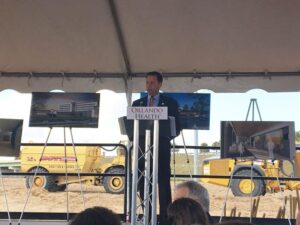 Orlando Health Central, Robins & Morton, Hunton Brady Architects, TLC Engineering for Architecture and honored guests joined together to officially break ground on the Horizon West Freestanding Emergency Department project located in Winter Garden, Florida, on Jan. 19.
Several key members of the Orlando Health and Orlando Health Central administration attended the event along with board members from both organizations and the West Orange Healthcare District.
"This project will let our residents live happier and healthier lives," Current West Orange Healthcare District Board Chair Norma Sutton said.
The $29 million project will include a new 89,258-square-foot freestanding emergency department and a 5,090-square-foot central energy plant.
The three-story facility will house outpatient treatment areas such as exam rooms, triage and observation rooms. In addition to medical office building and lab space, the emergency department will also have a variety of radiology and imaging equipment including, but not limited to, CT scan, MRI and ultrasound.
Horizon West is scheduled for completion in March 2018.