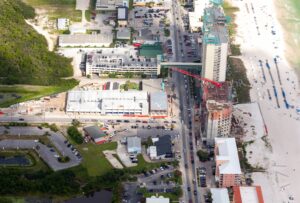 The project team for the future Hyatt Place Panama City Beach-Beachfront has marked a significant construction milestone.
A topping out ceremony was held Wednesday, August 11, to celebrate the completion of structural framing on the 11-story waterfront hotel tower.
Hyatt Place Panama City Beach-Beachfront — slated to open in Summer 2022 — is being developed by OTO Development, which is part of The Johnson Group. Project partners include Bullock Tice Associates, architect; P3 Design Collective, interior designer; and Robins & Morton, general contractor.
"Topping out is always cause for celebration," says Corry Oakes, CEO of OTO Development. "Placement of the final structural beam is a major milestone on the hotel's path to opening, and it's a time-honored tradition to fete the craftsmen who turn a construction plan into a well-executed project."
Matt Self, senior project manager at Robins & Morton, says it's a pleasure to work on a high-profile development that's going to drive more tourism to Panama City Beach. This Hyatt Place project is the only beachfront hotel currently under construction in the Florida Panhandle and, upon completion, will be the first Hyatt product on the beach along the Gulf Coast.
"It's a proud moment for our entire team to see this structure rise to its full height, knowing that it will be welcoming guests to Panama City Beach next summer," says Self. "We're thrilled to celebrate the topping out of the new Hyatt Place Panama City Beach today."
Rooted in Scandinavian rituals dating back to 700 AD, topping out ceremonies of today give construction teams an opportunity to praise work safely and successfully completed while preparing for the project's final phase. The gathering at Hyatt Place Panama City Beach represented all that — and more.
"The successful progress of this particular project is symbolic of our optimism in the travel industry as a whole," says Oakes. "While the pandemic created a cascade of challenges across the hospitality sector, OTO remains committed to delivering high-quality hotels in strong markets. Our project pipeline, our brand partnerships and our operating principals are solid. We are ready to be your lodging solution as lodging rebounds."
Hyatt Place Panama City Beach is located right on the sand at 15727 Front Beach Road in Panama City, Florida. The 224-suite beachfront hotel will feature a custom-designed lobby decorated with local art and thoughtfully designed guest rooms situated to make the most of ocean views. Amenities will include a resort-style pool with a lazy river, a 24/7 fitness center and a signature Coconut Charlie's Beach Bar & Grill with live music daily.
In advance of the topping out ceremony, the hotel project team partnered with Feeding the Gulf Coast to collect donations to support people in the community who are experiencing food insecurity.