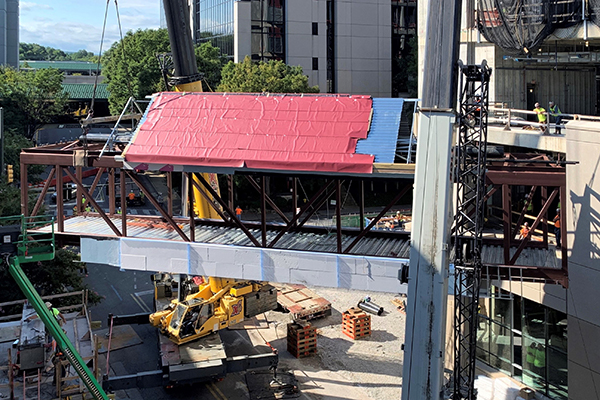 In a matter of hours, construction firm Robins & Morton set a 50-ton pedestrian bridge into place on the downtown campus of Huntsville Hospital in Huntsville, Alabama, on Aug. 22.
Spanning 70 feet in length, the bridge required two cranes to guide it into its final place. It connects the hospital's central building to its new, in-progress Orthopedic & Spine Tower – the largest project on the Huntsville Hospital campus in 40 years. Once construction is complete, the climate-controlled walkway will allow pedestrians to pass safely above the roadway between the two buildings.
Planning the bridge's installation was as intricate as the effort in setting the bridge itself for Robins & Morton. The bridge was prefabricated offsite and transported to the site to assemble exterior framing; roof trusses; mechanical, electrical and plumbing piping; and other final finishes. Because of the project's busy, downtown location, Robins & Morton had to coordinate extensively with the hospital, the City of Huntsville's Engineering team and traffic control to not only transport the bridge, but also plan the pick and installation.
Once complete, Huntsville Hospital's Orthopedic & Spine Tower will house the hospital's orthopedic surgery, spine surgery, joint replacement and sports medicine services. It will feature:
• 24 state-of-the-art operating rooms
• 72 spacious patient rooms
• Large pre-surgical prep and post-op recovery areas
• A new home for the popular Joint Camp group physical therapy program
• Street-level retail including downtown's first Panera Bread restaurant
The tower is scheduled to open in summer 2021.