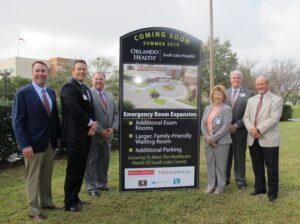 South Lake Hospital, Robins & Morton, HKS Architects and honored guests joined together to officially break ground on the South Lake Hospital expansion located in Clermont, Florida.
The $33 million expansion and renovation project includes 42,165 square feet of new space to the emergency department, surgery and material management department. The project also includes 41,675 square feet of renovation to various areas within the hospital including the emergency department, surgery, PACU, post and pre-op, materials management and food services.
The project is scheduled for completion in April 2019.