In May, Robins & Morton field engineer Isaac Garcia returned to his alma mater in Hondo, Texas, to deliver a speech about resilience, tenacity, and the power of community. During that speech, he had another important responsibility: awarding the Robins & Morton Scholarship to a Hondo High School senior.
Several months before the event, school superintendent Rose Mary Mares reached out to Garcia and asked him to speak to the seniors at the Hondo High School 2023 Class Night. Mares knew Garcia from his time at Hondo High, but it wasn't until she read a recently published story about Garcia's young life that she realized all he had overcome. Garcia had a difficult upbringing and faced even more adversity when his mother passed away when he was only 14, leaving him to care for his 8-year-old brother. But Garcia persevered, raising his brother into adulthood while furthering his own education and receiving his master's degree in December 2022.
Mares knew he'd provide an excellent message about grit and determination, but Garcia felt that he could do more than simply give a speech. He wanted, in some small way, to give back to the community that had supported him during some of the most difficult days of his life.
With the help of Robins & Morton San Antonio office leader Eric Groat, Garcia established the Robins & Morton Scholarship for a Hondo High School student. The scholarship would be awarded to a student planning to attend trade school or pursue a degree in construction, engineering, architecture, or a related field. A unique aspect of the scholarship is that it also offers the recipient mentorship throughout their education and networking support for their future career from the Robins & Morton team.
"Originally, I was planning to fund a scholarship myself," Garcia said. "But I am fortunate to be employed by a company that values their employees, and I have a boss that supported me in making all this possible. At Robins & Morton, our commitment to making a lasting, positive impact on our communities includes inspiring the next generation of builders and empowering them to become leaders in the industry."
After setting the parameters for the scholarship and submitting them to Hondo High School, Groat and his appointed selection committee began receiving applications.
"It was so inspiring to see how many students were pursuing careers in the architecture, engineering, and construction fields," Groat said. "We had the opportunity to read the aspirations of so many through their personal essays, and it gave us such confidence that the future of the industry is in excellent hands."
One essay deeply moved the selection committee. Titled "Who I Am, and Who I'm Going to Be," the essay by senior Leyson Palomo shared his personal journey and his desire to become a welder, while confidently asserting his ability to define his own future.
"I know that I am only one person of many who are applying for this scholarship," Palomo wrote. "The person who receives it will be fully deserving. Knowing this, I ask myself, why would it be awarded to me? The answer that I concluded is: Why not me? Why wouldn't it be awarded to me? I am hardworking, dedicated, and most importantly, I am determined. Determined to succeed. Determined to make myself proud. Determined to break chains."
The selection committee chose Palomo as the recipient, and during Hondo High School's 2023 Class Night, Garcia and Groat called Palomo to the stage.
"Working in the construction industry, one thing that we deeply value and depend on is the relationship between [us and] our trade partners," Garcia said. "Learning a skilled trade opens incredible opportunities for growth and prosperity. When you learn a trade, it is for life. To Leyson Palomo, keep your faith. You have the potential to become a master of your craft, and we want to be there for you, not only to allow for professional growth but personal growth, too."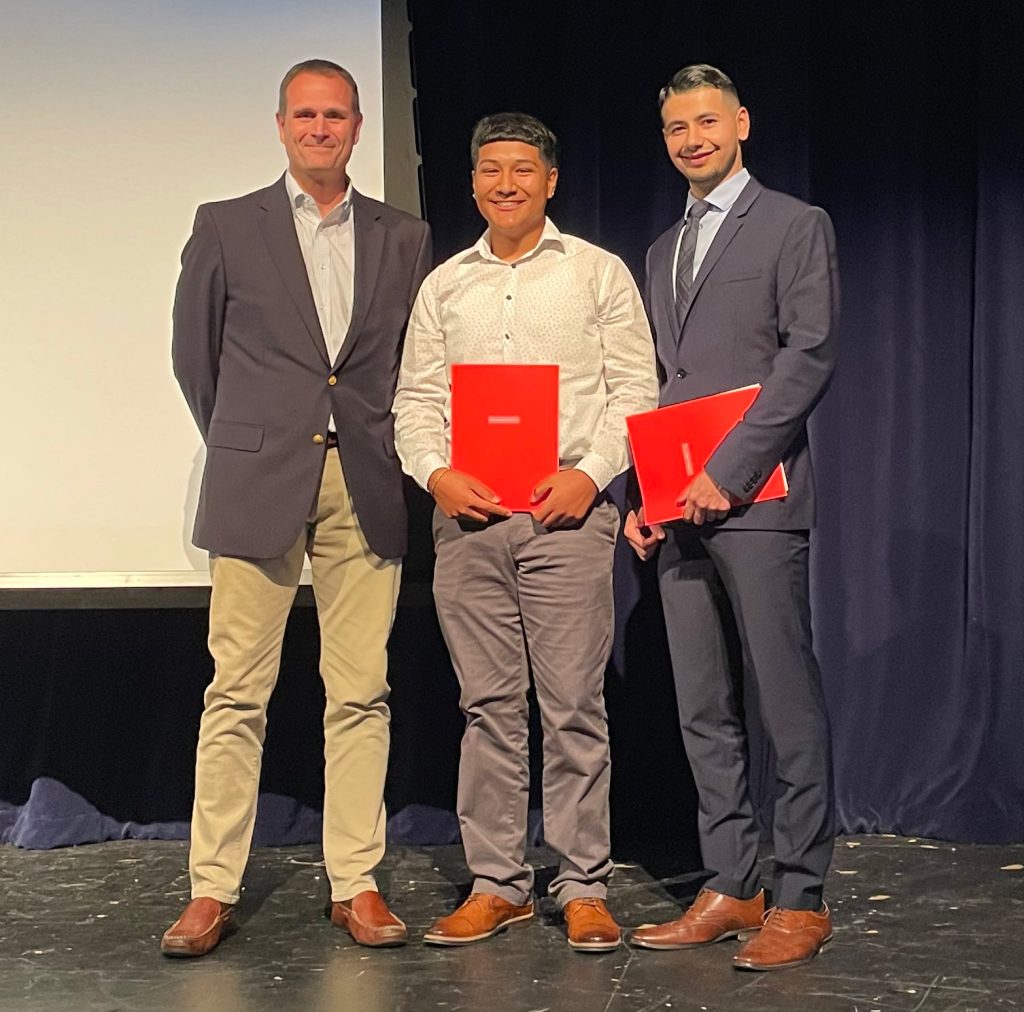 Palomo said that he is still choosing between two trade schools but will select one soon to begin his education in the fall.
"We're thrilled to support Leyson in his next adventure," Groat said. "It's even more meaningful for me personally to give back to this community so near to my home and our office in San Antonio. We hope to continue growing interest in construction careers through our work with the ACE Mentor Program locally, as well as providing some financial support through programs like the Robins & Morton Scholarship."
Of the ample wisdom Garcia imparted to the Hondo High seniors on Class Night, his parting piece of advice on finding purpose was especially meaningful.
"Please understand this: Bad chapters can still create great stories. Wrong paths can still lead to the right places," Garcia said. "Failed dreams can still create successful people. The trick is to keep believing and to never give up on the things that matter the most to you."