Robins & Morton's Building Forward® approach has become one of the key factors distinguishing the company as a leader in the construction industry. A blending of the company's culture and values with the efficiencies of LEAN construction, the Building Forward® approach demonstrates how tradition and innovation can work together in times of change.
A collaborative spirit, respect for trade contractors and client-first focus are ingrained into Robins & Morton's business model and have been since its founding 75 years ago. However, the idea of a partnership between the client and everyone on the project team was not how the construction industry worked during the first half of the company's history. Hard-bid was the dominant model, with firms competing against each other to win projects based on the lowest price. That often created an adversarial, low-price relationship within the project team, as everyone was forced to maximize margins against a set cost.
That started to change for Robins & Morton in 1980, when the company began its ongoing relationship with Hospital Corporation of America (HCA). Work with HCA accelerated the company's move into healthcare construction, and from local contractor to national player. It also changed Robins & Morton's business model. HCA introduced Robins & Morton to a partnering approach, built upon relationships and shared expectations.
Although the partnering approach aligned with Robins & Morton's company culture and values, adapting it on the scale expected by one of the country's largest healthcare construction clients meant developing a much more structured approach to project management. As such, HCA's partnering approach foreshadowed the Integrated Project Delivery (IPD) model years in advance and was also a prelude to Building Forward.
However, it was 21 years later that two projects, at opposite ends of the East Coast, created the spark that would become Building Forward.
Fostering Culture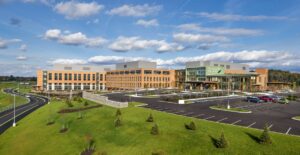 In 2011, Robins & Morton was building a replacement hospital for MaineGeneral Medical Center in Augusta with an Integrated Project Delivery approach. More than 1,500 miles south in Wellington, Florida, Wellington Regional Medical Center was using LEAN tools and principles, leading Robins & Morton to learn and implement them on the hospital's new expansion.
At the time, Maine was recovering from the devastating impacts of the recession and local unemployment was high. Because of this, the client wanted Robins & Morton to hire within the state. Recruiting a local workforce also dovetailed perfectly with the environment that Integrated Project Delivery requires. As a result, Robins & Morton recruited close to 1,000 in-state craft professionals to build the Alfond Center for Health at MaineGeneral Medical Center. However, as work progressed, the team struggled with a high injury rate. As a company that prides itself on safety, Robins & Morton found this unacceptable. Robins & Morton realized that they had to change the culture onsite.
By recognizing good work and good behavior rather than looking for bad behavior, the leadership team changed attitudes. Engaging craftspeople and bringing them into the solution garnered their buy-in and accountability, while top-down support from the leadership team drove change. At the end of the project, the team had achieved a five-fold decrease in incident rate, as well as a ten-month schedule savings and achieving nearly $20 million in value-added savings.
Leaning toward LEAN
MaineGeneral wasn't the only project to show dramatic results. The emphasis on LEAN tools at Wellington Medical Center helped the team finish two months ahead of schedule and with $4.6 million in savings from the target value cost.
However, as subsequent project teams experimented with LEAN tools, their efforts fell short of full potential. The prescriptive approach, explained Robins & Morton Senior Vice President Robert Gambrell, lacked the cultural component that drove engagement. MaineGeneral demonstrated the importance of culture and Wellington Medical Center showed the potential for LEAN tools and processes, but, separately, they were each one half of something that would prove transformative.
"On one project, the focus was on project culture," recalled Gambrell. "The other project was focused on the implementation of LEAN tools. Separately, the projects were not achieving full potential, but combining learnings from both projects brought great results.
"Through the experiences of those two projects, Robins & Morton saw that a great team working in a collaborative environment with common goals and a set of useful tools could accomplish exceptional results," said Gambrell.
Combining culture and tools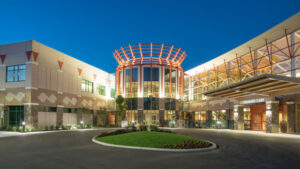 The two halves merged at Cherokee Indian Hospital in Cherokee, North Carolina. Collaboration aligned the project team with the values and vision of the Eastern Band of the Cherokee Indians, guiding the Integrated Project Delivery process toward the client's mission to improve the health of the Cherokee population.
"At Cherokee Indian Hospital, we brought in LEAN tools, but in a less prescriptive way," said Gambrell. Instead of text-book applications of LEAN, the team at Cherokee selected the elements that would make a difference in the project and applied those in a collaborative culture. By taking a grassroots approach to adapting LEAN tools within that culture, the project team completed the hospital 92 days ahead of schedule with $7 million in value-added features.
The secret to success was a combination of bottom-up engagement and top-down support with a proven ability to deliver benefits in safety, quality, scheduling and cost efficiency.
Building Forward takes shape
However, achieving consistent results would require a more defined structure. In 2015, the unnamed movement began to coalesce. In true collaborative fashion, a steering committee representing a wide range of experience, age, opinions and job titles identified four tents that would come to guide Building Forward: Collaboration, Continuous Improvement, Leadership Development and Creating a Learning Culture. Most importantly, they recognized the need for a holistic approach centered around culture.
Following that meeting, the movement began to flourish as pilot projects were launched and steering committee members shared their enthusiasm, knowledge and successes.
Within a year, the movement had a name – Building Forward®.
Onboarding and alignment meetings were held at multiple locations. At the same time, the Building Forward approach was in step with changes happening outside Robins & Morton. Clients were looking for speed-to-market and cost efficiencies, and the competition to win those projects was becoming more intense. Construction companies were also competing for labor, and team members – both employees and trade contractors – were raising their expectations.
"Ideas come together most effectively in the right environment," said Gambrell. "This happened to us when we recognized the perfect circumstances to further advance our project delivery. We didn't have a consultant come in and tell us what to do; we learned it and it became successful. It's the culture that makes our approach to project delivery different."
Building Forward brought a renewed commitment to partnering that engaged all members of the project team, including clients and industry partners. Clients who experienced Building Forward's collaborative approach — and the resulting positive impact on project delivery — began to request it for other projects.
Gaining momentum, and staying true to Robins & Morton
By 2018, more departments were becoming involved and the first Introduction to Building Forward classes were held within the company. While the move toward LEAN Construction was gaining momentum within the company, a continued emphasis on culture and values ensured that Building Forward evolved organically as something more than LEAN and specific to Robins & Morton.
"Building Forward is unique to Robins & Morton because it came from inside our company, starting at our jobsites," said Building Forward LEAN Practice Leader Jennifer Lacy. "It grew organically out of our culture, supported by our own people, to become part of who we are as a company."
In 2019, Robins & Morton held its inaugural Building Forward Connect, a summit that brought together more than 600 Robins & Morton team members, clients and industry partners for a two-day, conference-style event. Through best practices, success stories and lessons learned, Building Forward Connect showcased how what started as grassroots effort can continue to better every aspect of Robins & Morton.
In 2020, to ensure that Building Forward® continues to evolve as a consistent part of Robins & Morton, the company formally defined the approach:
Our Building Forward® approach brings Robins & Morton's culture of caring about clients, employees, trade contractors and communities to the forefront in every aspect of our company, holding us accountable to carry that culture forward.

The four Building Forward® guiding tenets – Collaboration, Continuous Improvement, Leadership Development and Creating a Learning Culture – and the integration of LEAN tools and practices reinforce our Values and drive us to become better in everything we do. Building Forward® engages and empowers individuals at every level, fosters inclusion, promotes sustainability and embraces innovation.

Building Forward® helps us deliver exceptional results to our clients and challenges us to have a positive, lasting impact on everyone and everything touched by our actions.
That year, Building Forward reached another major milestone with 75 designated advocates charged with tracking the progress of each project, office and department toward its Building Forward goals, supported by Building Forward Resource Groups. The new structure formally integrated Building Forward into every aspect of the company and created a broader base of team members who are learning about, supporting and promoting its tools and culture. An implementation process established a formal framework to integrate the Building Forward® approach into every project.
By its very definition, the Building Forward® approach will continue to evolve, but it will continue to show Robins & Morton will continue to adapt to change and innovate while remaining true to the company's culture and values.