As sustainable design and construction expand to meet the increasingly specific needs of institutions, healthcare clients face new choices when they build.
An activity long identified with checklist-based submissions leading to certification, sustainable building is now a mainstream best practice, one where building owners, architects and construction teams work together to incorporate environmental responsibility into every project.
For some, this shift means less urgency to pursue third-party certifications such as LEED or Green Globes. With energy efficiency and long-term cost savings their most crucial need, many owners and their building teams are moving away from theoretical performance benchmarks and projections. Instead, their focus shifts to actual energy-use measurements and continuous tracking of system performance.
However, we discovered in our conversations with those on the leading edge of energy management and reduction, the choice of focusing internally on energy innovation is often strengthened by an external commitment to formal certification. Each institution needs to assess the value and return on investment for both activities.
Expert Perspectives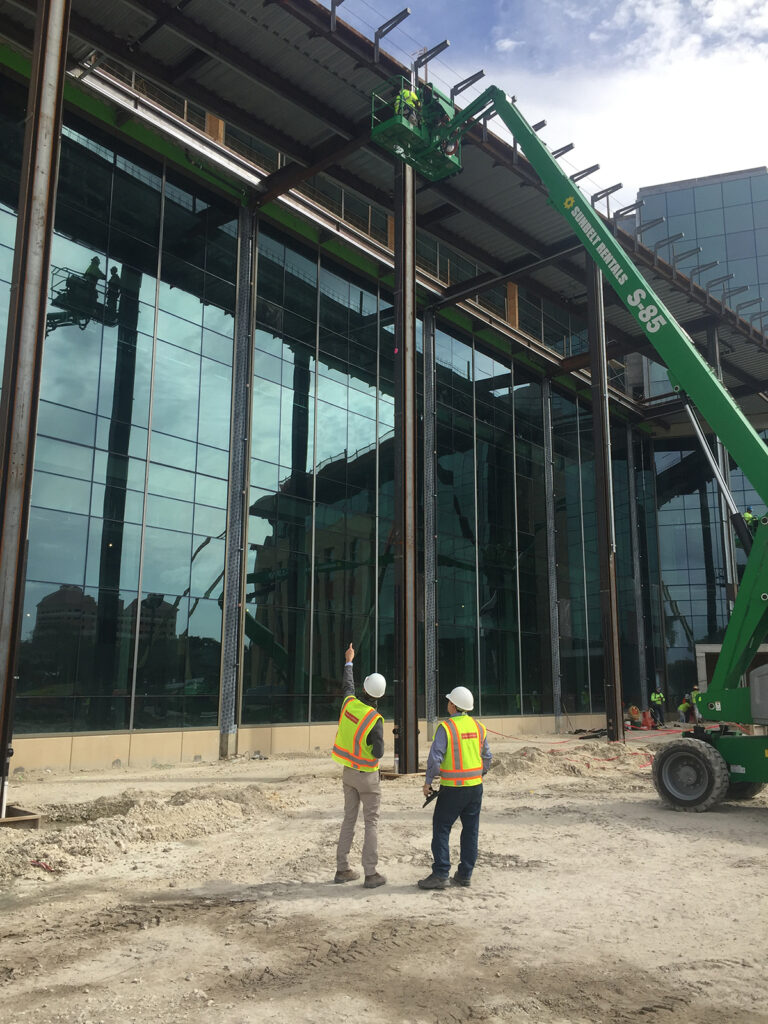 Jackie Mustakas, Sustainability Manager for Robins & Morton, is seeing many of her clients' viewpoints shift from sustainability as an "add-on," to sustainability as a standard in both the design and construction processes. Since beginning her career in the early 2000s, Mustakas has seen the sustainability movement evolve from building and design with good intentions and little focus on operational tracking, to ratings systems designated specifically for building operations focused on efficiency throughout the lifecycle of the building.
"Today, we see many of our clients working to incorporate sustainable elements with a quick return on investment – five years or so," Mustakas said. "We work to help them make energy efficient choices for as little, or no, additional cost – like proper sizing of their equipment, or making a smart envelope selection."
In a recent survey she conducted with Robins & Morton clients, nearly 87 percent of owners and facilities managers said they were currently integrating sustainability practices, as opposed to only 38 percent in a similar 2011 survey.
"Overall, I think people are finding the business case for it – maybe not certification on every project – but definitely incorporating the standards internally and into their projects. It's way more common than it used to be," Mustakas said.
Elizabeth Mann, Design and Construction Director for inpatient rehabilitation and home healthcare leader Encompass Health, previously worked as an architect earlier in her career. In both roles, she's had the opportunity to see the onset of green building evolve and integrate itself into a building standard.
"We have created our own sustainable project checklist with items related to site, water, energy, materials and human health," Mann said. "Beyond that, we always encourage ideas and innovation and ways to be more efficient. Really, looking for ways to reduce our carbon footprint."
Encompass Health has baseline standards for construction and design, she said the input that architects and contractors bring to the table for sustainable suggestions makes them stand out to building owners.
"The good contractors and the good architects are being proactive about building in a smart way to reduce energy costs," Mann said. "I wouldn't say everyone is, but everyone we work with, we try to encourage [to think sustainability]."
Green Progression
Although the concept of environmental responsibility has been around for decades, aspects of true sustainable construction and design as it is known today made their entrance in the U.S. in the early 2000s.
Initial versions of LEED rating systems aimed to introduce teams to sustainable design and construction strategies and mainly to incite conscious consideration of environmental protection. The rating systems were able to bring attention to a critical issue and initiate improvement and creation of overdue solutions.
"Sustainability has changed the marketplace over the last ten years," Dr. James Sullivan, Professor at the University of Florida's Rinker School of Construction Management and one of the original members of USGBC's LEED Beta-testing efforts, said. "[USGBC] had three basic goals: educate people, integrate the design and construction process, and make sustainable products more available, and I think they've done that."
Although many of the sustainable building and design guidelines existed prior to the introduction of the LEED system, Sullivan believes that many owners were unaware of the benefits, and the introduction to the system provided a much-needed awareness boost.
"For example, an owner of a class-A office building never really looked at operational costs because they just assumed they'd raise the rent as those costs increased," Sullivan said. "But another owner looked at them and said, 'If I could lower that, I could raise rent or keep it the same and make more profit.' So it was always there, I just don't think owners really understood what they were getting on the dollar."
As a result, many businesses began looking for ways to incorporate sustainability in their design and construction practices beyond environmentally responsible materials, despite their pursuit of certification.
"By conserving energy and water within a community it allows for sustainable building and growth to continue," Sullivan said. "There's only so much water in a county, there's only so much power in a county, and only so much infrastructure to support the built environment. The more sustainable we are, the fewer resources we use and the more we can actually build smarter. To me sustainable construction always made more sense than traditional construction methods and design ideas."
Over time, LEED rating systems began to include additional project types and scopes, and successive versions forced a focus on buildings post-construction. In LEED v4 updates, operational efficiency became the centerpiece of LEED certification, with new prerequisites and credits focusing on water and energy metering, demand response considerations, and building life-cycle impact reduction. These efforts extended beyond environmental stewardship and lead facility owners and managers to a more significant business case for sustainability as it relates to their bottom line.
Navigating Choices
When asked about individual decisions to pursue certification, Mann, Mustakas and Sullivan all see a connection between a company's interest in sustainable design and construction and that company's own internal sustainability practices. Mann said she believes that Encompass Health's push for sustainability is a direct result of their central mission and business.
"We are a healthcare company," Mann said. "Human health as it relates to the environment is of utmost importance to us."
Despite his excitement for sustainability's mainstream progress, Sullivan expressed concern about the integration without pursuit of certification and how it may affect the long-term benefits of the LEED program.
"Going through the certification process, there's this soft part that develops relationships, improves communication, sharing common goals, trust," Sullivan said. "So when you take that away, and just write it into a spec, it changes the sense of a team goal."
Mustakas notes that each organization, and each individual project, brings a distinctive set of considerations requiring evaluation, but agrees third-party certifications hold value beyond increasing a building owner's investment.
"Though internal sustainability standards are becoming more common and improving the performance of the built environment, we still see a significantly superior project when a team commits to achieving a certification. The systems provide a broader spectrum of environmental considerations for review, encourage collaboration and innovation as a team, and force verification of outcomes holding team members accountable for achieving the owner's vison."
Another factor that is to be of certain impact to the future of green building is the 2030 initiative. Introduced in 2015 as a commitment from all governments to achieve Sustainable Development Goals (SDGs) by 2030, the sustainability community is already seeing the beginning of its long-term effects.
"[The 2030 Initiative] is moving a little bit away from the integrative, holistic LEED approach, and will be pushed into integrated energy savings and alternative power choices over the next 10 years," Sullivan said.
Applying Team Experience and Creativity
Whether the goal is meeting the specifications of the 2030 initiative, determining the ROI on new materials and technology, or establishing project-specific energy reduction goals, the evolution in sustainable practices means that each project presents a distinctive opportunity.
Deciding the relevant strategy for sustainability is made easier, Mustakas reports, when a team with expertise across several disciplines is involved early in the process.
"One of the intangible advantages of early team involvement is the willingness of team members to challenge conventional approaches with custom solutions," she said. "The group is responsible for investigating creative alternatives and challenging each other to achieve the highest possible building performance. By drawing on the collective experience of the owner, designers, construction manager, key trade contractors, and facilities personnel, a sound, long-term approach is created together."
Each project has its own set of circumstances influencing the decision for certification and the need for custom approaches to achieve sustainable outcomes. With a team consensus in hand, the path forward becomes much clearer for all to see.