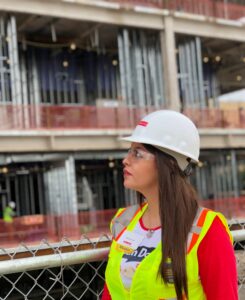 SEVEN years ago, Anais was working as an importer and exporter of heavy machinery when she saw that Robins & Morton was looking for an administrative assistant. She decided to take a chance and apply for the position – and that chance paid off.
Anais started out answering phones and scanning documents, but within three months her responsibilities began to grow. Her project manager realized that she was a both a quick learner and hard worker. Wanting to help her advance her career, he had her working with everything from billing to contracts.
One of her favorite things about the job is the opportunity for continuous learning.
"Every day I learn something new," Anais said. "You never get bored and you gain knowledge about so many things, from different aspects of building to which permits you need to build in a specific county."
She also enjoys the people she interacts with.
"I work with everyone, including laborers and the vice presidents of our clients' organizations. I have really good relationships with our clients and I love working with my team. They're awesome."
One of the clients Anais maintains a close relationship with, recently opened the doors of the Miami Cancer Institute, the project in which she takes the most pride.
"I worked on this job from the beginning," she said. "This was a huge undertaking, and I saw it go from scratch to the final product. It's like watching a baby grow up; there are challenges, but they're all worth it."
As a single mother of a young son, Anais really appreciates that fact that her bosses and coworkers have always been supportive of both her personal and professional life.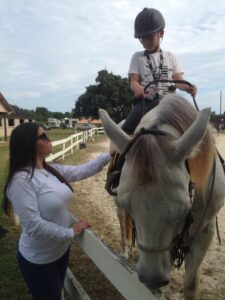 "They understand that I've devoted my life to my son and offer kindness that you don't just find anywhere," she said. "I've worked in a lot of different places, and this is the first time I've felt like a company is truly concerned about every aspect of my life."
It's easy to see that Anais' coworkers appreciate her outstanding work ethic and capabilities.
"They call me the "On-The-Move-Mommy," she said. "It's more like I have 20 kids because they're just like sons to me."
When Anais isn't at work, you can find her spending time with her son. Together they enjoy going to parks, riding bikes, reading books and swimming at the pool.
Anais's son may very well join the Robins & Morton family in the future: one of his favorite activities is assembling LEGO structures.
"He says he wants to be a builder like his mommy when he grows up," Anais said. "Because to him, I'm the builder."