Adapted from the 21st Annual Lean Congress presentation by Superintendent Josh Young (Robins & Morton), Athletic Director Richard Johnson (Wofford College), Assistant Athletic Director of Business and Finance Ryan Price (Wofford College) and Vice President of Operations Dominic Summers (Kirlin-Way)
It's 2019. There's a significant need for new buildings and money to build them, but there's a problem – there aren't enough people to do it.
Despite the dystopian picture this creates, this isn't a nightmare, but a reality for teams working to design, plan and complete construction projects across the country. In addition to the massive qualified worker shortage, companies are having to compete at an unprecedented level to not only hire workers, but also retain them. In this unpredictable market, the Wofford College Jerry Richardson Indoor Stadium project team found the solution for both challenges: investment in team members.
Funded by former Carolinas Panther owner, Jerry Richardson, the Jerry Richardson Indoor Stadium at Wofford College in Spartanburg, South Carolina, had a single goal: to be the premier venue for college basketball in the nation. Despite their smaller numbers in student enrollment, Wofford competes with universities that are exponentially larger, such as the University of North Carolina at Chapel Hill, Duke University and the University of Kentucky. In light of this, Wofford also works to "be the choice" for student athletes, and the Indoor Stadium was a key piece to that.
The Team
Upon his arrival in Spartanburg, South Carolina, Robins & Morton Superintendent Josh Young had been on his personal Lean journey for approximately four years. He'd seen firsthand the impact that Lean tools and processes could have on some of the most important aspects of construction projects – one of which was creating a platform for everyone onsite to have a voice in day-to-day jobsite operations. On each of his projects, this created a lasting, positive culture of engagement among the craft professionals, leading to a general reduction in turnover. On this project, he was determined to take it to the next level. He knew that he could achieve his goal when he met Wofford College's Athletic Director Richard Johnson and Assistant Athletic Director of Business and Finance Ryan Price who would be overseeing the project.
Johnson describes himself as a "curious guy" who likes to understand the why and is never satisfied by "just because." This trait likely contributed to Johnson's career climb through the ranks of higher education athletics as he celebrated a highly successful basketball coaching career before accepting his current position as Athletic Director. At six-foot-seven, Johnson's mountainous stature may give him an intimidating appearance, but his jovial demeanor and wide smile immediately puts all at ease – strangers feel like they've known him for years.
Price is Johnson's right-hand man. They're the dream team on and off the court, so the planning and execution of a construction project was going to be no different. As the Assistant Athletic Director of Business and Finance, Price's mind was on the budget and Johnson had a very specific vision.
After meeting Young, Johnson shared Jerry Richardson's vision and he began to see how everyone could achieve alignment. Through this, Johnson realized that he and Price would have a very important role to play in this project. Now that Wofford College and Robins & Morton shared this understanding, they had to find a way to communicate it to the trade contractors and inspire ownership in that same dream.
Mechanical contractor Kirlin-Way and their Vice President of Operations, Dominic Summers, were at the epicenter of this effort. While the beginnings of the Wofford team were strategizing, Kirlin-Way worked against challenges to recruit workers in Spartanburg while the neighboring city of Greenville experienced a building boom. Although skilled worker shortages were nothing new to Summers and his team, the 31-mile proximity created another trial. Despite early road blocks, Kirlin-Way put together their best team and sent them to Spartanburg.
The Change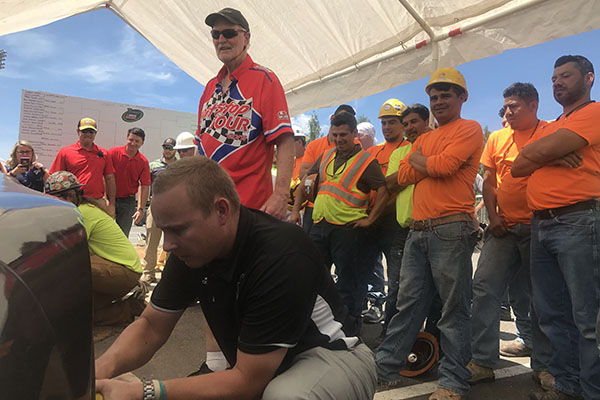 As the project kicked off, Young onboarded every trade contractor. During the onboarding sessions, he set expectations for the project but also told them that this project was theirs to own. They would all share in the successes, failures, lessons learned, fun and more together. Their ideas were both welcomed and encouraged. Aside from this pledge, Young followed up with team forums and suggestion boxes. Better yet, when ideas surfaced, they were implemented.
Young also prioritized teambuilding events like jobsite chili cook-offs, appreciation lunches and even hosted a tire-changing competition with a real NASCAR racecar.
As the leaders of local trade contractors, like Summers, were working to continuously recruit craft professionals as the project's needs increased, the daunting task somehow got easier. He and his fellow contractors were experiencing less turnover and craft professionals were more willing to go to the project as they heard it was a great place to work.
However, it wasn't just Young's initiatives for a more inclusive culture, or the trade contractors' commitments to be active participants that made the beginnings of this project buzzworthy – there was more.
Johnson knew that in order for everyone to remain aligned on this project, the Wofford team needed to stay involved. As the visionary and ultimate end-user, many final decisions would come down to his team's call, and if they didn't stay informed, how would they truly know what they best call would be? It began with frequent jobsite visits, just to check in on the progress, see where things were, and get to know the various team members and trades. This is where Johnson's curiosity took over – he couldn't help himself. He often found himself deeply engaged in conversation with the craft professionals, learning more about why and how they do what they do.
Before long, he knew many of them by name, and his jobsite visits weren't as procedural anymore – they were to keep learning, to keep up with his teammates. Inadvertently, this created a profound tie between the craft professionals and the purpose behind the work they were completing. No longer was this just a job, or another building they were completing. To them, it was for Richard, their friend.
In addition to the almost daily jobsite walks, Johnson and Price also participated in the teambuilding activities and often spoke at the weekly safety meetings, rallying the team around the project's goals. Many times, Johnson reinforced Jerry Richardson's intent that the Stadium be Wofford College's "signature building, built to last 100 years." So many times, in fact, that many of the project team members still quote that line today.
As the building took shape, the project team also became accustomed to seeing Wofford basketball recruits walking through the construction site. The venue would be their "home" if they chose Wofford the following season. For many recruits, it was one of many deciding factors that made them choose Wofford in the end.
The Results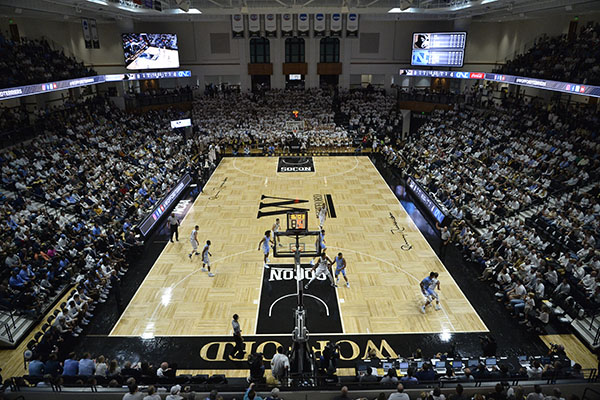 The Jerry Richardson Indoor Stadium was a successful project by all typical considerations – it was completed on time, within budget and to the client's satisfaction – but digging deeper, all parties saw more measurable differences.
By the project's end, Summers said that Kirlin-Way experienced 17% less turnover on this project and experienced 4% savings in labor while running 37,000 linear feet – about seven miles – of pipe. The project also received recognition from Robins & Morton as both a Center of Excellence and Center of Learning, both acknowledgements signifying its achievement of cultural harmony and that it was a place to learn the practical application of Lean tools. Wofford College was able to earn the acceptance of many highly sought-after recruits and achieve an almost 500% increase in ticket revenue. In their first two years in the new stadium, their men's basketball team went 27-6 at home.
In addition to measurables, they all made friendships that will last a lifetime. These bonds strengthen relationships between craft professionals, general contractors and owners – helping all to better understand the roles, challenges, and opportunities that everyone faces during the lifespan of a project.
Although every project is different, Young is convinced that creating a positive culture is foundational to success and is achievable despite any external environmental factors.
"To apply this on any project, genuinely care," Young said. "Build your team through employee appreciation. Accept feedback and use it. Be open to improvement. Most importantly, respect the knowledge that your workers bring."
Robins & Morton would like to congratulate the former members of the Jerry Richardson Indoor Stadium project team in being chosen as runner up for best presentation at Lean Congress by their peers.