Television host Fred Rogers used to say that in times of crisis we should all look for the helpers.
On healthcare projects across the country, Robins & Morton project teams saw firsthand what it meant to be a helper as COVID-19 descended upon the nation. Doctors, nurses and hospital staff began working unimaginable hours to treat the sick.
As the public health crisis continued to amplify the essential nature of healthcare infrastructure, teams knew they had a responsibility: keep construction on track. But so many felt that they could be doing more.
They knew that they could be the helpers, too.
In many cases, it began with tangibles. As the supply chain grew increasingly strained for medical equipment, project teams looked for overlap opportunities. Were there places they could share Edge Guard or STARC modular infection control panels with health systems? What about negative air monitors? Or HEPA Air Filters? By working through available provisions onsite, teams identified shared resources to alleviate small day-to-day pressures.
With the onset of patient surges, hospitals started to become overwhelmed with testing and triage. Many were faced with the challenge of somehow creating more space in maxed-out units, all on a nonexistent timeline.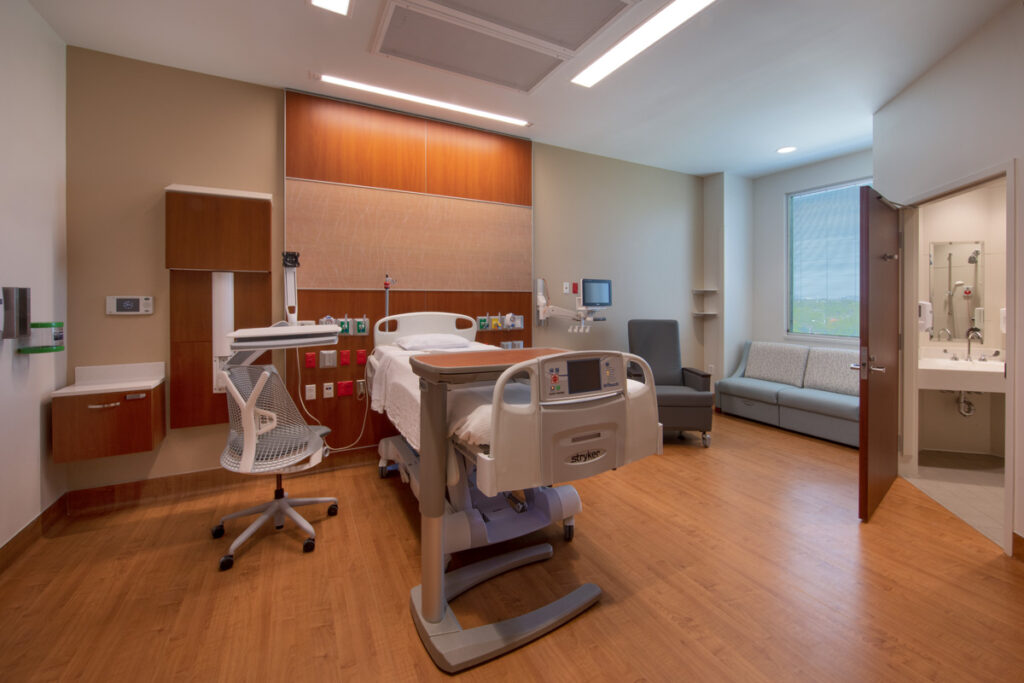 Robins & Morton answered the call for Memorial Regional Hospital in Hollywood, Florida, by performing an upfit to an existing conference area. In short order, the team transformed the space to support patient overflow, complete with privacy partitions and 56 beds.
In nearby Pompano Beach, Florida, Broward Health North also needed assistance with an external testing and triage site. Through the assembly of sturdy tents outside of the hospital's emergency department, Robins & Morton had the temporary facility built and connected to WiFi in record time.
Another team began to see a unique opportunity forming for their Miami project to provide extra space for patients. They began considering what it would take to rephase the 240,000-square-foot project, accelerate the schedule, and open part of it early for critical care patients. After some investigation into the logistics, not only was it possible, but it was exactly what they did.
Robins & Morton's team at Baptist Health South Florida, Baptist Hospital of Miami Hope Tower, accelerated the construction of the first floor, opening 42 new critical care rooms and six isolation rooms. Since then, the team has also been able to turn over the tower's fifth floor, opening an additional 42 medical/surgical rooms and six more isolation rooms. The sixth floor will be ready for occupancy in May, opening 39 rooms. Remaining floors two and four will create the capacity to care for 98 critical care and medical/surgical patients when complete.
Although many projects cannot consider acceleration or rephasing because of the varied complexity of their work, others are actively working with hospital leadership to upfit shelled space for quarantined patients and assisting with the adaptive reuse of any square footage available.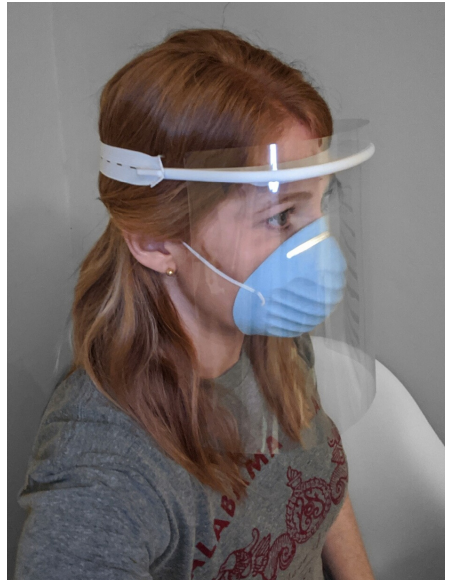 As the days have passed, the desire to contribute in new and creative ways has only grown.
Robins & Morton Virtual Design Coordinator, Wade Nolan, and his wife, Sunny Scott Nolan, took a hands-on approach to meeting a healthcare need. The shortage for medical personal protective equipment (PPE) continues to strain healthcare systems across the country, so the Nolan family worked to design a face shield prototype to present to the University of Birmingham at Alabama's Department of Radiation Oncology that can be created with at-home 3D printers. Each shield contains three simple parts and can be printed in as little as an hour, depending on the machine used. After the approval for use in the RADCON Clinic, the design has been shared among others at Robins & Morton with at-home printers and production has ramped up to increase donations. The Nolans delivered 15 shields last week and Manager of Scheduling and Innovative Support, Steve Moore, will be delivering an additional 28 shields this week to UAB's RADCON Clinic.
As uncertainty may mount in the coming weeks, or months, the hope is that the nation may find comfort in the wisdom of Mr. Rogers, realizing that there are still so many helpers. In these times, not only can we strive to find the helpers, we can also strive to be them.