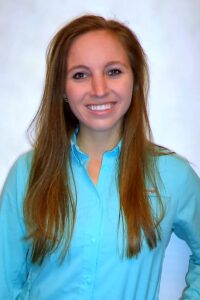 Christena Holcombe has only been in the industry for about five years, but construction has always been in her blood.
"My family had a hardware company when I was growing up, and my grandfather and great grandfather were constantly building things in the shop," she said. "I always had an interest in what they were doing, but I didn't know where I wanted to take it, if anywhere at all."
While Christena never really saw herself in the construction industry, a high school guidance counselor did. The counselor talked with her about pursuing a career in engineering. "I thought about going into business, but at the same time, I knew I wanted to do something more than that," Christena explained. "At that time, I didn't even know what engineering really was. I knew people built structures, but I didn't think I could be one of those people."
With an inherent appreciation for math and science, Christena pursued a degree in civil engineering at Vanderbilt University. After graduating a couple of years ago, she soon joined Robins & Morton. "When I graduated, I didn't initially consider construction. When I got this job, I knew very little about it. I had visited construction sites before, but had never been on one long term. But I realized with my personality it was really the way to go."
As a project engineer—being responsible for making sure all engineer drawings are executed properly and fixing problems as they arise—Christena found the perfect fit.
"From the minute I stepped on the job site I knew it was where I needed to be. To see something being built from the ground up and knowing you had a direct part in it is amazing."
Christena also appreciates the opportunity she gets to travel and impact the lives of others through her job. "I have gotten to go to places that I never would have otherwise," she said. "It's mind opening to meet new people and become a part of their community for a little while. And what we're building makes a difference. Just last week we had some mayors from surrounding areas come out and we saw the excitement on their faces about what we were doing. It's great to see the positive changes you make for people. It's rewarding."
While her constant travel keeps her away much of the time, when she can, Christena likes to mentor and encourage high school age kids who are thinking about joining the industry through the ACE Mentoring Program. "I really have a passion for construction and being out in the field," she said. "You never know where life will take you, so you have to grab every opportunity as it comes and go with it."
Tags:
Assistant Superintendent
Building Together
Christena Holcombe
Women in Construction