For many, the terms Building Information Modeling (BIM) and Virtual Design and Construction (VDC) may conjure up images of early clash detection and primitive modeling efforts. The progress made in these areas over the last several years is immeasurable, however, the impact of VDC services doesn't stop there.
As clash detection and modeling have evolved, so have other tech tools, alongside their users. More VDC departments have become full-service technology resources, expanding their reach to every project phase – from preconstruction to facility maintenance.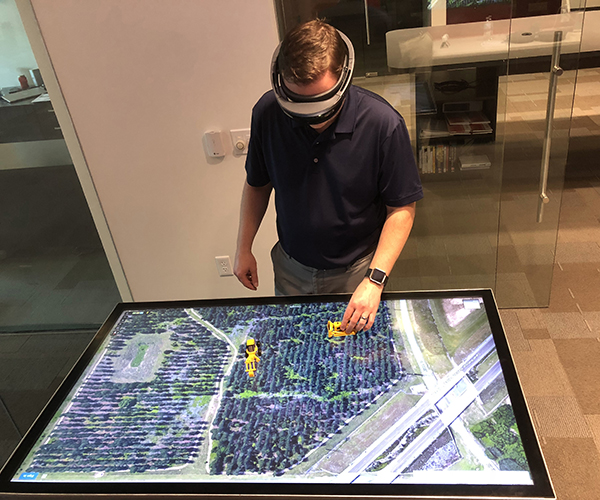 This has been a particularly successful model for Robins & Morton's Virtual Design and Construction + Coordination (VDC+C) department. Currently, project teams at the firm have a team member in the VDC+C department to help plan how technology will be used as early as the project pursuit. Beginning the tech strategy at this stage can save time, money, and effort in a variety of ways for project teams and owners.
The benefit of using tech ahead of a response to a request for proposal (RFP) from a client is that it allows the project team to put together a more accurate proposal. For example, a potential client may require a project team to map out an existing structure, for which surveyors would typically be needed. However, if VDC+C is brought on to use drones to do the work, it can take as little as 15 minutes to gather the data, as opposed to days or weeks. Additionally, a drone flight can help map out an accurate logistics plan for an owner, which is especially helpful when there's a tight campus.
If awarded the project, this information continues to be of use in the preconstruction phase, as the team gathers site conditions, further plans logistics, and prepares a more detailed estimate. With greater access to the site and with more specific project scope information, VDC+C can help map out a more detailed plan with a 3D rendering of the building.
"It allows us to build everything in a virtual environment to make sure everything fits before swinging a hammer," said David Pratt, Manager of BIM/VDC+C for Robins & Morton.
The 2D method of overlaying blueprints to see the electrical, piping, and duct systems is still used within the industry, however Pratt said that virtual design allows the VDC+C members to create a coordination model that shows potential conflicts across various trades. Also known as 3D coordination, this helps to prevent delays or rework of installation.
During any construction project, requests for information (RFIs) are inevitable. However, with VDC+C involved in every stage of construction, there are far fewer than in the past. The project team is able to work out conflicts before any work begins. Additionally, change orders are reduced for the same reason.
Another benefit of virtual design comes by way of 4D scheduling. The VDC+C team members help create a visual representation of the building's schedule. When an owner views the 4D model, they can see the building taking shape day by day, week by week to completion. This allows them to see what the building should look like at each stage of construction.
The 4D model also allows the project team to view the sequence of construction, so they can spot challenges and opportunities at various dates and phases. This includes logistical challenges, such as crane placement, temporary parking or job site trailers, or access roads. It's like having a map of the site's future.
Owners and project teams are also saving time and money with VDC+C in the mock-up process. Before virtual design was used in construction, project teams were required to build out physical mock-ups of patient rooms, critical care rooms, CT rooms, and operating rooms, among others. This meant spending work hours and material, with each build producing waste. They're necessary, of course, so that doctors, nurses, and other end users could see the final product and approve or reject the layout.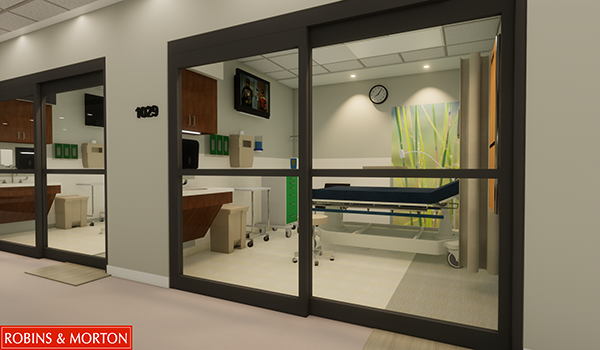 Today, the VDC+C team creates a virtual patient room mock-up and provides virtual reality headsets, so the end users can "walk" the site and make changes as needed. If anything needs to be rebuilt, it can be done without waste in a virtual space.
"We have some clients going all virtual," Pratt said. "[Project teams] are requesting us on every single project. Even if we're not onsite, we're a part of that project."
Owners are always going to get the 2D as-built drawings — that may never go away, Pratt said. But they're also going to receive the 3D BIM, which an owner can view with just a computer and the free Navisworks Freedom software.
"We are part of the team," Pratt said. "From cradle to grave — we're an asset from the beginning to the end. And we integrate with our projects."
From precon to construction to completion, VDC+C is a significant part of the success of every project team. They provide a unique viewpoint in the early stages of design that takes each project efficiently through a facility's closeout.