Every morning, Robins & Morton Senior Superintendent Allen Sanders wakes up before the sun rises, gets ready for the day, and goes to work at AdventHealth Tampa. As he plans the sequencing and execution of the health system's nearly 300,000-square foot bed tower addition, 6,700-square-foot surgery expansion and six-story parking deck addition, he often calls on his Field Office Assistant and daughter, Brooke Sanders, for help. Out in the field, two of Allen's sons – Cole and Austin – work as carpenters, putting his plan into place.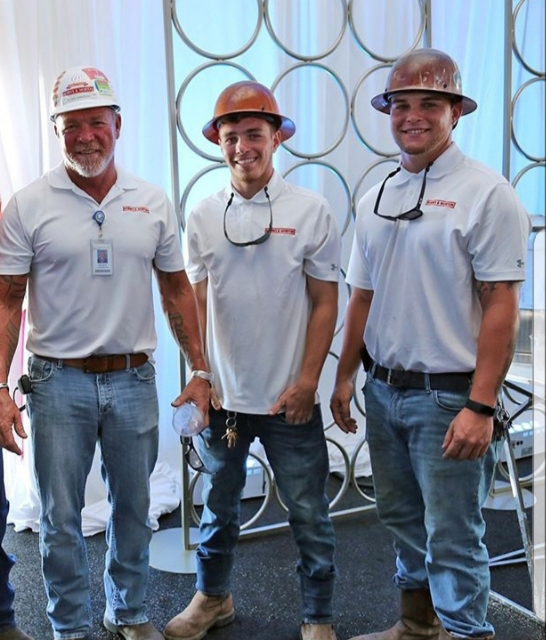 For the Sanders family, working in the industry is a family affair and a passion passed down from Sanders' father – a superintendent for 44 years. The family grew up around construction, traveling from city to city with the cadence of project start up and completion serving as the pulse of their lives. As Brooke, Austin and Cole matured into adults and began to consider career paths – nursing, education, military – they had no idea how that pulse would determine their futures.
In recent years, the construction industry has acknowledged the alarming number of qualified workers exiting the workforce and the reality that the entry rate isn't leading to recovery. This reality has led to an increase of industry efficiency studies, recruitment efforts, and wage increases, among others, to try and solve the long-term consequences of the workforce decline.
But where there are many downward trends, there is also another, more stable pattern, passed down from generation to generation. Just as with the Sanders family, many construction professionals have followed their parents and grandparents into the trade. This pattern is exhibited in Robins & Morton's Thompson family, too.
Vice President of Operational Support and Planning, Mike Thompson, was the stepson of a residential builder and grew up on the jobsite. Construction always felt like a natural fit for him.
After his graduation from Auburn University, marriage, and the birth of his two sons, he found himself utilizing his construction degree for more than just project oversight. Throughout his career, Mike worked in project management, preconstruction, estimating and now oversees operational technology implementation. He even worked as an adjunct professor at Auburn University while he owned his own company. During that time period, his sons had the opportunity to see him in a variety of roles.
Despite the fact that Mike's oldest son, Jake, had varied interests such as sports journalism and meteorology over the years, his interest in construction began to spark as a viable career path when he worked for his father during summers and on weekends when he was in high school. Upon enrolling in Auburn University as a Building Science major, his original intent was to "just try it out." After engaging with the coursework and practically applying it through internships, Jake knew that he had found his match.
"It's really amazing how much effort it takes to finish a project and how many people from all over the place come to one spot [to perform a project]," Jake said. "There are people I can think of, right off the top of my head, from six or seven states that are coming to Charleston, South Carolina, to do this one job, and just how much work everyone puts in. It's really been an eye-opening experience."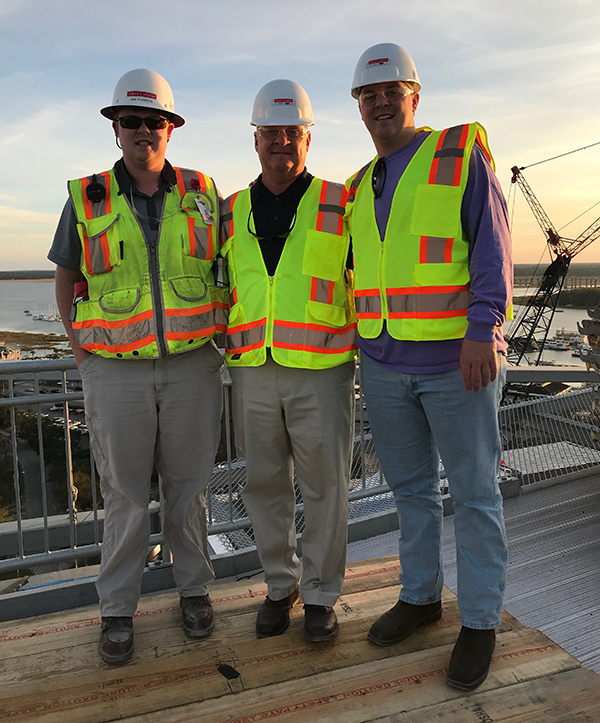 The path wasn't quite as straightforward for Thompson's youngest son, Cole. Growing up, he wanted to make his own path and struggled with the concept of choosing construction. Watching a project from start to finish did appeal to his task-oriented nature, but after a back injury, he found himself intrigued by the world of physical therapy.
Cole entered Auburn, still torn between the two worlds, but found himself leaning more and more toward construction, despite his earlier-in-life reservations. He also knew that the world of construction offered more than just field supervisory work, if he decided he wanted to walk an alternate path. The more involved he became, and the more co-op terms he worked, the more Cole couldn't see himself doing anything else.
"Seeing projects through, watching them impact people, and realizing that's really what this industry is – that's when really fell in love with it," Cole said.
As a father, Mike wanted to encourage his sons to find their own way in whatever field would make them happy, but he also didn't mind sharing the opportunities available in construction in the times they felt a little lost.
"What I tried to do with [my sons] or any of my students when I was at Auburn, was help them understand that [construction] is one of the largest industries in the world," Mike said. "One of [my students] went to work for Yahoo, another went to a large electrical firm on the West Coast, several became codes officials, several started their own businesses. There's a lot more to do than what you see on the surface."
Today, Jake is working as a Project Engineer at Robins & Morton's Medical University of South Carolina Shawn Jenkins Children's Hospital and Pearl Tourville Women's Pavilion project, while Cole continues working toward his degree at Auburn. He plans to finish in August 2020.
"Construction is rewarding – not only monetarily – but because of the people, the characters, you get to interact with day after day," Thompson said.
Like Jake and Cole Thompson, each of the Sanders family members – Brooke, Cole and Austin – found themselves dedicating their careers to construction. Although all of the Sanders children grew up around construction, they admitted they weren't entirely committed to a career in it at first. Like Cole Thompson, they wanted to forge their own paths, but after each one took a job in the field they were hooked.
While taking some time off school, Brooke began working as a laborer. After realizing how much she enjoyed being onsite every day, she took a position as a jobsite assistant. Similarly, both of her brothers – Cole and Austin – began their careers similarly as laborers, working into carpentry positions. Today, Brooke has worked her way up to a field office assistant position, Austin is serving as the lead carpenter on their project and Cole is working as a carpenter's helper. Austin also recently completed his associate degree and was accepted into Robins & Morton's Rocky McMichen Craft Leadership Program, a 15-month combination classroom and hands-on training program designed to elevate craft professionals into management roles.
"Construction really gets ingrained in you," Allen said. "Through your childhood, and as you learn the business."
While it is easy to focus on the clear challenge the industry is facing in reference to the recruitment and retention of skilled workers, it's also a consideration that the exposure to what a real career in construction looks like boosts the probability that young people will consider them. Both the Sanders and Thompson families agreed unanimously that having family members in the industry opened their eyes to what they could accomplish through a career in construction, and they weren't sure if they would have received that education without the family tie.
"[Before working in construction] I never realized how much the community thanks you once a job is finished until I started working in hospitals," Austin said. "Every day, I'll get a doctor or a nurse saying how much they appreciate the hard work we're doing, or they'll thank us for accomplishing something that they needed accomplished, and that's something that has been really eye-opening to me. The community is really impacted by the job we do for them."
By continuing to keep the family tradition alive, Brooke, Austin, Jake and both of the Coles, are furthering interest in an industry that critically needs advocates to support the world's endless need for quality infrastructure.
"When we've had recessions, I've had friends lose their jobs, but my career never missed a beat. It's something that there's always a need for," Allen said. "Construction isn't going anywhere."