Campus Recruitment
Co-op and Intern Students
For the past 40 years, Robins & Morton has successfully recruited the best and brightest students from all over the country to join our co-op/internship program. Our program allows students to gain hands-on experience and build professional relationships that will last a lifetime. During the program, students work onsite or in offices with superintendents, project managers, estimators, project engineers, field engineers, and safety team members. We value the unique talent students bring to our company and build on that by investing in their learning opportunities and career growth. In fact, most join the Robins & Morton family after graduation. We hire co-op and intern students every semester, with summer having the largest number of working students.
New Graduates
Robins & Morton also offers ones of the best opportunities in the country for new graduates—a place where you can start your career in the field and make an impact not only there, but in all aspects of life. Our program builds upon your college education to guide you on the path to a rewarding career in the construction industry. Learn more about the Construction Management Career path at Robins & Morton, and how one of them could be right for you.
Quick Facts
Our co-op/internship program has been in place for more than 40 years
Approximately 90% of our co-ops/interns are offered full time positions after graduation
We recruit from more than 15 different college campuses across the U.S.
Check out our 2020 Fall Recruiting Schedule! If we are not virtually recruiting at your campus in the near future, please reach out to our campus recruiting team. We can't wait to meet you!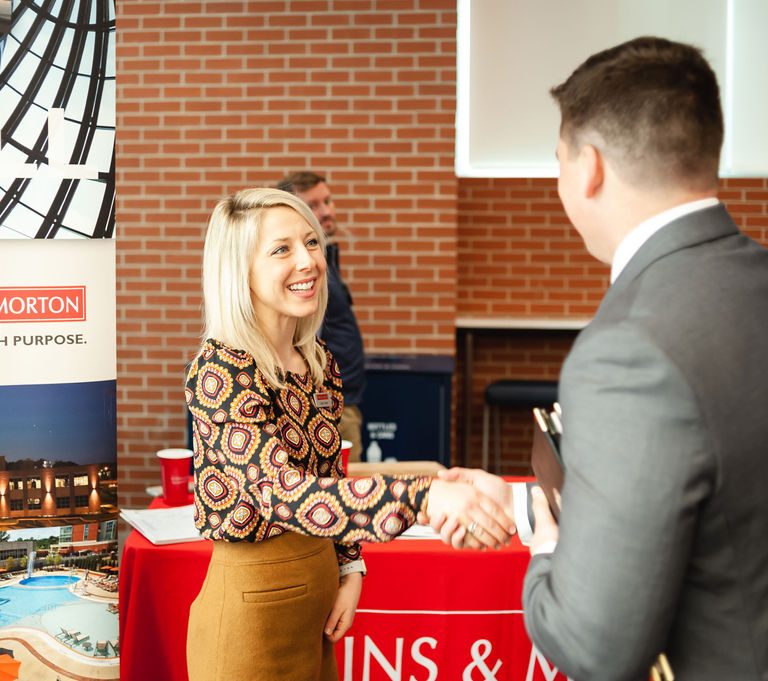 Connect with Caitlin
Do you have questions about career development or want feedback on your resume? Could you use some extra practice on your interview skills? We're here to help! Click here to connect with our campus recruiter, Caitlin Shiflett.
Caitlin is skilled at preparing the next generation of builders for the co-op, intern and job interview process, as well as helping you understand your many career options within the industry. We're thrilled to be a part of your journey!
Launching Your Construction Career in 2020
Although it feels in many ways like the world has come to a standstill, at Robins & Morton, we know that your future can't wait. Our co-op and internship programs can give you the experience that sets you apart in a competitive job market. Learn more about Robins & Morton and how to connect with us here!
More Questions? Contact Our Recruiter