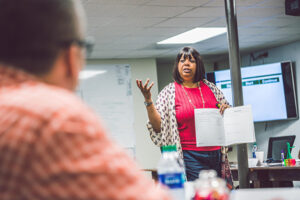 While our highly-skilled field teams are working across the nation to complete an array of projects, they are supported by an exceptional corporate services team in our home office and regional offices. These departments create the infrastructure of our organization, helping our employees at every level to excel.
Accounting. Our accounting team executes all financial transactions related to our projects including payments to our workforce, trade partners and vendors. Our accountants help with the financial start up, management, and close out of all projects. Additionally, the department is responsible for financial reporting and analysis.
Information Technology. Robins & Morton utilizes the latest construction industry technology in our offices and on our jobsites. Our IT team is responsible for supporting the equipment and software requirements for both. Through web and phone support, they work with all employees to provide effective solutions for individual and global IT issues.
Marketing. Our marketing team expertly crafts the presentation of Robins & Morton to potential clients, industry peers, and the world. By producing proposals, qualifications, award submittals, and presentation materials, they work to develop business and create corporate branding standards. In addition to communicating companywide news, the marketing team also supports project-specific innovation and storytelling.
Human Resources. Our human resources team is responsible for recruiting, hiring, hosting learning and development opportunities, and retaining the most talented labor force in the business. Our human resources professionals also work to provide comprehensive, competitive benefits for our employees.
Administration. Our administrative staff works in almost every aspect of support for our corporate and field operations. By facilitating seamless communication and performing other essential functions, they help every department and field team to excel.
Safety. Our Safety team assists, mentors, and coaches the entire organization in implementing our safety management system. This system's foundation is based on the seven key performance indicators of all high performing safety cultures, including: management commitment, employee participation, incident analysis, education and training, process implementation, and hazard identification and control. Each project has a designated safety team member for support.
VDC+C. The Virtual Design and Construction + Coordination team provides an array of technology services to Robins & Morton's project teams and our clients including drone flights, augmented/virtual reality, laser scanning, imaging, robotic layout, BIM coordination and 4D scheduling. They also provide research and development for new technology solutions as they become available.
Scheduling. Our Scheduling department ensures that all stakeholders collaborate to create reliable project plans. By presenting schedules in ways that are easy to visualize and conducting continuous analyses, the scheduling team helps to improve project performance.