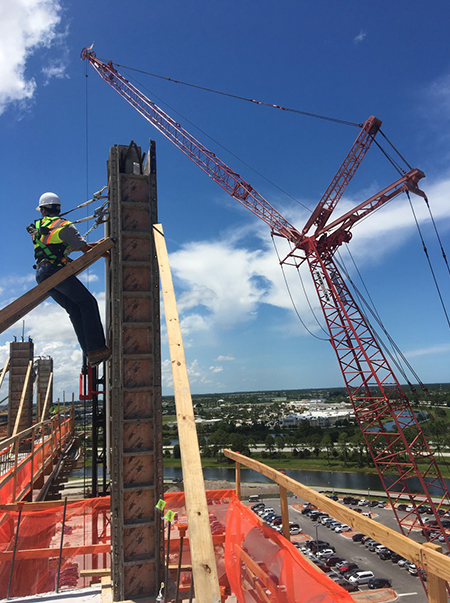 According to the US Government's Bureau of Economic Analysis, the construction industry accounts for approximately 4.1% of the country's total Gross Domestic Product (GDP). In 2017, that translated to $718 billion in value added to the GDP. That contribution could have been even greater except for an ongoing labor shortage in the construction industry.
Construction is adding jobs, but not fast enough to meet demand
The construction industry's payroll last year was $470 billion, supporting 7.2 million full-time jobs. That's the equivalent of a full-time job for every man, woman and child in Los Angeles, Phoenix and San Diego. It's a number that has been jumping by six-figure increments since 2010, as the industry added a total of more than 1.8 million jobs.
Despite consistent increases, those numbers hide an underlying narrative: the construction industry has hundreds of thousands of open positions. In a twist on "build it and they will come," construction projects need people to come so they can be built. Eight of 10 U.S. construction firms report challenges filling hourly craft positions, according to a survey by Associated General Contractors of America.
Construction jobs are good jobs
Across the industry, companies have been ramping up recruitment efforts. Almost half report engaging with high school, college, career and technical education programs. Close to the same percentage have also initiated or increased in-house training.
As the need continues to grow, the construction industry has an enticing case for job seekers. Today, the US Bureau of Labor Statistics' median hourly wages for construction jobs are north of $20 an hour and climbing. When much of the job growth is happening in low-paying jobs, construction opportunities stand out. Getting that message across will have a ripple effect from the construction all the way up to the GDP.
But with more than 80% of firms expecting it to remain, or become harder, to hire craft professionals and two-thirds expecting the same for management positions, it's clear the industry can't close the gap on its own. The construction industry will have to continue building partnerships with schools, workforce development, economic development and others to promote the opportunities available.
"We not only have good-paying jobs, the jobs also create long-term value. Buildings give back to the community for years and years, improving people's lives, providing places for them to live, work, learn, heal and gather," Vice President of People and Development, Aimee Comer, said. "We need to get that message out to educators and others who help connect people with careers. Almost every populated area in the country has construction happening, and that means we have jobs for people in those communities."
Comer also emphasized that career trajectory in construction is unique in that workers can hire in at any level and climb to whatever position they wish with hard work, ambition and capability, regardless of formal education.
"The opportunities are endless," Comer said. "The sky is truly the limit."