On September 27, Mount Sinai Medical Center celebrated the topping out of its 154-bed surgical tower addition project as the final beam was raised.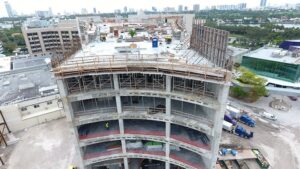 Construction began in August 2016 to address the expanding healthcare needs of both Miami and Miami Beach residents and visitors– the project is set to transform Mount Sinai's main campus. The 340,000-square-foot expansion will bring a new surgical tower and emergency department to the main campus and enhance Mount Sinai's ability to deliver high-quality medical care to patients in its diverse community.
Specifically, the new emergency department spans 35,000 square feet across 50 treatment bays and essentially triples the size of Mount Sinai's current facility to accommodate up to 75,000 annual patient visits. Equipped with 154 private rooms, including larger VIP suites, and 12 large contemporary operating rooms, the new patient tower offers striking views of nearby Biscayne Bay and the Miami skyline. The project also includes a new public lobby, revised vehicular traffic patterns and new parking space. The architect for the new facility is Cannon Design, and is being constructed by Robins & Morton with construction management by ADAMS.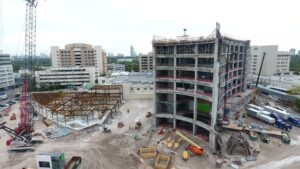 During the Topping Out Ceremony, the final beam is hoisted into place, marking the structural completion of the tower. The final beam was signed by over a thousand employees, in the week leading up to the ceremony. The signatures symbolize each individual's support and contributions to the project. Hospital employees, physicians, board members and the project team members attended the event.
"There is a great deal of pride we all feel in achieving this milestone.  The new tower and emergency department will be a great compliment to the dedication, passion and high quality care our physicians, nurses and allied health professionals deliver to our patients every day," said Steven D. Sonenreich, President and CEO of Mount Sinai Medical Center."
Construction is targeted for completion in fall 2018.