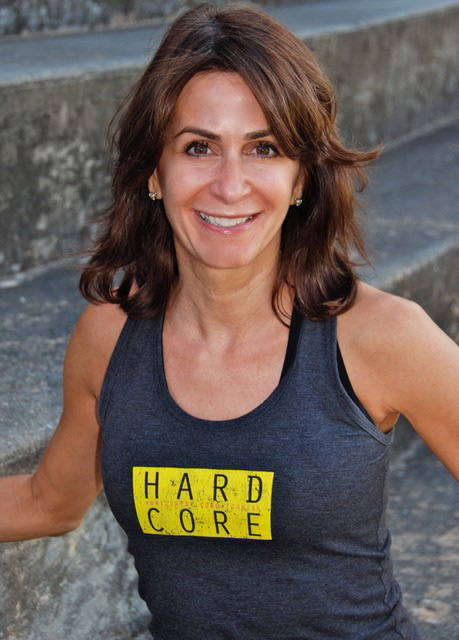 How many times have you heard the terms "self-care," or "wellness" in the last week? You're not dreaming it.
With less time now more than ever to focus on personal wellbeing, more people are reflecting on the increased pressures in our world and how they are impacting health.
Fortunately, nutrition and activity are two tangible areas that can make a significant difference in our day-to-day feelings of wellness. According to the American Heart Association, exercise relieves mental and physical tension and good nutritional choices restore energy and alertness.
To better understand how these benefit overall wellness, we caught up with Fuel+Fitness founder and coach, Sandra Koulourides.
Q: August is National Wellness Month. What does "wellness" mean to you?
A: Wellness is not only physical, but also emotional and spiritual. It's making sure that you're working on all areas to be a balanced and complete person: fitness and nutrition, social interactions and whatever spirituality may mean to the specific person. It's all encompassing: creating a healthy person and being a healthy person.
Q: How do nutrition and fitness impact wellness specifically?
A: These are two things you can control. Sometimes you can't control stress, but you can control what you're putting in your body or how you're working out. This will also ensure that you're metabolically healthy. But what does that mean? That means using nutrition and fitness to ensure your body is working properly and keeping chronic illness at bay.
Q: Let's talk about nutrition. There is so much information out there regarding the best nutrition plans – keto, paleo, low-carb, and hundreds more. How do we even begin to sort through all the good advice, bad advice and make a sustainable plan?
A: The bottom line: eat real food, not processed food. Getting away from boxes and packages is a great starting point. Then if someone has specific needs – maybe they're pre-diabetic, diabetic, or have another health condition – then you have to go a little further. Potatoes and bananas won't be a good idea because they'll raise your blood sugar which won't help. Work to shop on the outside of the aisles, where all the nutrient-dense, minimally processed food is, then build on that.
Q: What about exercise? There are so many different approaches – cardio, HIIT, strength training. How do you know which one is right for you?
A: Find something you enjoy. You won't do something you hate long term. That's the whole thing with fitness and nutrition. If you pick a particular diet that you want to follow, and you lose 20 pounds in three months, but you hate the way you have to eat, you won't maintain it and you'll gain 30 pounds back in the next six months, guaranteed. With fitness, I try to just get people active. If you want to go walk around your neighborhood with your dog, run the stairs in your house or at work, or dance in your basement for 20 or 30 minutes, that's great. It depends on the person, what they enjoy, how much time they have and their goals.
Cardio is great for stress relief, but probably I'd have to say the magic happens in strength training. It's going to challenge your muscles, which is how muscles get strong. As we age, we lose muscle mass and the only way to keep it is through strength training. On the other hand, cardio doesn't build muscle. So, something like a HIIT class would burn calories and build muscle, where a strength class would be 100% muscle. Ideally, something like strength training three times a week and cardio twice a week is a good mix. The worst thing anyone could do is to jump right into high-intensity workouts when they're just getting started. First of all, they're going to hate it and within a month they're done. That's not really what fitness is. People want slim fast, but fast doesn't last. Basically, fitness and nutrition aren't black and white. You have to figure out what you need and not bite off too much to begin with. Don't be extreme; your routine has to be sustainable.
Q: With so many people owning smart devices like Apple Watches and Fitbits, fitness metrics are so much more accessible and instantaneous now. Are they important? If so, which ones should we watch and what do they mean?
A: I don't like numbers and the technology as much. I believe that you know whether you're working hard or not. You know whether you're breathless or whether you're hardly working at all. I don't think you need a number to show you that although some people like to see them. There's a sense of freedom when you don't have to look at that all the time and say, "I've got to burn over 500 calories." I don't mind if clients use them, but I do not recommend them.
Q: We're all filling so many more roles and responsibilities today than we've ever had to before. Do you have any tips for making wellness a priority in this kind of environment?
A: Number one, you have to plan. Maybe you're working from home, having to be a teacher, having to go shopping and do laundry on top of everything else. If you just wake up and think, "What are we going to eat today?" or "When am I going to work out?" the good choices are probably not going to happen.
I think that's more important now than ever because time is so tight. You have to make yourself a priority. It's not selfish: it's you taking care of your health which is beneficial to your family. So maybe you're going have to make some adjustments, but you have to think about it and that's really the key to success. Every day, I'm always in the next day, and that's what I teach my clients. Sure, there'll be days where things fall apart, but that's okay. If six days out of seven end up the way you planned them, that's fantastic. Who cares about that seventh day?
Q: We've all been cooking and eating at home a lot. When you have to order takeout what are you tips for making the most nutritious choices?
A: Trying going to the "slow" fast foods. Places with chicken or salmon, with salad or vegetables on the side are fantastic.
Q: Overall, we're all likely experiencing some challenges in our wellness journeys. Do you have any advice to keep everyone encouraged during this time?
A: Your best defense for staying healthy is keeping your body healthy. And if you don't put time into taking care of yourself, that's not going happen. So that's a huge motivation. It's so worth taking care of yourself: you're going to sleep better, and you're going to feel better emotionally and physically. You'll be a better mom, a better wife, a better husband, a better father. You're going to feel better in your skin and have more confidence. I just want people to know that they are worth taking care of.
Sandra Koulourides is the founder of Birmingham, Alabama-based Fuel+Fitness and Horizontal Conditioning, nutrition and fitness programming. Koulourides has multiple degrees is her field, and ultimately earned her Master's degree in nutrition. Earlier in her career, she worked as a clinical nutritionist prior to finding her passion in helping clients navigate lifestyle changes. Today, she offers one-on-one client education and corporate wellness programming. She can be reached at sandra@fuelplusfitness.com.