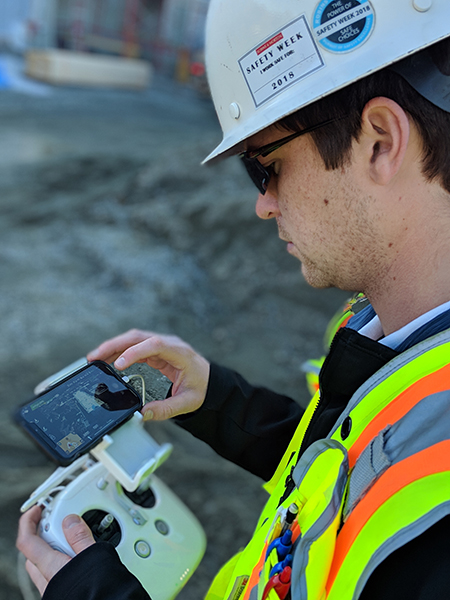 Like many in the construction industry, Raney Sledge started his career as a field engineer. However, by adding a high-tech twist to what most see as an entry level position, Sledge took his role to new heights – while making himself an even more valuable project team member.
After graduating from the University of Alabama with his Bachelor of Science in Civil and Construction Engineering, Sledge joined Robins & Morton and began working in the field on his first assignment.
"I came in as a field engineer, and one of our project managers suggested I go into the Building Information Modeling (BIM) side," Sledge said.
His first use of construction technology outside of school was where he found a crossroads of his two passions: building and tech. When he stepped onsite at the $67 million Atrium Health Carrabus Sanger Heart and Vascular Institute project in Concord, North Carolina, he searched for the best ways to maintain that connection while still gaining all the hands-on experience typical to a field engineer position.
One opportunity Sledge found was through obtaining his FAA Part 107 certification, also known as a drone pilot license. With his job requiring inspections, oversight, and knowledge of site conditions, he could gather a snapshot of that information with a quick drone flight.
With Sledge as an onsite Pilot in Command, it also eliminated the need for the project team to hire a third-party company to take drone photos and video. This was especially convenient if the client, architect, or another entity needed a quick photo to communicate the project's progress in a meeting.
"By having a licensed drone pilot on site, we don't have to schedule anything," Sledge said. "I can take it up and 15 minutes later, we have a live shot of the site ready to go."
Another area where Sledge was able to flex his tech skills was in 4D scheduling. Upon his arrival at Atrium Health's Carrabus campus, the project's Senior Superintendent was working to implement the tool as a visual communication method, illustrating where the project would be at any given time throughout its duration to multiple parties, as well as to help trades with material and general planning. Working closely with Robins & Morton's scheduling department, Sledge began learning more about Synchro scheduling software.
Before he knew it, Sledge was helping to manage the project's 4D schedule. He even worked with the Division Safety Manager to implement a potential safety hazard identification system, adding proactive safety planning into the schedule. The innovative utilization of 4D scheduling on the Atrium Health Carrabus Sanger Heart and Vascular Institute project also went on to win Synchro Software's 2017 Project of the Year, where Sledge accepted the award in Amsterdam.
Sledge's passion for technology coupled with his natural aptitude for building led to a hybrid position unique to a Project Engineer – all driven by his desire to do more than the status quo.
"That's the great thing about Robins & Morton. They're so supportive in whatever you want to do," Sledge said. "I really enjoy the 4D scheduling, and the drone piloting is just something different to do."
To those who are looking to go into construction as a field or project engineer, Sledge has some wise advice.
"Get your hands and feet dirty in the field — it's the best way to learn," he said. "Ask as many questions as you can and put yourself in situations where you can learn as much as you can. Having the knowledge of what the people in the field are dealing with is going to help."
Sledge recently completed the Atrium Health's Carrabus project and will soon be beginning a new project in Tampa, Florida. He still plans to keep working with drones on sites where he can. So, he'll keep one foot firmly planted in the field, and the other in tech — specifically with his hands on a drone remote.