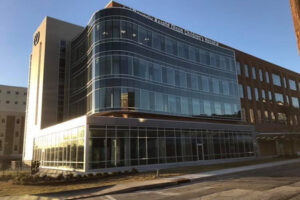 Robins & Morton, Navicent Health and community members gathered to celebrate the grand opening of Beverly Knight Olson Children's Hospital, Navicent Health, on Feb. 25.
The first floor of the five-story addition includes a new emergency center and imaging center. The second floor holds general pediatric unit, with the third floor used for inpatient and outpatient surgical and procedural services. Floors four and five house the new 66 bed neonatal intensive care unit (NICU), with renovated pediatric critical care unit spaces on the hospital's existing fourth floor.
"We are delighted to complete this project and begin serving patients and their families in the new, state-of-the-art Beverly Knight Olson Children's Hospital, Navicent Health. This project would not have been possible without Robins & Morton, a tremendous partner who has worked tirelessly to meet and exceed our expectations. Robins &Morton's dedicated team of caring professionals have gone above and beyond not only for the purposes of this construction project, but to enhance care for our current young patients who have watched them work each day," said Dr. Ninfa M. Saunders, President and CEO of Navicent Health.
Beverly Knight Olson Children's Hospital, Navicent Health is named in honor of Macon philanthropist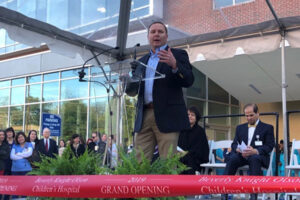 Beverly Knight Olson and the John S. and James L. Knight Foundation, after a generous donation that made this project possible. The five-floor project is a notable addition to The Medical Center, Navicent Health's nationally verified Level I trauma center and Magnet hospital. The hospital's central location in Macon, Georgia, provides critical healthcare services for pediatric patients throughout the region.
"We are excited about the completion of this dream. Twenty months ago, we embarked on our journey to build a state-of-the-art children's hospital that would bring world class healthcare to the central Georgia area," Robins & Morton Superintendent Jeff Jones said. "After 320,000 work hours, we have completed the new Beverly Knight Olson Children's Hospital while using 80% local contractors and vendors. This was a facility was built by the people and for the people of Macon, Georgia."