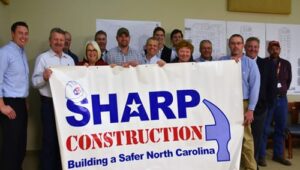 Concord, N.C. — North Carolina Commissioner of Labor, Cherie Berry, presented Robins & Morton with a SHARP Construction Award today for its work on the Carolinas HealthCare System Northeast Modernization project. This is the first Construction SHARP award ever received in the Western District of North Carolina.
"This is an important recognition for Robins & Morton, which has shown the desire to go above and beyond the status quo to protect its employees through its practices and training," Commissioner Berry said. "It is not every day that a contractor receives such a distinction."
SHARP Construction is designed to recognize and award construction sector employers in North Carolina for their superior leadership in occupational safety and health management. The participants in this program are successful in protecting their employees and subcontractors from death, injury and illness by implementing a comprehensive and effective safety and health management system. SHARP Construction is created solely for the participation of general contractors in North Carolina.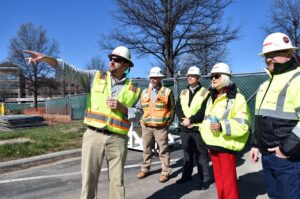 This project is part of the Carolinas HealthCare System Northeast Modernization construction project that began in August of 2016 and is expected to last until spring of 2019. The $90 million project will include a new patient tower addition, as well as renovation and elevator tower for the existing emergency department.
"By committing to and receiving the NCDOL Safety and Health Achievement Recognition Program (SHARP) status on March 16, the CHS Northeast Modernization project team demonstrated their safety leadership," Robins & Morton Division Safety Manager, Sheldon Monroe, said. "The fact that Robins & Morton is the first contractor in the western region of North Carolina to be accepted into this program reflects greatly on our entire company's continuous safety improvement endeavors."
ADAPTED from North Carolina Department of Labor press release.