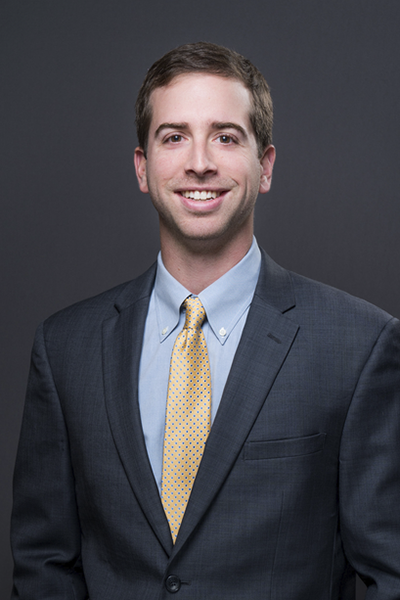 There are very few construction professionals that can claim they have significant preconstruction, field and project management experience across five states at only 27 years old, but John Fine can.
Aside from his knack for learning various aspects of the industry, the Assistant Project Manager has made it his purpose to gain as much knowledge and experience as he can from his managers, resulting in wide ranging responsibility for the young professional.
Recently, the Birmingham Business Journal selected Fine as an honoree in their NextGen Rising Stars of Real Estate and Construction Awards. The program highlights up-and-coming professionals who are making a significant impact in the fields of real estate, construction, architecture and engineering.
In addition to his project management role with Robins & Morton's Special Projects Division, Fine is also involved with Associated Builders and Contractors' Future Leaders in Construction group and maintains his LEED Green Associate credentials, committing to a greater understanding of how to build more sustainably.
We caught up with Fine to discuss his award, how his experience shaped his perspective, and what the future looks like for the construction industry.
Q: Congrats on your selection as Rising Star. What does this honor mean to you?
A: It's a big honor because Birmingham has become very competitive in the construction and real estate markets. There are a lot of people my age that are really working hard, trying to make it to the top level with some of the nation's largest contractors who are located here in the city. It's a very prestigious honor to be recognized in this way.
Q: You have a wide range of experience, especially at this stage in your career. Can you tell us a little bit about your path?
A: Prior to coming onboard full time, I completed two internships with Robins & Morton. One was a summer internship in Boise, Idaho, working on a smaller hospital renovation, and the second one was in Robins & Morton's corporate office in the preconstruction department. I was able to learn how the company operates; see how things were done. After that, joining the company was just a really easy decision upon graduation. I started in an entry-level role, and my first project was in Western North Carolina, working for the Cherokee Indian Hospital Authority. I was working on an inpatient rehabilitation center. It was a very challenging, but rewarding, project. At the end, it was great to be a part of a project that is going to be used for years and years to come to help provide a service for those who desperately need it. It's something that the community never had before, and it was really great to see them so excited.
The second project I worked on was a 10-story federal building in Austin, Texas. At that point in my career, I was working in the field a lot. And it was in that project that I made my transition to project management. There was an opportunity for me to step into the project management role and help manage the day-to-day tasks. I took it. At the end, we were able to achieve LEED Silver for this project.
Today, I'm back in Birmingham and working for our Special Projects Division, working on two or three jobs at a time. I manage trade contractor coordination, budgeting, contracts, scheduling, and submittals. Working for this division has been great, and I feel like I've learned a lot and hopefully will continue to learn a lot.
Q: What's an average day like for you?
A: I am typically coordinating with trade contractors discussing the schedule, coordinating with the field team on materials and design, and corresponding with the client. I spend a lot of time on Procore; it's a great tool for document management and now we're also using it as a financial tool. I primarily work out of our Birmingham office, but also make visits to the site to work with the field teams.
Q: What would you say has been your favorite project you've worked on thus far?
A: I would say the residential treatment center for the Cherokee Indian Hospital Authority – Kanvwotiyi. It was in a remote location, with no cell service, and very little access to resources that are essential to jobsites. Communication was tough and that really added to the challenges, because this industry is all about effective communication. Not having that felt like a setback – it felt like we were operating 30 years ago. But I learned a lot on that project and I definitely got the most out of it. At the end, it was a very successful project, but the best part was seeing the community take so much value from it and be so happy that this facility can now serve a healthcare need. Doing our job is great but being able to leave your mark on an area for years and years to come is really impactful.
Q: What are some of the greatest challenges facing the construction industry today?
A: Recently, COVID-19 has had a clear impact on the industry, and Robins & Morton has done a great job adapting and making necessary changes to our jobsites to keep everyone safe. But generally, I would say the industry has struggled with recruiting and retaining skilled labor over time. It's common for high school graduates to automatically assume that their next step is college – and college is great – but there are also amazing, affordable and accessible options to trade schools. There is also a significant deficit in those job markets. Instead of following a university track, high school graduates could pursue a skilled trade and find success in those fields.
Q: What do you think is the future for the construction industry?
A: I think we'll see more technology integration in the future: especially within BIM modeling, 3D visualization technology, and even 4D modeling. I think it enables clients, designers, and trade contractors to be able to collaborate more effectively. For example, we are currently using virtual design and construction to help coordinate one of our projects. Being able to coordinate the major trades and their systems now, before the installation in the field, is critical to reducing conflicts. In the years ahead, I expect technology to continue revolutionizing construction through even more time and cost efficiency measures.
Q: What advice do you have for young people who are considering a career in construction and how can they excel in that career?
A: I think the biggest thing is just being able to listen intently to others and to those who are very experienced in industry. Listening to the experienced people is the best way to truly grasp real-world examples of any concept, job or trade. I'm a hands-on person; I've always loved seeing change, and always loved being out in the field learning. Leaning on that experience is one thing that I've truly held on to as I've progressed. The more field experience you have as an entry-level professional, the better. Being open to new opportunities at all times is the best way to learn and to grow very quickly in a company.