The shortage of craft workers in construction presents a significant challenge for builders, but a considerable opportunity for career seekers.
The National Center for Construction Education and Research (NCCER), the educational affiliate of the Associated Builders and Contractors, reports that one million additional craft professionals are needed by 2023 to keep pace with demand. Without these employees, building critically needed housing, hospitals, manufacturing plants, and schools will be difficult.
But why is there such a talent deficit?
"Construction employment is forecast to grow over the coming decade, and the need for specialty trade disciplines such as electrical, mechanical, and plumbing craft professionals will continue to rise with it," Mike Oliphant, Robins & Morton's Concrete Resource Manager said. "Another challenge we face is that craft professionals are retiring at a much faster pace than the industry can replace them.".
In tandem with the demographic drain, an additional contributor to shortages is that construction careers have been overlooked by students, career changers, parents, and guidance counselors in the past. Fortunately, construction careers are beginning to gain more attention in 2020 for both the tangible and intangible advantages they offer.
Independence and Self Direction
Among the many lessons of the global pandemic is the importance of a career path that offers flexibility and a meaningful degree of independence. In an era of dynamic change and disruption, workers want the opportunity to self-direct their careers. Thanks to industry and company-sponsored training and apprenticeships, craft workers can explore a multitude of options to find a role that matches their skills and interests.
Compensation
Craft labor shortages are prompting higher pay and improved benefits. For young craft professionals entering the industry, the net compensation differences equal or exceed what recent college graduates can expect to earn. Kyle Davis, Senior Mechanical Preconstruction Manager with Robins & Morton, cites the actual and less visible earning potential.
"The training and apprenticeship stage is often sponsored by a company, eliminating the need for student loan debt," Davis said. "Following their training, they enter the professional ranks at a pay level on par with what most college grads can expect."
Pay scales vary greatly depending on location and specific craft discipline. Based on recent job postings, Zip Recruiter reports the average annual pay for a construction craft worker in the United States is $54,427 a year, as of September 2020.
Advancement Opportunities
Perhaps the most compelling advantage of choosing a craft career is what comes next. Because the field of construction includes so many career options and roles, the future evolution of the craft worker's career is an opportunity awaiting discovery. Whether that evolving interest is in technology development, estimating, human resources, marketing, or frontline leadership roles, individual career paths abound.
Teamwork and Learning Culture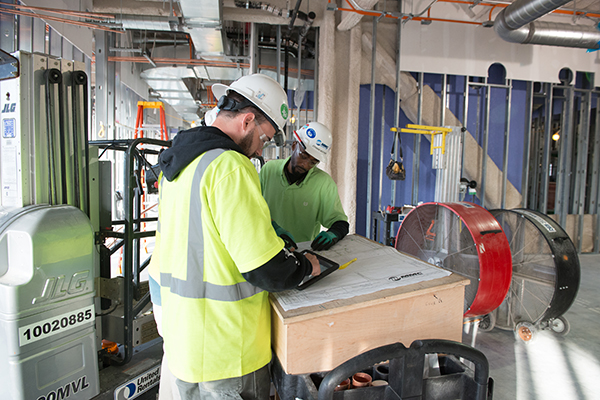 Construction is the ultimate team sport, fostering close relationships among peers and shared objectives where everyone works together to achieve project success.
"The days of simply doing what you're told are in the rearview mirror," said Juan Bartolomei, Craft Recruiter with Robins & Morton. "Now, everyone has a voice in how the work is done. Sometimes the most creative ideas come from the newest person to join the team."
Training and professional development is a crucial competitive advantage for contractors, emphasizing to employees how valuable they are.
"The idea is to grow that person and reinforce that this a lifelong career and learning experience," Juan said.
Growing new professionals in skilled trades is also the objective of several volunteer organizations, career technical education schools, industry associations, and construction companies across the country. Among the fastest-growing is the ACE Mentor Program, a nonprofit tapping into a network of volunteer mentors in 37 states. ACE – an acronym for Architecture, Construction, and Engineering – is mentoring 10,000 students from 1,100 high schools across the country and providing a hands-on, project-based introduction to careers in the building industry. They report that 70% of their senior students enter a skilled trade program or college each year.
Associated Builders and Contractors of America is another leader in providing craft training and apprenticeship opportunities. Through the collaboration of members across 69 chapters in the U.S., ABC's educational affiliate NCCER provides a range of training programs informed by the experiences and needs of the association's members. In response to the hold on in-person training due to COVID-19, NCCER is offering an online training program for students interested in working as craft professionals.
For high school students, career changers, recent college grads seeking a rewarding and secure career, this may be the perfect time to take a detailed look at skilled trade opportunities. More resources are available through ABC chapter affiliates and Build Your Future. Many cities and states also offer their own sponsored initiatives, specific to their local area.
If you have questions about kicking off a career in a skilled trade, reach out to Robins & Morton's Craft Recruiter, Juan Bartolomei for more information.