In education, there is an approach called experiential learning.
It emphasizes active, hands-on and learning-by-doing activities, instead of a more passive approach in educating through lectures and theory alone. When teachers guide students through their education with experiential learning, students are empowered and it has long term impacts on the way they solve problems and make decisions. It strives to shape their holistic education beyond a singular task or idea.
This was the idea behind Montessori schools and practicum courses in higher education, but could the physical building structure around students also be a part of experiential learning? The answer is yes for students studying environmental science at Wofford College in Spartanburg, South Carolina.
In one of their most recent campus improvement projects, Wofford College hired construction firm Robins & Morton and architecture firm McMillan Pazdan Smith to design and build a new home for their Department of Environmental Studies.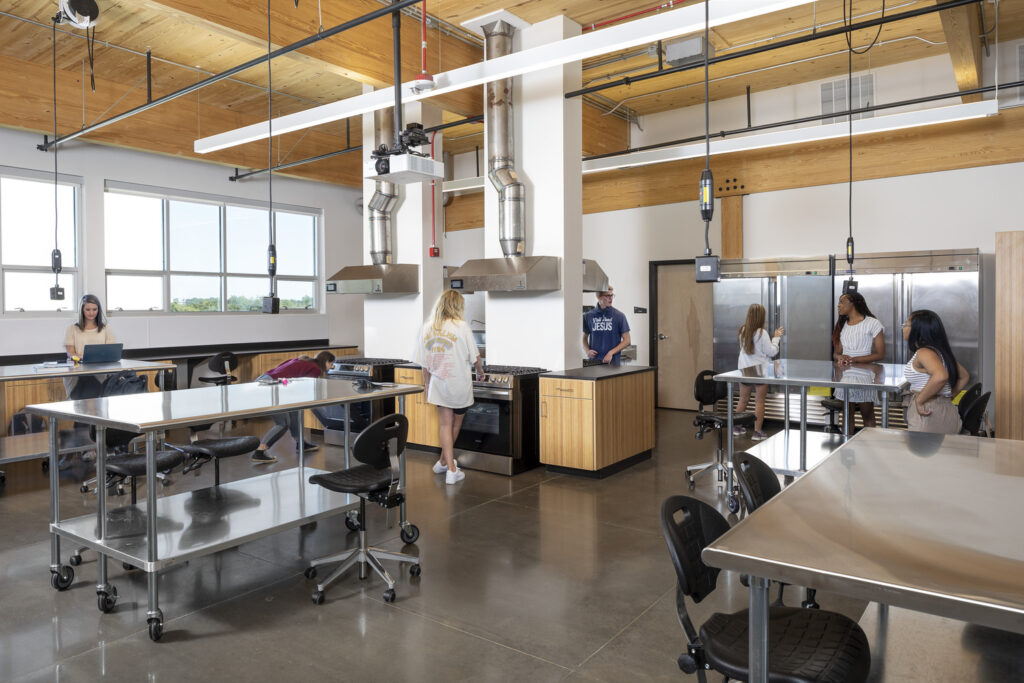 Wofford College's program integrates sciences, social sciences and humanities, allowing students to study the environment in ways that dovetail with their interests. Likewise, design features in the new Chandler Center for Environmental Studies reflect those disciplines, providing a practical experience of the ideals it intends to teach.
The building has 147 solar panels to generate power, and it supports daylighting, natural ventilation, and heat island mitigation to ensure it conveys the importance of reducing expended energy.
Aside from its laboratories and classrooms, students are also able to learn directly from the building's rainwater collection system, roof garden, exposed infrastructure, and resource consumption dashboard.
In the early stages of design, Wofford engaged project partners McMillan Pazdan Smith and Robins & Morton to be a part of determining how the building could be used as a teaching tool.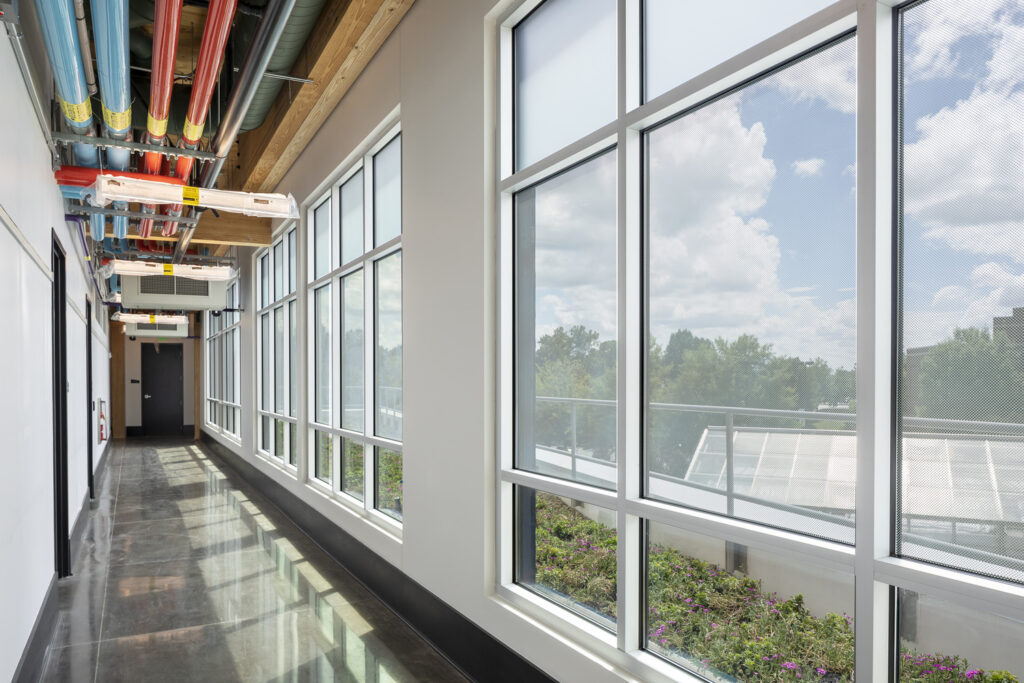 "We worked to design the building as a visible teaching tool for the department," said project architect Mike Goll for McMillan Pazdan Smith. "That means exposing as many of the systems as possible so that they can not only see how a building functions, but also monitor it."
Goll said that the tracking element was especially critical to the educational aspect because it allows students to see how the HVAC is performing and how much water is consumed, among other items.
Robins & Morton Project Manager Kevin Graffeo said that this has direct ties to the curriculum.
"There are some classes that integrate knowledge on sustainable buildings and systems, so we were a part of developing ideas to help students see that in action," Graffeo said.
Since the entire project was a highly collaborative design-build, the team worked to ensure that they incorporated as many renewable resources into the facility as possible, Graffeo said. For example, they used a cross-laminated timber framing system as opposed to steel, helping to reduce its carbon footprint.
Because of the nature of the building, Wofford College wanted to show its commitment to sustainable and green building through a formal certification process. Ultimately, they chose to pursue Green Globes through the Green Building Initiative (GBI). With a maximum achievement of Four Green Globes, the program uses each Globe to mark a heightened level of sustainable engagement.
"The economics and transparency of the process, as well as how user-friendly it was, led us to choosing the Green Globes process," Goll said.
Although the team's original goal for the Chandler Center was simply a single Globe to achieve certification, sustainable building policies paired with a few extra features – such as working to tie into the campus' existing electrical systems – helped push the project to Three Green Globes.
"Because the checklist is so clear, we saw that we were tracking to achieve at least Two Green Globes and we were able to see that three were possible," Goll said. "As designers, we are – and should – always be pushing ourselves to look for opportunities to be more sustainable in our design. It's our obligation to the built environment."
Graffeo and Goll said that they see green building and sustainability as an expectation in many construction projects now, incorporating sustainable elements into every project organically, even beyond certification.
"A few years ago, sustainable building was much more of an intentional effort," Graffeo said. "Now, it's commonplace for us to look for every opportunity possible to build in a more earth-conscious way."
Further, Goll mentioned that reduced operating costs can make a notable difference for building operators, especially as they budget against increasing costs for building materials.
Something that Graffeo hopes that others can take away from the completion of the Chandler Center is the ability to build a beautiful building sustainably.
"When you look at the building, it reminds us that we can build a building that's attractive that has a small carbon footprint," Graffeo said.
Aside from working to complete the project, both Goll and Graffeo had the opportunity throughout its construction to reflect on their role in building teaching environments.
"This approach to teaching is vital for upcoming professionals so that they can understand what happens and why, especially when the built environment consumes so much energy," Goll said. "To me, it's the ultimate prize in that I know that the building will be used and appreciated in the same manner that we put effort into the design process. It will educate numerous students and who knows where they'll go from there. Hopefully it helped them along the way – it's really the icing on the cake for a wonderful project."
For Graffeo, this project was especially important in his multi-year journey building at Wofford College, completing ten projects on the campus.
"It's not just about this one building for me," Graffeo said. "It feels really great to be a part of the collective student experience here and be able to be a part of educating that next generation of professionals."
To learn more about the Chandler Center, visit its project profile on robinsmorton.com or check out this case study produced by the GBI.